Antarctica is fast becoming the supreme travel destination for the true adventure traveller. It's the kind of destination that takes your travels up a notch from the regular tourist or every day weekend warrior to the ultimate explorer. People that are looking for that badge of honour will want to put antarctica at the top of their list will want to take advantage of the amazing deals Quark Expeditions is having right now.
Visit Quark Expeditions for great savings on Antarctica and Arctic Voyages
A visit to Antarctica seriously makes for the best bar conversation and bragging rights out of all your friends. But there's a lot more to Antarctica than just ticking off a list for bragging rights. There's actually a lot of amazing things to do in Antarctica that make it the pinnacle of travel destinations. Antarctica is filled with great beauty, an abundance of wildlife, and a ton of fun and adventure. Travel to Antarctica has come a long way baby and you don't have to spend your time on a cot somewhere in the back of a research ship either. You can visit Antarctica any way you like these days, from luxury vessels, to expedition ships and icebreakers. Antarctica has it all. And you don't have to spend your day sitting on deck looking for wildlife, there are tons of ways to explore the continent. With Quark Expeditions have a huge sale right now, you can do it any way you like. Just make sure that when you do go, you take advantage of all the things to do in Antarctica, we don't want you to miss out.
I could count down to number 1 but I thought we'd start with our favourite things we did in Antarctica in the order that we liked them. Truth be told, all of Antarctica was magnificent and our number 11 could be someone else's number 1. Perhaps the Lemaire Channel is the tops for one explorer while another didn't love kayaking antarctica the way we did. What am I saying, there is no way anyone couldn't love kayaking in Antarctica and that's why it's number 1 on our list of things to do!
1. Kayaking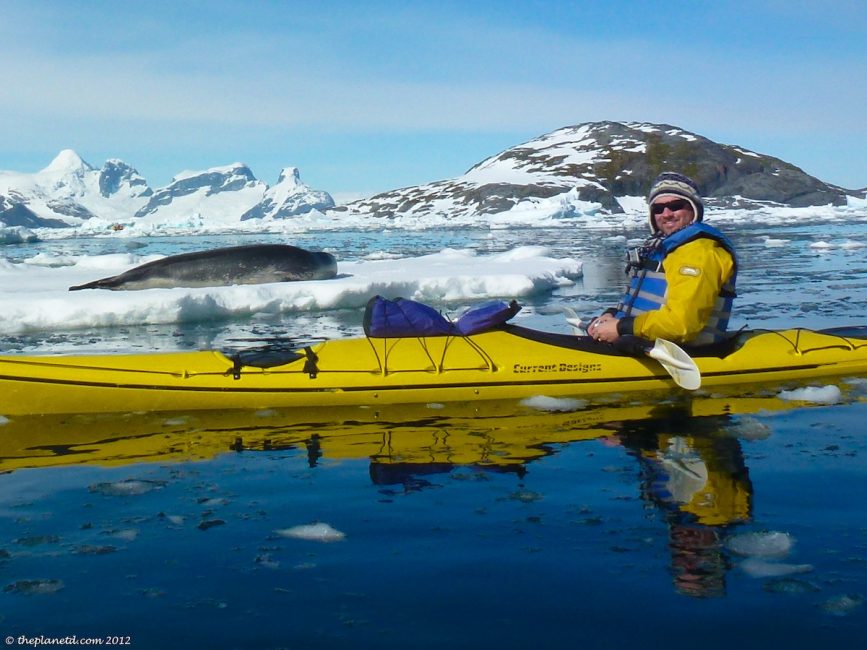 When Quark Expeditions offered us the chance to go kayaking in Antarctica I didn't know what to expect. I was nervous about kayaking in such cold water and I thought that maybe we'd get out on the water once or twice during the cruise. We ended up kayaking 8 times in Antarctica and it was magnificent. We floated quietly past leopard seals sunning themselves on ice flows, we circumnavigated icebergs floating in the middle of the sea, and we paddled with penguins jumping through the air at the front of our boats. It was an extraordinary way to quietly explore the Antarctic Peninsula and it was the adventure of a lifetime as we paddled through brash ice and along the wild Antarctic coast.
Read more about our favourite thing to do in Antarctica
2. Polar Plunge
If you asked me what I thought of the polar plunge while I was taking part in this zany adventure, I would have told you not to do it and it's the lowest thing to do on my list. However, now that I am home and in the comforts of a warm and cozy house, I say it's one of the top things to do in Antartica. Why? Because how often do you get to tell people that you jumped into sub-zero waters in the South Pole and lived to tell the tale. It's the extreme spectrum of adventure travel and not many people will be able to top you once you've told them you survived the polar plunge.
Wondering what an Antarctica trip is like? Check out our Antarctic Expedition Explained. 
3. Camping
Few people have travelled to Antarctica and even fewer have actually stayed overnight on the continent. People sleep on expedition ships or fly to Antarctica to step on the land, but not many people have actually camped in a bivy sac, in the middle of the snow beside snoring leopard seals. Camping on Antarctica is a must. Yes, it's cold, it's uncomfortable, and you can't eat, drink, or pea on Antarctica, but once you are back on board your ship after surviving a night as the early explorers did, you'll be filled with pride and gratitude that you never have to do that again.
Camping on the Continent is one of the best things to do in Antarctica, read more about it here. 
4. Zodiac Tours