In today's world of cyber technology and highly trained criminals, it's easy to have your valuables compromised, especially when travelling. It used to be that all you had to do was strap on a money belt and carry your traveller's cheques and you'd be safe from travel theft. Now you have to worry about people downloading all your personal information from your credit cards as you innocently walk by. If people want to, they can get your bank and credit information and wipe out your accounts in an instant. That's why it's important to think about anti theft gear when planning your trip abroad.

Heck, we use this gear even while at home. It never hurts to play it safe no matter where you are in the world.
RFID
First, let me explain what I am talking about. You may be thinking to yourself, what do you mean someone can wipe out my bank account as I walk by? Well, there is a new kind of pickpocket out there and it's called RFID skimming. What is RFID skimming? It is a form of theft using wireless transmitters to gain information to your credit and debit card identification chips. They can decode personal information like your name, address, phone number, and private social insurance and security numbers. Once somebody has that information, they can do anything from gain access to your accounts to stealing your identity.
Anti Theft Gear Guide

There are many types of anti theft gear that you can use to travel safe and we wanted to outline some of the latest technology to help travellers protect their valuables and their personal identities. TravelSmith has a line of anti theft gear to help the intrepid explorer see the world worry free and here are some of the travel safety items recently and in the past.
Pacsafe Citysafe LS400 RFID Travel Tote – Since getting my Pacsafe Tote, I've become a more relaxed traveller. First of all, it holds a lot including my camera and even a computer. But it's the safety features that put my mind at ease. When walking through a crowded market, I can lock my zippers so that nobody can rummage through my valuables. I used to constantly walk with my hand on my zipper or squeeze my bag under my arm pit. Now I walk with a little more comfort. The strap is slash proof (not that I've ever had to worry about that, but there is always a first I guess) and most importantly, there is an RFID pocket that blocks transmission of your personal information.
Read our anti theft gear review of the Pacsafe Travel Tote: plus receive 15% off at TravelSmith when you spend $50 or more at checkout. Buy it now
Take it from us, we've had people rummage through our bags without us noticing, any extra zippers you can have reinforced is a bonus. No matter how much you keep an eye on your valuables, things can easily go missing.
TravelSmith Leather RFID-Blocking Thinfold Wallet – Dave rarely carries a wallet these days, but when he does, we now know that his credit and bank cards are safe.
Pickpocket-Proof Shorts or pants – These pants have come a long way baby. We first tried Pickpocket Proof pants a couple of years ago and while we loved the concept, we found the material to be a bit heavy. They've since lightened the design and made the pants far more comfortable. And now, they are made for women too! When traveling, you don't always want to carry a bag, sometimes we just want to go for a walk through town with a few items and some cash. The Pickpocket proof pants are the answer with deep pockets that are protected with a zipper and button for extra protection.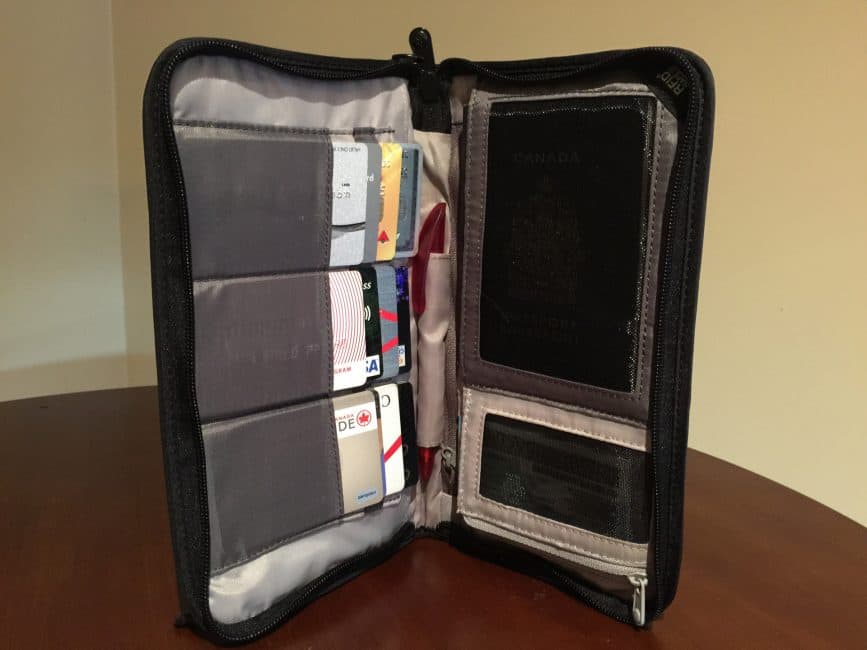 Pacsafe Travel Organizer – I carry all our travel documents and credit cards when traveling. It's a lot to worry about, but lately, my mind is resting a bit. I am loving my new travel organizer. It easily holds all my credit cards and travel rewards cards as well as both our passports and money. This organizer transforms into a clutch for nights out too. I don't want to always carry my tote, so turns into a nice little organizer. I've put my cellphone, a portable charger and iPhone chord into this handy organizer. Now I'm ready for anything. Oh and did I tell you that it is also RFID secure.
Check out: Cool Travel Gear you May not Know About
More Travel Safety Gear

PacSafe Bag Protector - We didn't regret the extra weight when traveling through India. The Pacsafe Bag protector put our minds at ease when travelling on the train and when leaving our beach bungalow. This item is excellent for securing all valuables in one place. Often when traveling on trains in Asia, you're bags will be stuck somewhere else. With a Pacsfafe protector, you can wrap a lightweight steel frame around your bag and lock it to a pole.
We could sleep soundly knowing that our valuables were locked securely to a pole inside its own vault like safe. When we stayed in some questionable accommodation on the beach, we locked our computers and cameras up inside a bag and locked it to the bed frame. We've heard of people breaking into beach bungalows. Sure your passports and money are in a safe, but what about your larger more expensive gear? We like to have all our bases covered.
Read: 13 Essential Items for India and Travel Gear we wish we had. 
VPN – Let's face it, everyone is on line all the time these days. Most people will be booking accommodation, buying flights or paying their bills online during their travels. Open public Wifi can be compromised and clever computer hackers are just moments away from steeling your bank information. Secure your accounts by using a VPN. A VPN connects your computer to a secure server anywhere in the world. Once you are connected all of your Internet communication is encrypted allowing you to access your personal accounts free from eavesdropping of terrible thieves.
Traveling soon? Read our most complete travel packing list you'll ever need!
Luggage tracker – We can't always be with our luggage when flying. Even when traveling carryon only, you sometimes have to check a bag on smaller planes. If luggage does get lost, it's a bonus to have an extra set of security to track your luggage. We've used
Luggage locks – We like to lock our luggage. Even while standing in line, people can easily get into your zippers. Luggage locks give you that extra protection to deter thieves. We always say, Why make things easy for people. Thieves look for easy targets. I can't tell you how many times I've stood in a queue and noticed my fellow passengers dragging a bag behind them that's wide open. Be it a carryon roller or duffel anyone can stick their hand in and rummage through. Luggage locks are lightweight, easy to open, but perfect to make things difficult for criminals.