Is your schedule getting more hectic as we head into fall?
For many of us, "back to school" means back to crazy schedules that can include driving kids to activities and social events, helping with homework and more. The hustle and bustle of fall means less time for planning and cooking healthy meals. So what's a busy family to do?
As we transition from summer fun to hectic fall routines, adults and kids alike need the right fuel to stay alert all day. Along with getting all of the school supplies and clothes ready, make healthy eating a priority and put together weekly meal plans and shopping lists.
Here are some ideas to make breakfast, lunch and snacks healthier, faster and more fun!
Breakfast
Are mornings too hectic to sit down to breakfast? Breakfast has been shown to help kids and adults concentrate and perform better at school and work, so it's important to fit it into your morning any way you can.
Give smoothies a try! You can drink them quickly at home or while you commute from a travel mug.

(Photo credit: Ken Hawkins via Flickr)
Kids and adults can create their own breakfast smoothies in three simple steps:
1. Start with a liquid base.
Choose one cup of a liquid such as milk, almond milk, soy milk or 100 per cent juice (no sugar added).
2. Add fruit and even vegetables!
Add ½ cup of frozen banana, berries, peaches and a handful of spinach or kale leaves for a healthy dose of vitamins, minerals and fibre.
3. Power up with protein.
Add two tablespoons or more of a nut butter such as peanut butter or almond butter; Greek yogurt; hemp seeds or chia seeds; pasteurized egg whites and/or whey, casein, or vegan protein powder.
Watch this video for ideas on what to add to your smoothie based on your goals.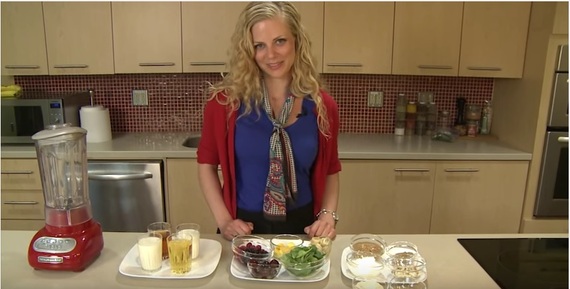 Lunch
Studies have shown that children who eat healthy, balanced lunches are more alert throughout the day and get better grades than kids who don't eat healthy lunches. Eating a balanced lunch also improves children's concentration in afternoon subjects and reduces their chances of overeating and making unhealthy choices for their after-school snack.
These findings also apply to adults — eat a healthy, balanced lunch and pack nutritious snacks to avoid the dreaded 3 p.m. energy slump. That's when cravings for less healthy convenience foods tend to kick in.
Kids and adults love design-your-own sandwich shops and salad bars, so why not create the experience at home?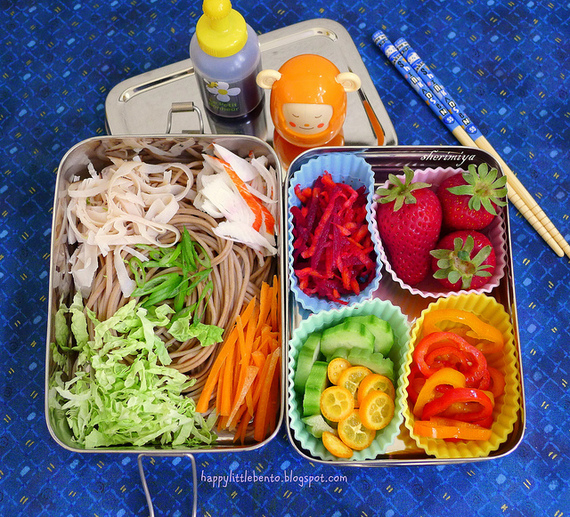 (Photo credit: Sheri Chen via Flickr)
Every Sunday, get healthy food ready for the week by doing the following:
• Chop up a variety of vegetables, such as bell peppers, cucumbers, carrots, celery and more
• Buy some triple-washed lettuces such as mixed greens, spinach and romaine
• Make egg, tuna and salmon salads with Greek yogurt instead of mayo
• Save some roasted chicken from Sunday dinner as a filling for sandwiches or a protein-rich topping for salads
• Get a variety of wholegrain bread options such as pitas, wraps and naan
• Make up a batch of quinoa or wholewheat couscous in minutes as a base for delicious salads.
• Open some canned beans and rinse well to have chickpeas, black beans and lentils ready for adding to salads or making hummus — it makes a great sandwich topping or dip.
When you have all of this prepared, putting together a lunch the night before can be a family affair that everyone can have fun with! When kids make their lunch, they'll be less likely to trade it away at school.
Smart Snacking
Round out your lunch bag with some healthy snack options.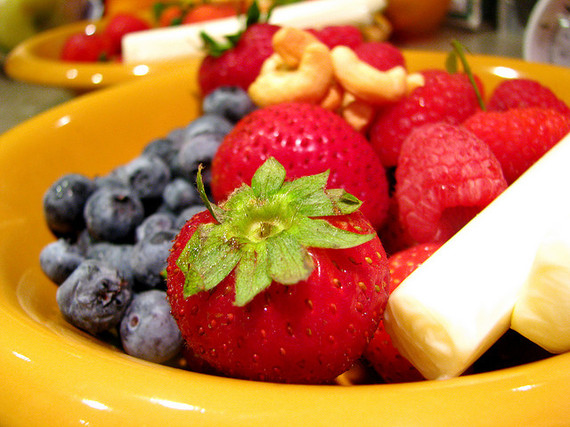 (Photo credit: Lorenia via Flickr).
Let kids choose from a variety of snacks such as:
• Fresh fruit
• Vegetable sticks with yogurt or hummus dip
• Yogurt cups
• Apple chips
• Roasted edamame or chickpeas
• Wholegrain crackers
• Cheese sticks
• Pumpkin seeds
• Nuts for at-home use only — schools are nut-free
And don't forget to pack healthy snacks for yourself. Having a healthy snack with fibre and protein can help you stay satisfied, focused and energized throughout the afternoon so you're less likely to grab a latte and a pastry to get through the day.
Keep a slow carb energy bar in your purse, desk and car. SoLo GI bars are one of the first and only energy bars to be clinically validated as providing energy that sustains.
What tips do you have for healthy eating this fall? Tweet me @80twentyrule to share your ideas!
MORE ON HUFFPOST:
– This feed and its contents are the property of The Huffington Post, and use is subject to our terms. It may be used for personal consumption, but may not be distributed on a website.