Living with the physical effects of a chronic skin condition is difficult, but the stigma associated with the physical marks it leaves makes living with the condition even worse. I have personally suffered from a condition called chronic idiopathic urticaria, also known as CIU, since the age of six. Affecting one per cent of the population, CIU causes hives, swelling, pain and itching for absolutely no known reason. The most common misconception with CIU is that we break out in hives from an allergy, but that is false. CIU is an auto-immune disease.
CIU patients often don't receive relief from the average dose of antihistamines. We have to take larger, stronger doses of more expensive treatments. While the costs can seem overwhelming, the scariest part of this condition is the unpredictability. When will I swell up so much I need to go to the hospital? Will this ever go away? How do I plan my life? These questions are also common for patients with other skin conditions.
Growing up with CIU was incredibly hard, mostly because no one believed that I could be reacting as if I had an allergy and NOT have one. I felt dirty — the itchier my hives were, the more I would scratch, the more scarring I would have and the larger the wheals would become. My classmates would always ask "Are you contagious"? I explained that I was sick, not contagious, but this just led to more teasing and torment. Trying to fit in was simply not an option.
People often tell me I am "too mature for my age" but it wasn't a characteristic I chose for myself — I am a product of disease. I had to make mature, adult decisions concerning my health very early on. Patients who live with skin diseases feel so out of control, like their bodies are betraying them. I can relate — no matter how well I ate, exercised, or tried to remain stress-free, I still could not get relief from the pain.
If you suffer from a skin condition, you know the pain and hardship associated with it, but you can't let it consume you. You have to make a choice to stay as positive as you can. When I was stressed or depressed, it made my physical condition worse. I found counselling to be really helpful for me. I encourage anyone living with a condition like this to do the same.
I also encourage you to speak out! Speaking out helps decrease stigma. This was always beneficial for me — tell people what you have and explain what it is, so others don't have the opportunity to make judgement.
Having been affected mentally because of my CIU, it is so important for me to have mental health resources. Following a patient forum I attended with other CIU patients, I created a patient support group for Atlantic Canada. I have started it online, but have plans to grow it into an in-person group. If you have CIU, I encourage you to join my group on Facebook!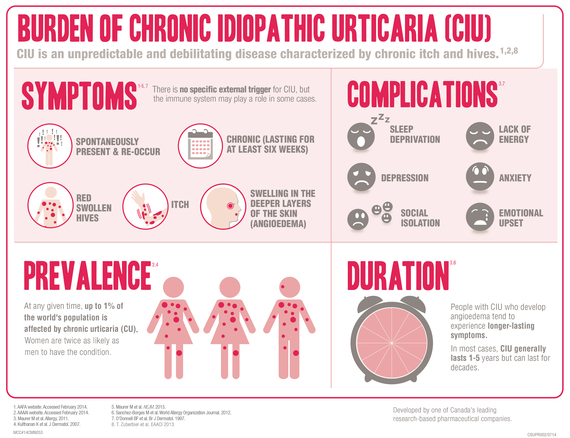 (Novartis Pharmaceuticals Canada Inc.)
MORE ON HUFFPOST:
– This feed and its contents are the property of The Huffington Post, and use is subject to our terms. It may be used for personal consumption, but may not be distributed on a website.