After signing the lease to my very first apartment, I instantly started brainstorming how I was going to make my bedroom look fresh out of Pinterest, while still maintaining my not-so-extravagant student budget. After attacking nearly every reuse it center and Habitat for Humanity I could find, I found a couple pieces of furniture I figured I could spruce up to reach my goal.
I picked up this chair at the Collingwood Habitat for Humanity for less than $10, and spent about $40 in materials. This chair was challenging to reupholster, but you can follow essentially the same steps to reupholster any chair you choose. Read on find out how to complete this chair reupholstery!
What you'll need:
Pliers
Screwdriver
Scissors
Paint
Staple gun/staples
Hot glue gun/glue sticks
Fabric
Trim
Step One: Unscrew the seat of the chair, and rip off all the old upholstery. Try and remove as many of the old staples as you can using pliers.
*It might also be helpful to take pictures of the chair's details to help you remember how to reassemble later on.
It should end up looking something like this:

Step Two: Collect all the pins from the cushions. Cut small squares of fabric and wrap it around the buttons one at a time, using some sort of wire or string to secure the fabric.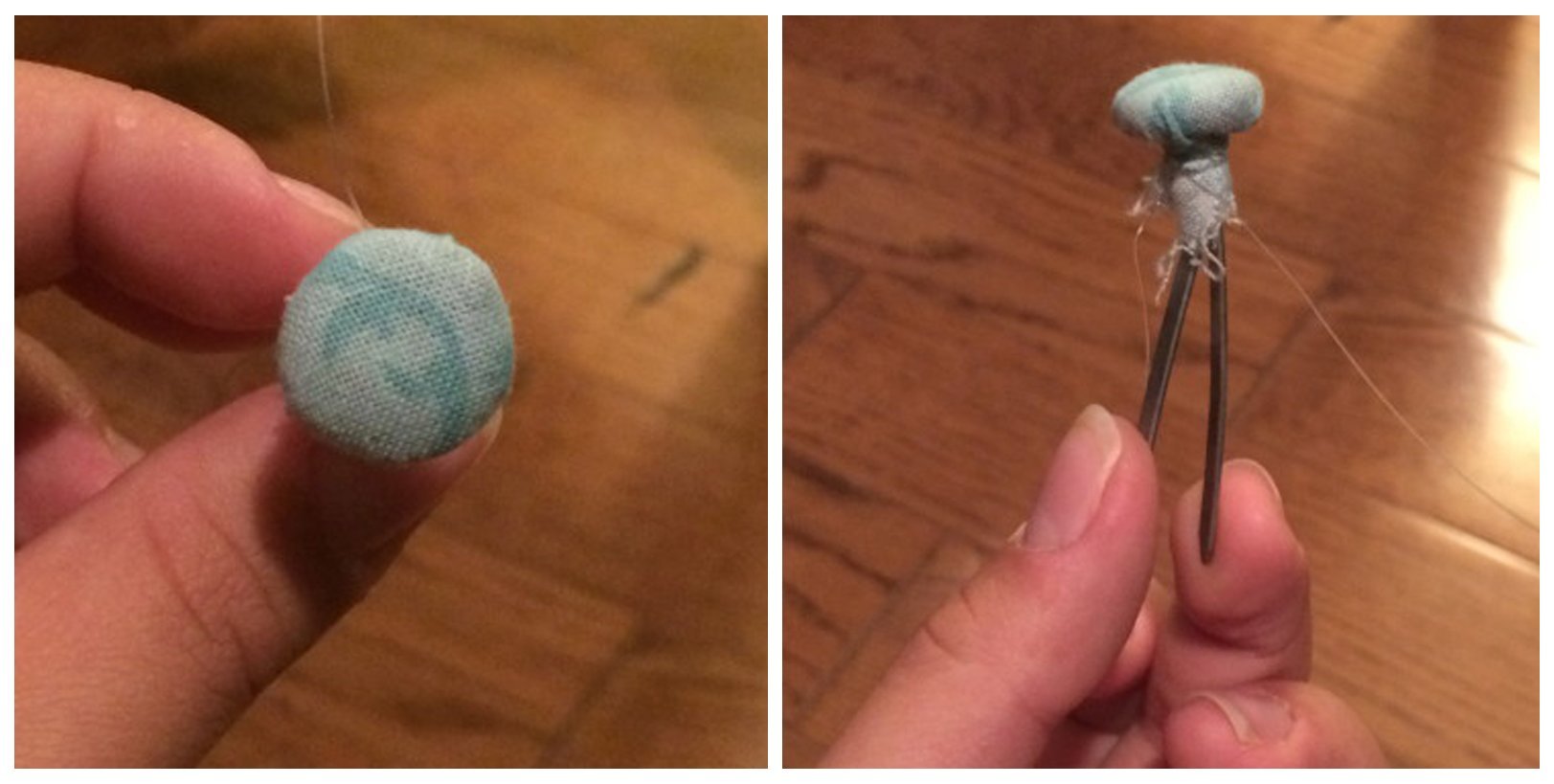 Step Three: Lay your material over the seat cushion. Cut around the cushion, leaving enough room to attach material to the underneath. (About 6 to 8 inches, depending on the depth of your cushion).
Step Four: With material cut and laid over cushion, begin inserting pins one by one, pulling fabric tight between each pin.
You should end up with something that looks like this: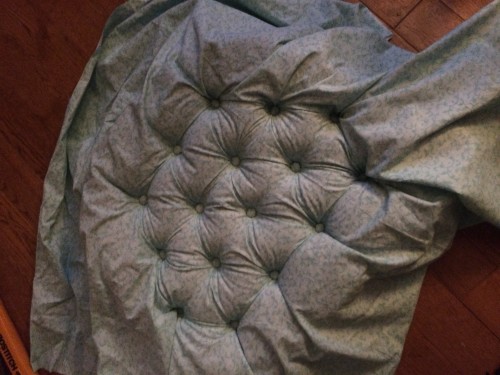 Step Five: Flip cushion over so the underneath is facing upwards. Pull fabric tightly and begin to staple. This step can be made a little easier with an extra pair of hands, one person pulling the fabric tight and the other stapling. Start off by getting a few staples secured at different points, then go back around securing all pieces of the fabric. Once you're finished stapling, cut off any excess fabric.
Your seat should end up looking like this: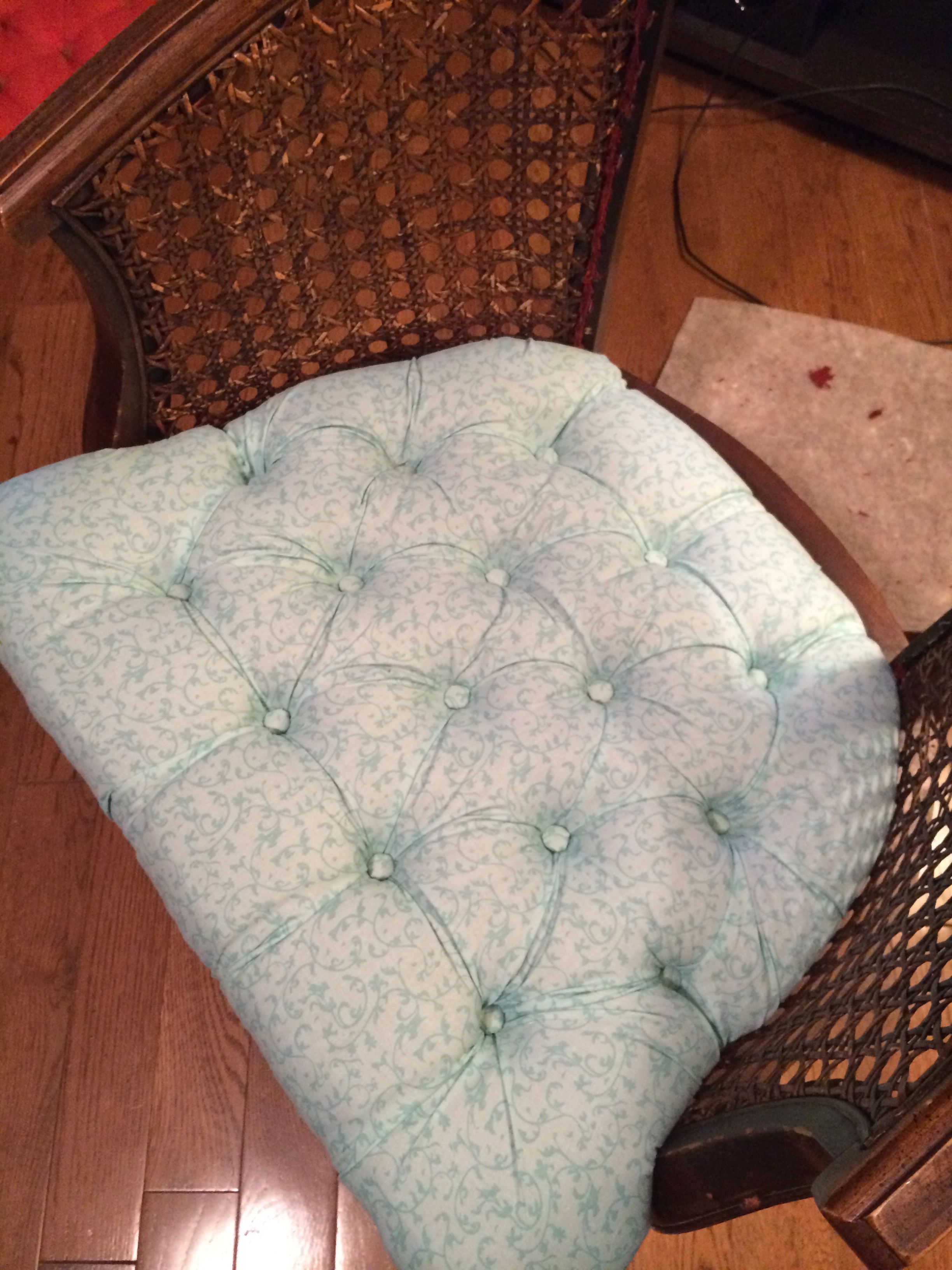 Step Six: Repeat steps three to four if you have a chair with a back cushion as well.
Step Seven: Paint the frame of the chair with your desired color. I used spray paint, but a can of paint could also work. It will probably take several coats before its done.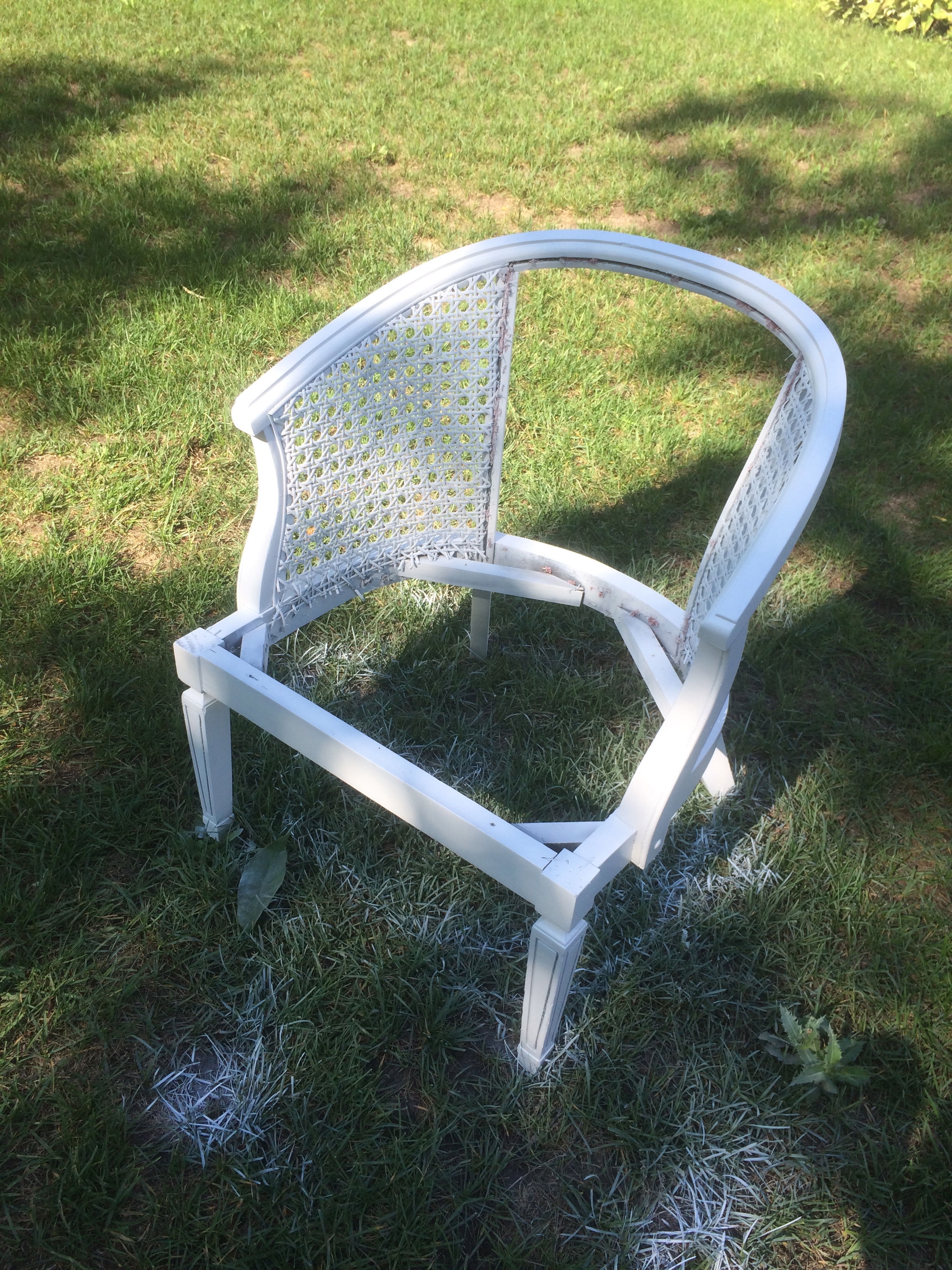 Step Eight: Cut a piece of material slightly larger than the space on the back of the chair. With the chair facing you, place the fabric over the space, and begin securing it using the staple gun. Ensure you leave a tiny bit of slack to compensate for the pressure of leaning back in the chair.
*If you do not have an extra set of hands to help you pull the material snugly, insert a few staples starting at the top, then down at the bottom, and then either sides. After you get those anchor points, staple in a line all round the material. This strategy helps to make sure you get an even pull of the fabric.
From the back, you should have something that looks like this: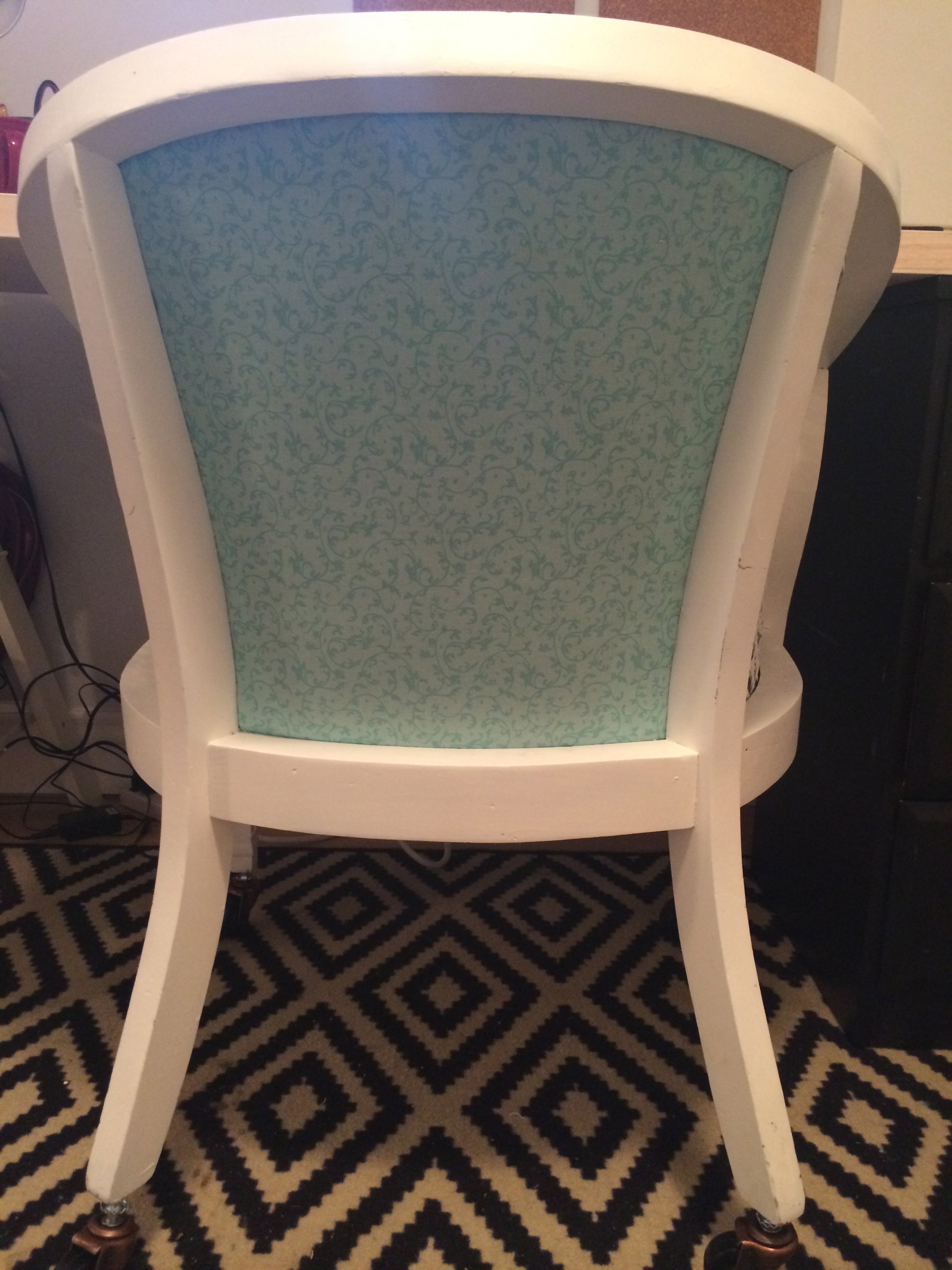 Step Nine: Put the back cushion in place like this: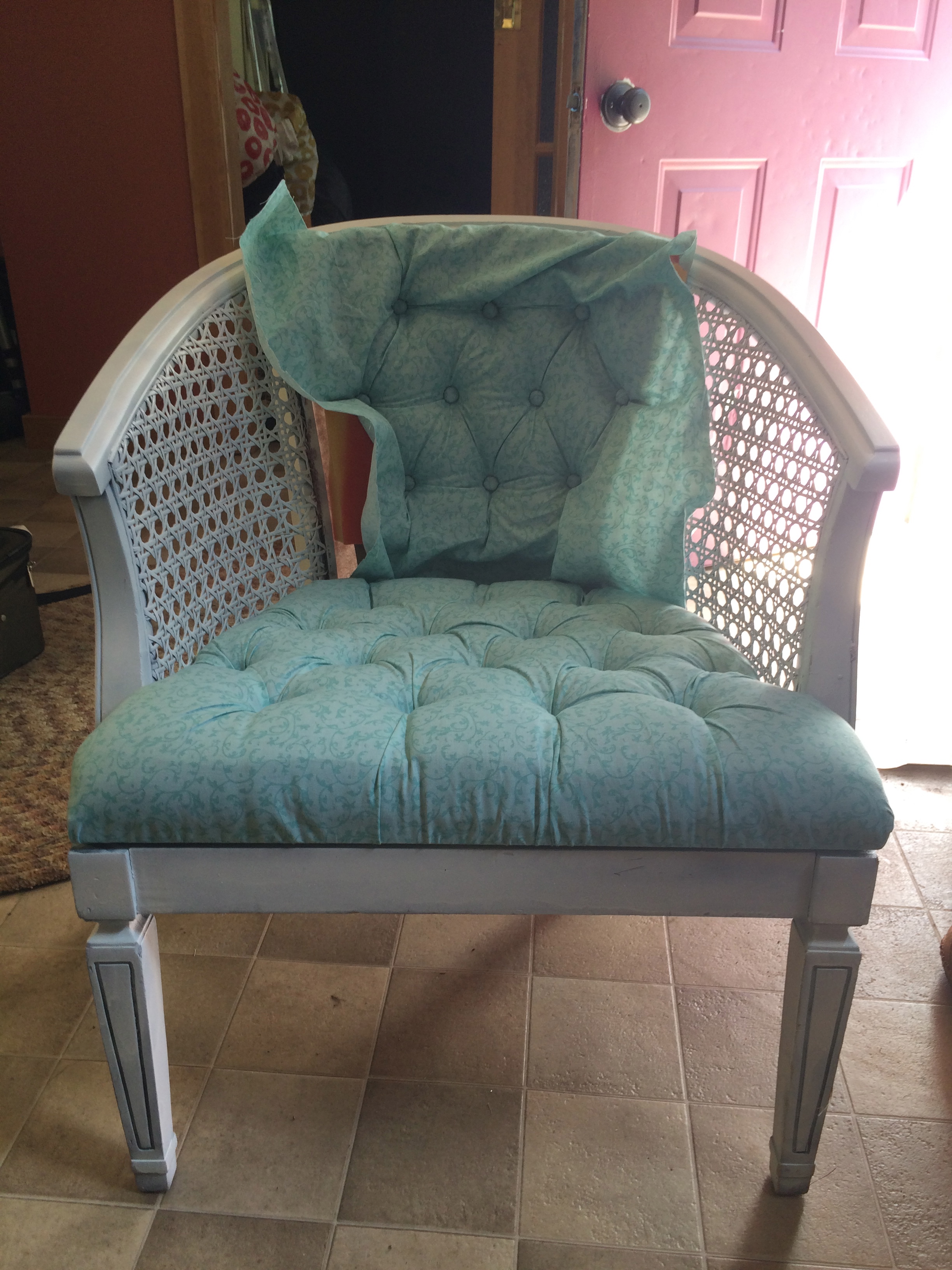 Now begin to staple the cushion in place. For a neat look, try keeping the staples in the straightest line possible. Once you've finished stapling, cut off as much of the access material as you can, and you should be left with this: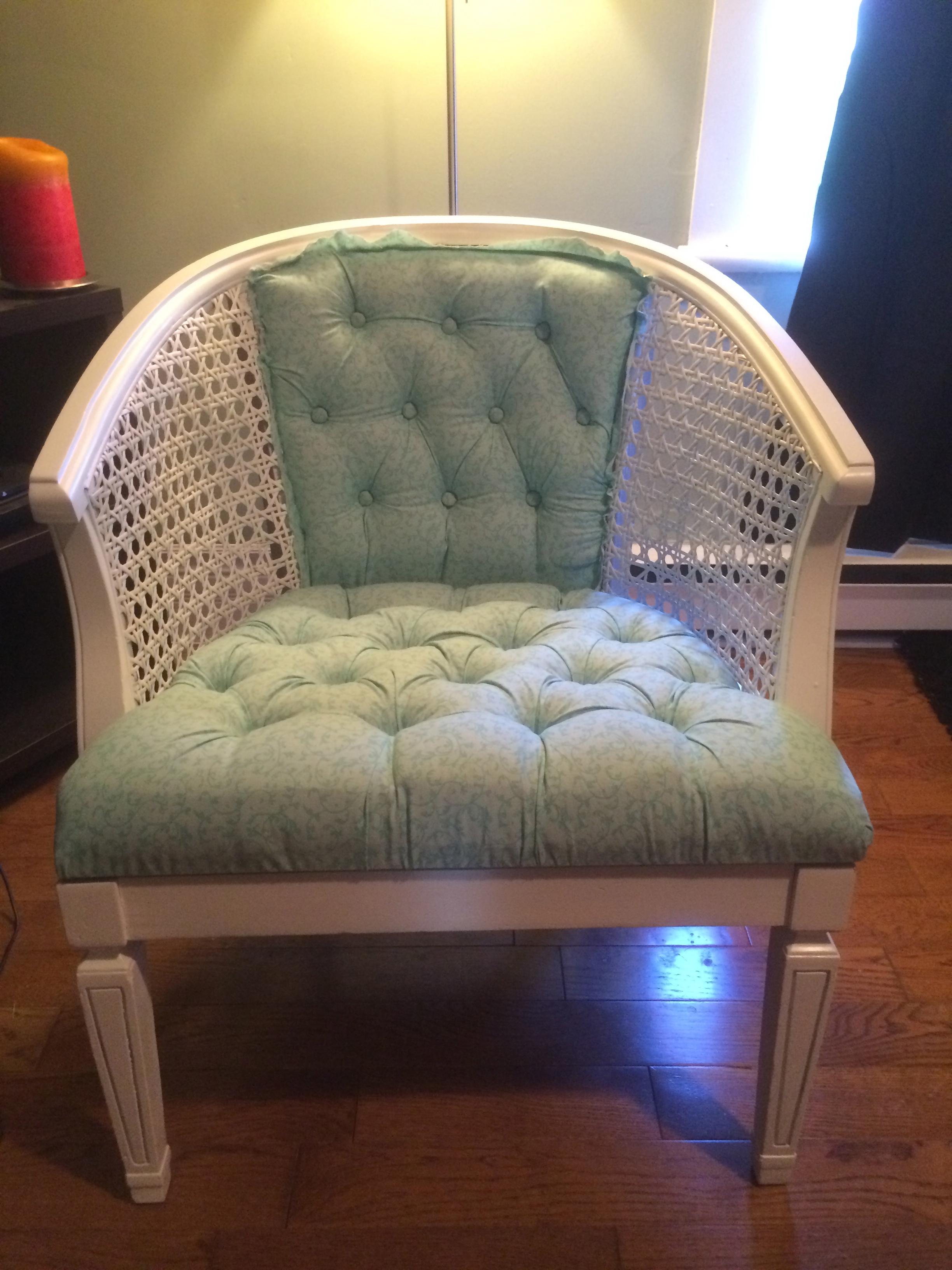 Step Ten: Using a hot glue gun, carefully glue your trim in a straight line over top of the area you have stapled. Use a generous amount of glue to ensure that the trim is secured properly.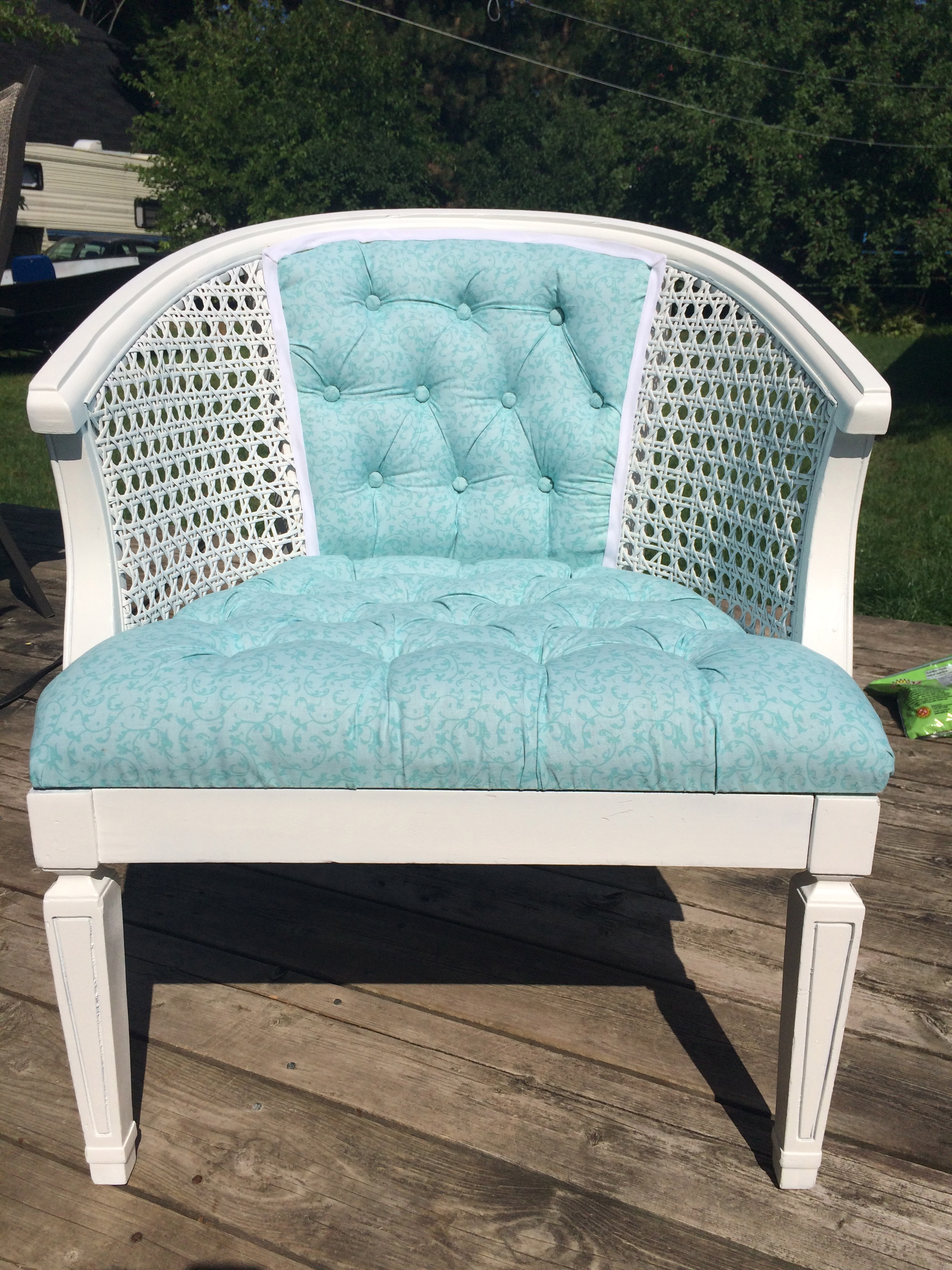 Step Eleven: Once all is said and done, screw the seat of the chair back into place and ta-da! You have a fabulous looking DIY chair reupholstery!
– This feed and its contents are the property of The Huffington Post, and use is subject to our terms. It may be used for personal consumption, but may not be distributed on a website.