It was a rocky start to our Daytona Beach vacation as we booked a hotel near the Daytona Beach boardwalk and pier. Dave and I have learned that as we grow older, we have little patience for noise, crowds, and drunken twenty somethings having balcony parties on the beach. Can Daytona Beach appeal to couples traveling with no kids and a healthy bank account? We aimed to find out.
After two nights at a "hotel that shall not be named," we moved farther south to Daytona Beach Shores Hotel and Spa. Suddenly Daytona Beach took on a more luxurious and grown up feel in this part of the 25 mile long strip. The moment we entered The Daytona Beach Shores Hotel, we felt at home.
A Daytona Hotel For Couples Travel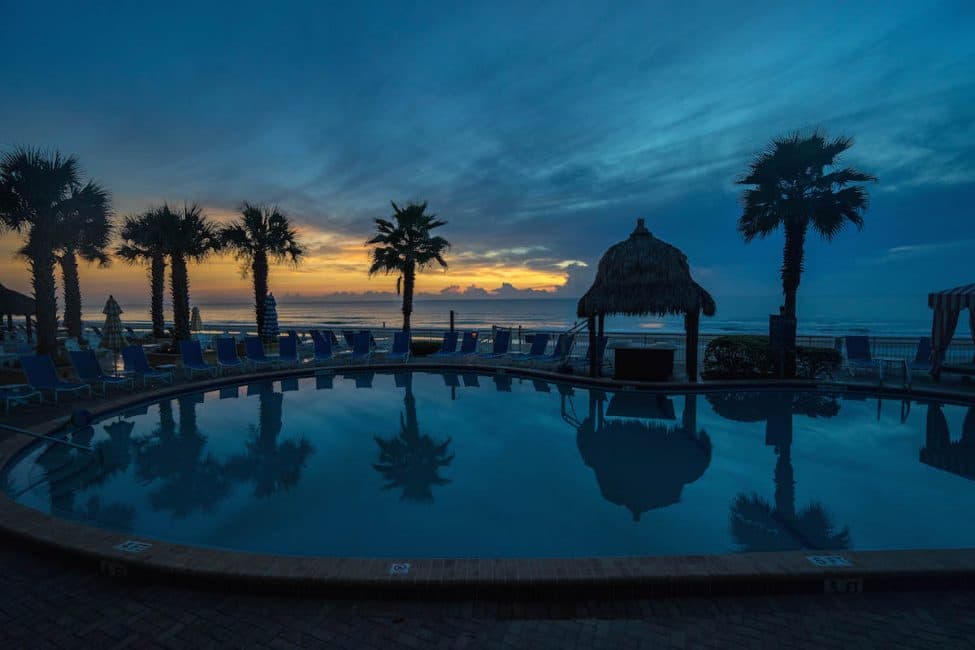 Check out our Luxury Travel Section for more great hotel experiences
Home at Daytona Beach Shores Hotel

When the front desk asked us where we were staying before our checkin at the resort, they winced and said, "yes, that is a different crowd that hangs out at the boardwalk." Don't get me wrong, a trip to the boardwalk is in order when visiting Daytona. It's fun to see the amusement park frozen in time. I felt as if I had stepped back to 1989. I was suddenly transported to a memory of when I walked with my parents to the pier and took a spin on the go-carts. It's nostalgic and fun to relive.
But when I'm done with a bucket of crabs at Joe's Crab Shack and the neon lights of the ferris wheel, I want to escape to tranquility, beauty, and romance. Daytona Beach Shores Hotel was the better choice for a grown up couples travel vacation.
Enjoy: The Top motorsports experiences including the Daytona 500
We checked into our poolside suite and instantly flopped on the canopy bed to bask in the luxurious duvet and perfectly fluffed pillows.
We walked to the bar for a glass of wine and took it to our large patio where we sat on firm wicker sofas in our own little oasis. We planned for an evening photographing sunset at the Ponce de Leon lighthouse, but it took all our strength and energy to tear ourselves away from tranquility.
That's ok though, once the sun went down and we snapped our prized photographs, we zipped back to The Shores to sit by the fire and enjoy canapés and fine wine. As we sat with content smiles on our faces, we said to each other, "This place can actually be a nice alternative to the Caribbean." There's a warm ocean breeze, palm trees, and a world class beach. Couples could actually have a romantic vacation here.
Before Daytona Beach Shores, we only thought of Daytona as a family vacation destination or a spot where students escape during the Spring Break. Our minds were changed in four short days at the spa and resort. Maybe Daytona Beach is becoming a good spot for couples travelling without kids.
It's the Little Things…
There are little thoughtful touches that make it the four-diamond rated hotel and the premium hotel on Daytona Beach Shores. Like the fruit and berry infused water available in the lobby and by the pool.
There's the friendly Valets that bring you cool bottles of water when you pick up your car.
There's the Smores packages available once the sun goes down for people to sit by the many outdoor fires where they can roast marshmallows and indulge in decadent chocolate under the stars.
There's the picturesque pools and hot tubs overlooking the ocean complete with pool bars, pool towels and poolside drinks.
Oh and there is the absolutely stunning view of the Atlantic Ocean.
The Daytona Beach Shores Hotel is one of those hotels that people envy when they walk by on the beach. It's one of those places where if I weren't staying there you'd say "Boy I wish I booked that hotel for my vacation!"
Now, I don't normally review hotels and I wasn't asked to review this hotel when the Daytona Beach tourism board invited us to experience the area. I expected to write about most of our travels to Daytona for Expedia.com where we are Expedia Viewfinders. But Dave and I really enjoyed this hotel and wanted to share a different side of Daytona Beach with everyone. I never thought we could actually slow down and have a romantic vacation in Daytona Beach.
Daytona Beach Shores Hotel Spa
I'm not going to lie, the Spa needs a little help. It's small, they rushed us out of the room once they were finished, and there isn't a nice quiet area to sit and reflect on your hour of pampering. But we both really enjoyed the couple's massage itself. It was the rest of the experience that needed a little TLC.
I had the male masseur and he was spectacular. My deep tissue massage was awesome and he worked away my aches and pains to perfection. Dave found his female masseuse a little too soft and thought that she was probably new, but with his recent broken vertebrae in his back, he was fine with a more gentle touch.
Daytona Beach Shores vs Other Spas
I felt good after the massage and it was nice to be able to experience the spa with Dave. But it needs to have more. A Quiet room, couches, even a steam room, hot tub or sauna would help. The staff was very nice and the treatment was a good value but the ending was abrupt. They told us to take our time and then knocked on the door rushing us out mere minutes after the left. For a four diamond resort, it wasn't up to the standards of places like the Four Seasons or the Trump Hotel where you can sit, drink some tea, and simply be still. It's important. Being rushed out made us a little unsettled.
See our Top Massages in the World
The saving grace? We had a beautiful poolside suite to go back to where we sat outside on our lounge chairs and promptly fell asleep.
Check out the world's wackiest and weirdest massages in the world
Last Day  in Daytona Beach
Our last evening was a mellow evening. We had captured all the sunsets we desired from the beach and we spent a romantic dinner at Azure, the only find dining restaurant on Daytona Beach Shores. Sitting outside by candlelight enjoying fresh seafood and pasta we realized that we hadn't had such a content or relaxing vacation since our first trip to Ireland. There are some destinations that just ooze calm and tranquility and our time at the Daytona Beach Shores Hotel was just that.
Will I go back to Daytona Beach again? Yes, but only if we stay at Daytona Beach Shores, I think it's safe to say, we outgrew the boardwalk and party atmosphere and have moved on to the South Side of town.
Thanks to Daytona Beach Tourism for inviting us to enjoy the fun and sun of the city, and thanks to Daytona Beach Shores Hotel for saving us from our frat house torment near the pier.
Read the original post Luxury & Romance at Daytona Beach Shores Hotel and Spa on The Planet D: Adventure Travel Blog.