Who doesn't love to be organized? As you may know, we enjoy using TripIt as our go-to app for curating our travel plans. TripIt Pro is an all-in-one travel organizer that monitors flights, seats, fares, and points. We always know our upcoming plans thanks to alerts by TripIt. So we asked TripIt if we could give our readers and followers a chance to win a year subscription to TripIt Pro for themselves. They not only said yes, they said they'd give us 10 free subscriptions to give to you.
TripIt Pro Travel Photo Giveway
Read how the TripIt app makes your travels easier
Big 10 TripIt Pro Giveaway
Not ones to like confusing and complicated rules, and as lovers of travel photography, we decided to make things easy. All you have to do is post your favourite travel photo on Instagram with the hashtag #tripitpic and tag both @theplanetd and @tripitcom so we will be notified of your entry.
Make sure to follow us and TripIt to be eligible to win.
We'll announce 10 winners in two weeks.
That's it!
Instagram Contest Details
 Check out how we found Balance when teaming up with TripIt
There's no theme and no end to the possibilities of travel photos you should post. Our advice is to try to make them inspiring, or something that has some meaning to you, or maybe a memory of your favourite personal travel moment. Or one of your favourite photos that you are proud of. Dave and will be the judges and we are a couple of saps. We can easily be won over with words.
Tell a Story with Photos
Tell us your story, explain the reason you love the photo, make us laugh or make us gasp in awe at the beauty of your destination you're highlighting. See, it really can be anything! Here's a few recent photos from our Instagram feed to give you some inspiration.
We'll e monitoring the contest for the next two weeks until Sept 23, 2015.
Once the contest is over, we'll choose 10 winners and notify you on Instagram.
Rules of the contest:
Tag your photos on Instagram with #TripItPic
Remember, make sure to tag both @TripIt and @ThePlanetD so we can see the entries. People tag TripitPic all the time so if you only use the hashtag and don't tag us, we won't know you entered.
Write a short synopsis of what your photo means to you.
Have fun!
Here's an example for you:
Don't worry, you don't have to write as much as we do. Just make sure you get those tags in there like we did at the top!
About TripIt
Tripit aims to give travellers peace of mind to create the perfect trip and giving away 10 Tripit pro subscriptions to our readers go the extra mile to help you organize your next trip.  Once you've gone on your next vacation, make sure to continue to share you travels by tagging #TripItPic" so we can see how it all went. We'll continue to follow along and hopefully see you in some place beautiful.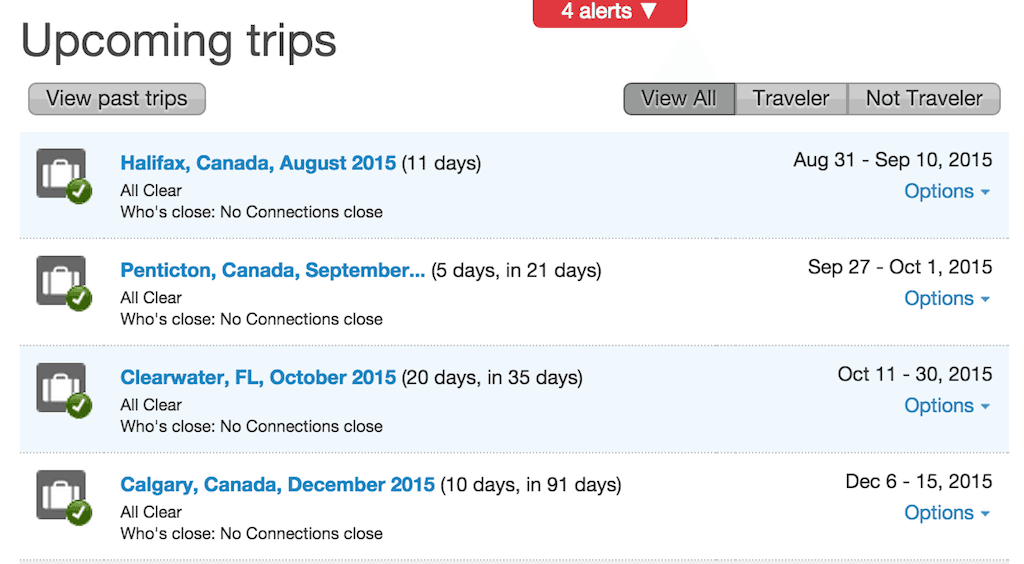 Why does TripIt offer peace of mind? Once you've made your travel bookings (using any site), you can forward your flight, hotel, and other travel confirmation emails to [email protected] Or you can do what we do, just connect your email accounts to TripIt and they'll import your travel-related confirmation emails automatically. We get regularly notices from TripIt telling us that they noticed we have upcoming travel plans.
We not only get our travels organized, we also receive real-time flight alerts, aid to find alternate flights, tracks seats, and updates when some become available, and TripIt tracks our travel rewards programs, and monitors fares. Whew, that's a lot. For more information, visit TripIt for Details.
And read more travel tips on the TripIt blog where we are contributors too!
Read Next: Etiquette in the Middle East
Read the original post Organize Your Travels with our Instagram TripIt Pro Giveaway on The Planet D: Adventure Travel Blog.