They answered the call when our country needed heroes; now we have the great privilege of caring for them. In honour of Remembrance Day, we'd like to introduce you to two of Canada's Second World War Veterans.
Don Stewart
Just shy of 17 years old, Don enlisted in the Royal Canadian Naval Volunteer Reserve in the spring of 1942. Thanks to a phony signed letter of permission from his mother, he made it past the recruiting officer. Despite the fact that his parents were not on board with the idea, he ventured off to sea.
As a junior seaman and gunner, he spent three years on the defensively-equipped merchant ships (DEMS) zigzagging across the Pacific and Atlantic Oceans delivering supplies during the Second World War.
"Moving across the Atlantic Ocean at only eight knots, we were sitting ducks for the German U-boats," says Don.
Over a period of three years, he saw more than 40 allied ships sink; fortunately, he was never hit by a German U-boat or fighter-bomber.
In one 1944 convoy, a ship sank with another man named Donald Stewart on board, and Don's parents were notified that their son had died at sea. With no mail delivery, Don did not keep in touch with his parents and so they were unaware of this error.
At the end of the war, he came home unannounced and shocked his father, a policeman who just happened to be at the train station meeting the soldiers returning.
"He usually didn't show much emotion, but that day he hugged me long and hard. I will never forget that feeling — there wasn't much talking," recalls Don.
His focus today as President of the Veterans & Community Residents Council is to advise hospital administration in a constructive manner on issues related to the welfare of residents living in L-wing and K-wing, Canada's largest veterans care facility.
Back home in British Columbia, Don served as Legion Branch President in both Penticton and Kamloops. He has been a proud and active member of the Royal Canadian Legion for 68 years.
Friendships are very important to Don and at the Veterans Centre he keeps busy socially, whether it's dinner out in the community, a Legion meeting in Niagara Falls, or simply time together with his comrades in the Blythwood Social Club, a pub located onsite for residents and family members to socialize over a beverage.
Originally from the Okanagan Valley in British Columbia, Don is the proud father of eight children, 15 grandchildren and three great grandchildren.
Mac Joyner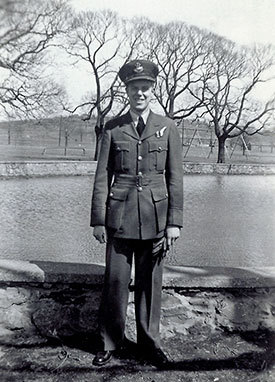 Mac enlisted in the Royal Canadian Air Force in Hamilton, Ontario, at the age of 18. Following a year of training, he became a navigator bombardier and was posted overseas. After further training, he was posted with 101 Squadron in Lincolnshire, England.
Responsible for pinpointing enemy targets on bombing runs over Germany, Mac flew 33 successful sorties in a Lancaster aircraft. He was often in harm's way and feared the worst when anti-aircraft fire and shells were firing at his aircraft.
"I was up in the front of the plane, right in the clear capsule, so I could see and feel everything along with sheer panic," says Mac. "I was a lucky one, all right."
It was a miracle that no one in his plane, a special duty squadron was killed. The eight-man crew (five English and three Canadian) included a German-speaking wireless operator who intercepted and interfered with voice commands from ground units who were directing the enemy crews. The normal bombing crews had a seven-man crew.
Unfortunately, many of the Lancasters in his squadron did not make it back. Out of 45 in his original squadron, 30 were shot down in just six months. New planes and crew where being added every day.
"I don't think any of us ever imagined it was going to be like it was," said Mac.
After the war, Mac returned to civilian life and eventually became President of Décor Metal Products, a division of Firestone Canada. At the time, they were the largest manufacturer of automotive safety seatbelts in Canada.
Good times and leisure now fill his days at the Veterans Centre. Mac has no complaints. Keeping physically and mentally active are key to his wellness. Nowadays, though, he prefers to travel by bus rather than by air, taking part in community and out-of-town bus trips. A highlight was when he visited the Canadian Warplane Heritage Museum in Hamilton.
Family was and still is very much his priority. His son, two daughters and two grandsons visit him at the Veterans Centre and take him home for family gatherings often.
For Mac, the war memories remain and are also meticulously tracked in his flight log book. The dates, hours, aircraft names, pilots and places such as Frankfurt, Stuttgart and Berlin are noted in pen — along with "191 lost" in February, 1944, noted and tracked in pencil.
On Remembrance Day, thousands of Canadian flags will be planted in the lawn at the Sunnybrook Veteran's Centre. Honour our Veterans and buy a flag to be planted on your behalf. Proceeds support the Veteran's Comfort Fund, enhancing our veteran's quality of life. Learn more at RaiseAFlag.ca
Read health tips & information from Sunnybrook experts at health.sunnybrook.ca
MORE ON HUFFPOST:
– This feed and its contents are the property of The Huffington Post, and use is subject to our terms. It may be used for personal consumption, but may not be distributed on a website.