(Photo: George Pimental)
Los Angeles is looking a little shinier and feeling a little buzzier this week as we are close to the 88th Annual Academy Awards on Sunday. While Oscar parties are popping up in all the usual Hollywood haunts, the only soiree on this Canadian-Angeleno's list was Telefilm Canada's 3rd annual "An Evening with Canada's Stars" at the Four Seasons Hotel in Beverly Hills.
Co-hosted by the Consulate General of Canada and the Academy of Canadian Cinema and Television, the event was a celebration of this year's exemplary Canadian film and television making.
This year, Canadian films and talent earned 21 Academy Award nominations, with nominees including "Brooklyn" and "Room" (Best Picture), Rachel McAdams (Best Supporting Actress), three nominations for Denis Villeneuve's "Sicario," The Weeknd (Best Original Song) and five combined nominations for Canadians who worked on "The Revenant" and "The Martian."
The reception was a tribute to the Academy Award nominees, Canadian Screen Award nominees and a presentation of the Legacy Awards to Catherine O'Hara and Eugene Levy, given for unflagging dedication in bringing international acclaim to Canadian talent in film, television or digital media.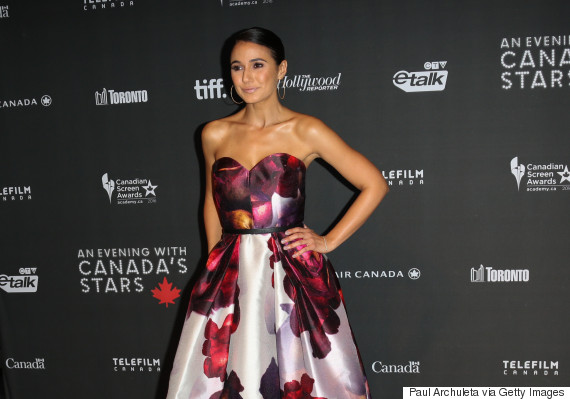 Emmanuelle Chriqui attends 'An Evening With Canada's Stars' at Four Seasons Hotel. (Photo: Paul Archuleta/FilmMagic via Getty)
I traded my usual flip-flops for a frock and heels, and high-tailed it to the party to catch up with some of this incredible Canadian talent. Being on the red carpet alongside Mounties and Ben Mulroney made me miss home more than ever, I'll admit.
"Now it's a party," I declared to the American journalists assigned next to me, much to their confusion.
First up was the lovely Emmanuelle Chriqui, one of the night's presenters, who arrived in an elegant floral gown. We bonded over our mutual love of Vancouver before I asked her what she liked best about being part of this community of Canadian performers.
"We have an amazing reputation, Canadians. I think we're known to be nice and all the rest but I think as far as talent goes we have a really impressive group of Canadians in the entertainment industry. I feel so lucky to be part of that."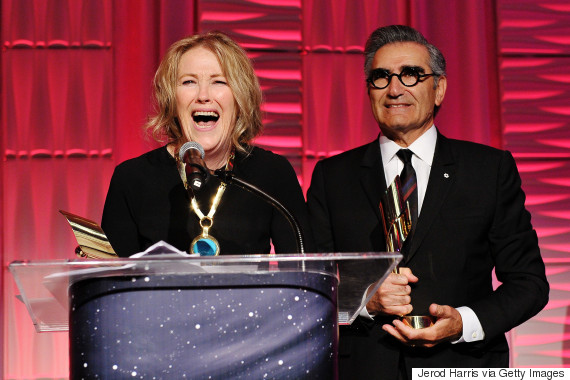 Actors Catherine O'Hara and Eugene Levy attend Los Angeles event on Feb. 25, 2016. (Photo: Jerod Harris/WireImage via Getty)
Catherine O'Hara, looking fabulous in a form-fitting black number with a striking turquoise statement bauble, was as fun and quirky and upbeat as you might imagine. I asked her how it felt to be honoured alongside long-time friend and co-star of comedy series Schitt's Creek (among many other projects) Eugene Levy.
"It feels ridiculous and lovely. I don't know if anyone does anything to deserve these things. I'm just lucky, I guess. I'm really glad I got into Second City Theatre when I did and got to meet him."
"You don't do this work for recognition. We do it for the work, we do it because it's fun and when you get recognized for it, it's really the icing on the cake," said fellow honouree Eugene Levy.
A handsome Hamish Purdy, nominated for an Academy Award in production design for "The Revenant," looked dapper in a tux and rugged beard reminiscent of the characters in the film. We chatted about the challenges he faced working in a beautiful but unforgiving location like the Canadian Rockies in the dead of winter, but it was clear the experience was too thrilling to agonize over the logistics.
"The Oscars, the whole spectacle is going to be fantastic. I'm really looking forward to seeing The Revenant group together again."
"You don't do this work for recognition. We do it for the work, we do it because it's fun and when you get recognized for it, it's really the icing on the cake."
– Eugene Levy
Stephan Moccio, nominated for an Academy Award for Best Original Song for "Earned It," which he co-wrote with The Weeknd, raved about collaborating with the singer-songwriter.
"He has a passion for writing great songs. He's really committed to the sound, the sonics, the way it feels, and the lyrical content. He really is a quintessential artist in that way."
Academy Award winning director Sharmeen Obaid-Chinoy is nominated again this year for her gripping documentary short "A Girl in the River: The Price of Forgiveness" about the women who fall victim to honour killings in Pakistan.
"Our whole aim is to change legislation in Pakistan around honour killings. They started drafting a law that will counter what my film is about. It's every film makers dream."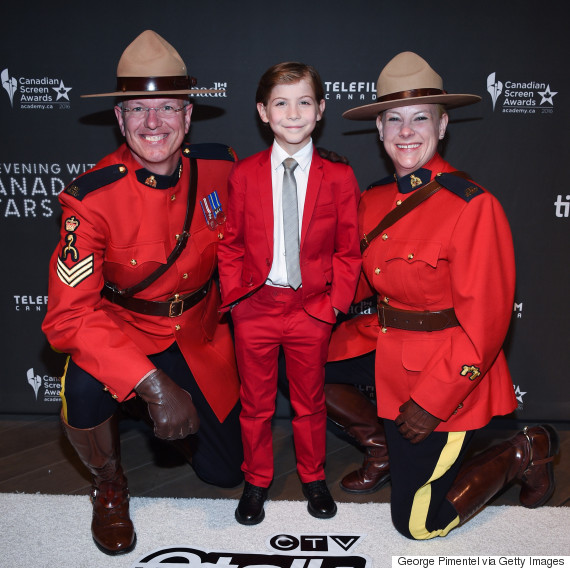 Actor Jacob Tremblay poses with RCMP officers in Los Angeles. (Photo: George Pimentel/WireImage via Getty)
Jacob Tremblay, nominated for a Canadian Screen Award for Best Actor for his performance in "Room," which is also nominated for an Academy Award for Best Picture, owned the carpet in a patriotic red suit and tons of nine-year-old swagger.
As the red carpet was about to wrap, I noticed Glenn Ennis, the massive stuntman who played the role of the Bear in The Revenant, breeze by me so I followed him into the party. I asked what it was like to rehearse the big attack scene with Leonardo DiCaprio.
"There's one pivotal part of the scene where the bear picks him up and shakes him from side to side, while he's grabbing him in the small of his back, so my face was right in his butt that whole time. We rehearsed that a lot. Probably 100 times."
I joked that he probably had his face in Leo's butt more than any actress in Hollywood. Then I finished my champagne and made a dash for the door.
The Academy Awards air this Sunday at 5:30pm PT on ABC. The Canadian Screen Awards air March 13 on CBC.
Also on HuffPost:
– This feed and its contents are the property of The Huffington Post, and use is subject to our terms. It may be used for personal consumption, but may not be distributed on a website.