Dubai is a city of the future to say the least. It's growing at such a rapid rate that 20% of the world's cranes are located here. Dubai has the world's tallest building, world's tallest hotel, and world's tallest residential building. It houses the largest mall in the world, the world's largest aquarium and the second largest man made marina on earth. Within five years, Dubai will have at least 600 more hotels, and the skyline should be close to being complete for the 2020 World Expo. It's a city that people should see once. We've been telling everyone that it's (scarily) a sign of the future of tourism. Dubai is leading the way with seven star and other luxury hotels attached to super malls where families can do everything they want on their vacations without leaving the complex.
But there is much more to Dubai than just the shopping and the manufactured experiences. We spent a week exploring and found that there were plenty of things to do in Dubai that were actually entertaining, exciting and a lot of fun.
Subscribe to our YouTube Channel for Travel Videos updated twice weekly! 
The Best Things to do in Dubai
Go to the Desert
If you've never been to the desert, this will be an exciting excursion for you. The Dubai Desert is part of the world's largest sand desert and there are countless desert safaris offering fun and fabulous experiences. We took two desert excursions that were vastly different.
Dune Buggy

We love a dune buggy adventure. There's nothing better than suiting up and hightailing it over sand dunes. Our sunset excursion took us out on a dune buggy where we enjoyed panorama views of the desert before having a traditional Bedouin meal while watching belly dancers and the mesmerizing Tanoura dancer twirl and twirl before our eyes.
Love Desert Safaris? See our other Dune Buggy Adventure in Marrakech
Conservation Area

If you want to see some wildlife, you are almost guaranteed to see Arabian oxen (oryx) gathering at the watering hole. There are plenty of camels walking through the desert (all are domesticated) but they are still amazing to see, and you may catch sight of birds of prey. We didn't enjoy the birds of prey show learning how they raise falcons. It's an extinct way of hunting in Dubai and is simply cruel to keep birds locked in a cage with a bag over their head simply for the pleasure of watching them catch pieces of meat that they throw in the air. It's not my idea of fun and I wouldn't recommend it. But the conservation area alone, was fantastic.
See more of our desert safaris at Rajasthan Camel Safari in the Thar Desert
Take a Scenic Flight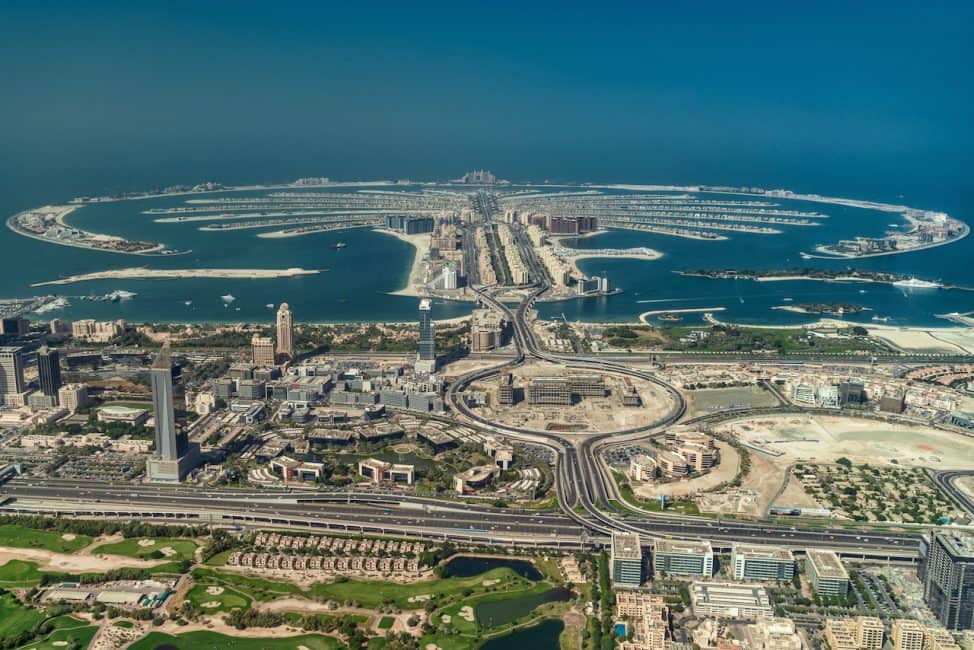 Dubai is a city that's definitely meant to be seen by air. A bird's eye of The Palm is astounding. This engineering feat is difficult to comprehend as Dubai has built and extra 650km of coastline for its residents to work and play. There's also a map of the world with hundreds of man made islands waiting to be developed 14 km off the shore of Dubai.
Watch or Scenic flight of Dubai on YouTube
Wander Through the Souks

Dubai is a new city and it's difficult to believe that there is somewhere that feels old, but the souks located in the old town actually do feel a lot like other souks we've visited in the Middle East. There's a spice market, gold market and other alleyways and streets that you can get lost in while shopping and exploring your way through a fast disappearing Dubai culture. Make sure to take the water taxi along the Dubai Creek. It's a great affordable way to explore the old part of town.
Learn more about the Middle East at 11 Remarkable Things to do in Marrakech
Visit the Dubai Museum

We thoroughly enjoyed the Dubai Museum located in the old part of the city. As the call to prayers rang over the loud speakers from nearby mosques we strolled through a display of Dubai's early days and humble beginnings as pearl divers during the silk route trading times to the discovery of oil and the flash of the 21st century. It's a fascinating display.
Go Up the Burj Khalifa

Whenever we have the chance to go somewhere high, we take it. We love seeing cities from the highest point and in Dubai you'll see the city from the highest building on earth. The Burj Khalifa is that famous building that Tom Cruise climbed during Mission Impossible and while standing outside the viewing platform, you gain a lot of respect for the man. That takes a lot of nerve. While the experience isn't as good as other high rise attractions we've taken around the world, you can't visit Dubai without going up the elevator. Warning though, it's crowded and once you've had a look at the city, there's not a lot more to do up there. It sadly doesn't have the wow factor of Toronto's CN Tower  or even the Calgary Tower glass floor.
Explore the Dubai Marina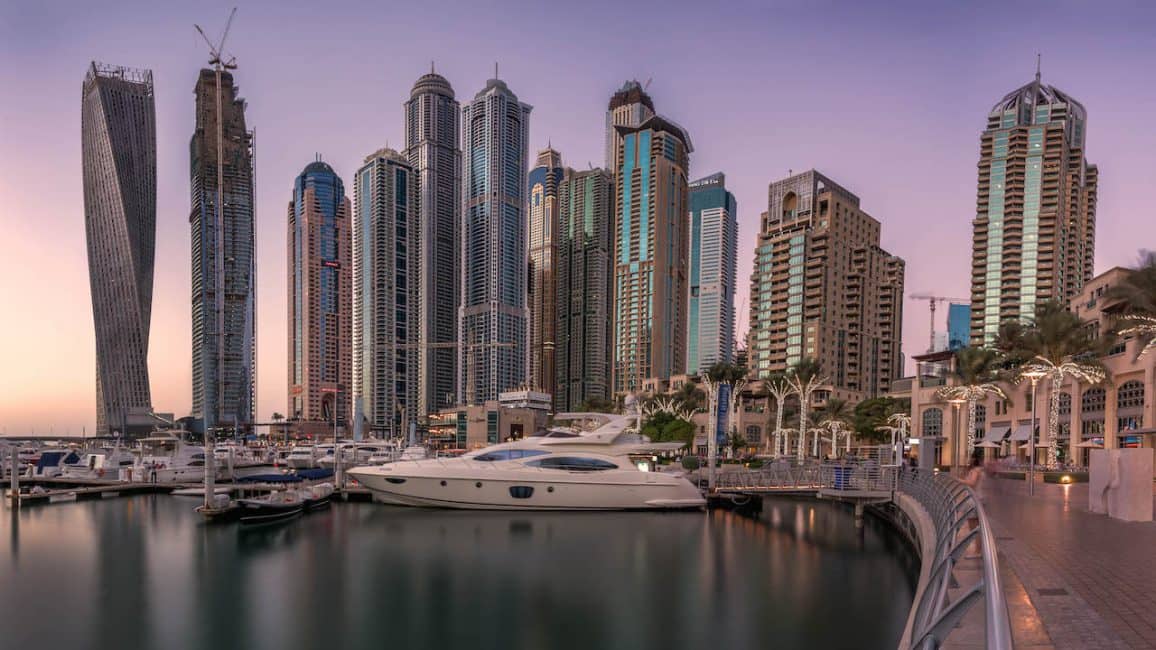 Dubai isn't much of a walking city, but when you make your way to the Marina, it's your chance to stroll along the promenade. There are coffee shops and restaurants surrounding the second largest man made marina in the world and you can book boat tours and dinner cruises from here. It was definitely our favourite place to hang out in the evening. Like all things in Dubai, it too is surrounded by mammoth skyscrapers that take your breath away.
Go to the Beach 

Dubai has fabulous sandy beaches. We booked a hotel directly on the beach, but there is plenty of public access as well. Like all beach destinations there are lot of watersports to choose from and many beach chairs or free patches up sand to set up shop for the day to catch some rays.
Visit the Malls

I know we didn't rave about the malls in our opening paragraph, but it is a spectacle to see them. The Dubai Mall has an aquarium, skating rink, waterfalls and top name brand clothing outlets where you can get lost for the day. You can even take a gondola ride around the Dubai lake. If you go to the Emirates Mall, you can go snowboarding or skiing, catch a movie or do some shopping. There are malls galore in Dubai and many hotels offer free shuttles to visit them where you can freely spend your hard earned money.
Like Shopping? Check out our Dubai Shopping Guide on TravelSmith
Waterfall Show

Just like the Bellagio in Vegas, Dubai has it's own waterfall show. Only this one is naturally bigger and better. Each night a display of water and light runs for 10 minutes every half an hour until midnight. The songs, lights and choreography change again and again so you never have to see the same show twice. Pick a seat and have a drink at one of the restaurants on the lake where the show is located or get there 10 minutes early for a front row premium spot right at the fence. I really enjoyed the show myself.
Dubai definitely reminds me of Vegas, enjoy our photo comparison Vegas around the world
Dubai is a massive city and a week let us barely scratch the surface. Something we really wanted to do was take a day trip to Qatar which we will make sure to do the next time we are in the Middle East. When choosing your accommodations for Dubai, choose wisely. There are hundreds to choose from and the city is very spread out. The marina is perfect for beach lovers, the financial district is great for shopping and skyscrapers and old Dubai gives you that more authentic feel. They are all very far apart but reachable by skytrain or taxis. Taxis are surprisingly very reasonable in Dubai and we used them often.
Our trip to Dubai was sponsored by Expedia.com as part of their Viewfinders program. We were upgraded by Air Canada to enjoy premium economy and business class on our to and from flights on their new Dreamliner service direct from Toronto. 
Read Next: Hong Kong in 3 Days
Read the original post 10 Fun and Fabulous Things to do in Dubai on The Planet D: Adventure Travel Blog.