Recently we were invited to Sydney, Australia by Cheapflights to help them celebrate 8-million visits across Australia and New Zealand. When they asked us what we'd like to talk about at the Sydney Travel Massive, we instantly decided on how to build a successful brand online.
Dave and Deb in Sydney with Cheapflights

As new social media sites come and go, (hello Snapchat – we're theplanetd by the way. Oh and good-bye Twitter – how we loved you and hope you weather this storm), new and exciting personalities pop onto the scene, and smarter business minds learn how to harness the power of SEO and social media gaming and numbers, the one thing online influencers can count on is their strong personal brand. People always ask us what the magic formula is for standing out against the crowd? And we always answer, a strong personal brand.
Steps to a Successful Brand Online
Have a Strong Brand Online and a Clear Identity
Dave and I have seen a lot of people come and go in this online travel business. New travel bloggers pop onto the scene with amazing social media numbers and huge spikes in blog visits but eventually most fizzle and disappear. We believe those people failed because they focused on numbers and statistics more than building their personal brands online.
If you ask the people that have been around for years, like Jodi of Legal Nomads, Gary of Everything-Everywhere or Dalene and Pete of Hecktic Travels, they will all say that they never focused on readership or getting work until at least a couple of years into their travel blogging careers. Instead, they focused on building a strong online brand while developing an engaged and loyal audience. But how did they do that?
Story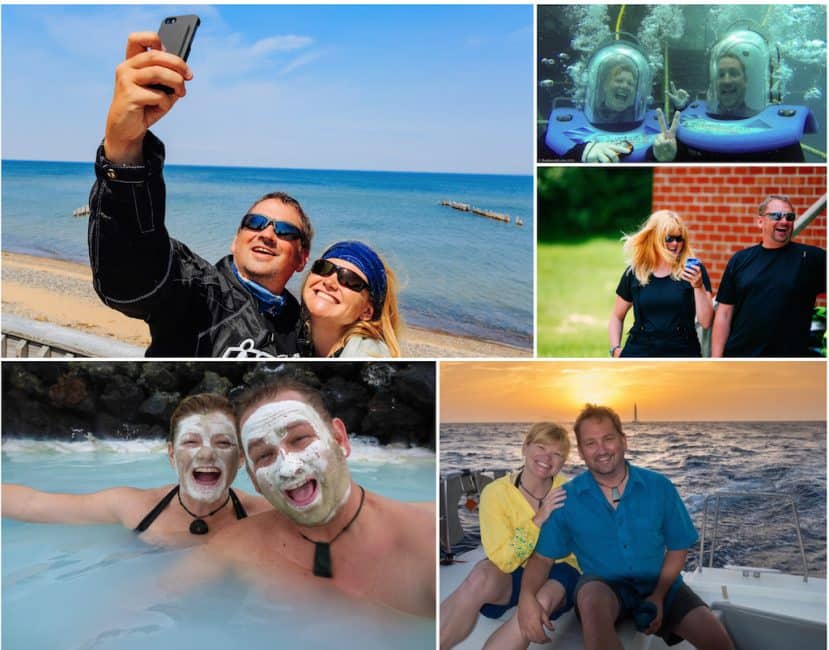 It all goes back to storytelling. So many people have lost the art of storytelling. And I don't mean long reads or well-crafted articles (although both help) I mean, what is your story? Why did you get into your chosen profession (ours is travel) in the first place? The foundation of your online brand should be your story.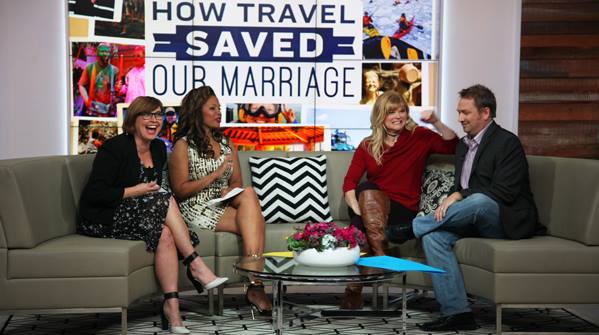 For us, travel saved our marriage, got us out of our funk, and made us interested in trying adventures and pushing ourselves to the limit. After we felt what it was like to have a life changing experience, we felt compelled to share our story with the world and inspire others. We want people to know that you can live a fulfilled life and that even ordinary people can do something extraordinary.
This always hit home for us because we were already in our 30s and well-established in our freelance careers. We thought we were destined to live a life of mediocrity and we would just have to settle being happy with where we were. Finding passion in work was something that other people could achieve, not us. But once we figured out we were wrong, we wanted to shout it from the rooftops and let others know that they can do it too. Nobody should ever settle.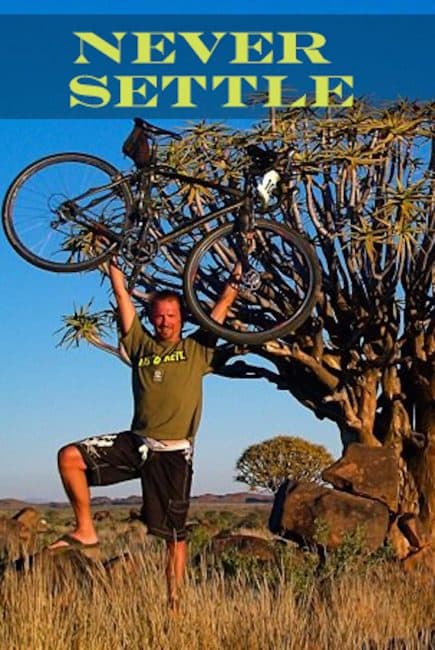 That story as always been the foundation of our brand. We feel that doing adventures together as a couple, can strengthen a relationship, make you a more confident and interesting human being and it can change lives. So we continue to push ourselves to the limits and continue to do it together and share our stories with the world.
Mission Statement
One of the main factors that has contributed to our online success is that right from the start we had a very clear vision of what we wanted our blog to be about and what our brand was. Because we came from film and TV, we saw how important the personal brand of a movie star was, so we modelled our blog after what we saw stars do to develop our own strong brand online.
While speaking at the Cheapflights event, we asked a room filled with professional online media personalities and writers, if anyone had developed a mission statement or motto. Very few hands were raised.
We weren't surprised because we realize that the fundamental problem with many travel bloggers and online influencers is that they don't think of online media as a business. Large companies create mission statements. Why shouldn't a small personal brand online?
A Mission Statement should define the goals of what you want to do and why your blog exists.
And this is powerful because it keeps you centred and grounded and gives you a clear direction when you lose your way.
ThePlanetD Mission Statement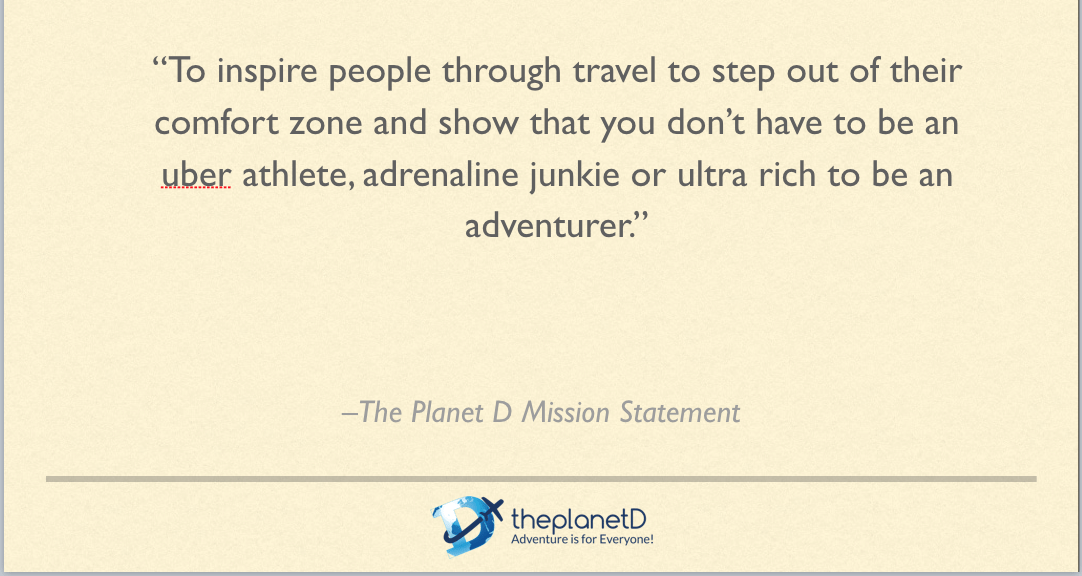 If you don't believe that large companies don't have a mission statement, think again. Companies like Nike, Starbucks and McDonalds all have mission statements. Love them or hate them, they all have a clear vision of what they want their customers to experience. Starbucks has one of my personal favourites.
Starbucks Mission Statement
"To inspire and nurture the human spirit – one person, one cup and one neighbourhood at a time."
That statement certainly rings true to me when I am traveling hard in India where the weather is hot and the crowds are overwhelming. When I see a Starbucks, I feel home. I know there will be air conditioning, clean toilets, the smell of coffee nurturing my bones and a newspaper to read. They've got me hooked!
So why do so many companies work on a clear mission statement and share it with their coworkers, employees and general public?
Because it works. After our presentation, a woman came up to Dave to tell him that her in previous career she worked with Fortune 500 companies and knew all about mission statements and key messaging, but never thought about applying the same rules to her blog. She was heading home that night to do just that.
We have always modelled our travel blog and social media platforms after the big boys. If it works for fortune 500 companies and other famous brands, why wouldn't it work for our little online brand right? Exactly.
Key Message
While scouring travel blogs around the Internet, we had a difficult time finding many that had a clear key message. Maybe they have one in their heads or sitting in notes on their computer, but there was no way of telling what their blog was about when first visiting them. This is a big mistake.
We cannot tell you how many opportunities have come our way because we have a clear key message. People email us regularly to comment on how much they love our message and how it fits in line with their goals of the year. It's simple, effective, and easy to understand. "Adventure is for Everyone"
Travel Bloggers with Clear Key Messages
During interviews and through emails, people regularly tell us that they can relate. They want to be adventurous, but they never looked at themselves as adventurers. They felt that they weren't worthy or didn't know where to begin. But then they saw our motto and realize that "Hey, they can do it too!"

When thinking about your key message, take these factors into consideration.
What do you want your audience to remember about your blog?
Is it as short as possible?
Does it form a message and get that across?
Will it still resonate?
When we say will it still resonate, we mean, will it hold weight 10 years from now. When building an empire, you need to plan ahead. If you are 23 years old and have backpacking in your title or key message, chances are that love will change when you are 33. Not everyone wants to continue to stay in hostels. (Unless you are Nomadic Matt) So you may want to think about a message that will resonate not only with your audience, but with you for years to come.
When we first started out, our publicist suggested we call ourselves Canada's Adventure Couple. We loved it, we were doing extreme sports, we were into rock climbing, we had just cycled the continent of Africa and we were fit.
But then as we travelled and grew older, we realized that we couldn't continue the pace of epic adventures. It wasn't something we wanted to do any longer. So luckily we changed our motto early on to "Adventure is for Everyone."
That is something we can see ourselves sustaining for years to come because we truly believe adventure is for everyone. No matter how old, how out of shape, how intimidated a person may be, adventure is different for everyone and an adventure is defined differently by everyone. All you need is the desire, the courage, and the want to step a little bit out of your comfort zone and go for it.
Consistency
So once you have created a clear online brand that you are happy with and that your readers and followers can understand it's time to live it. Be consistent with that branding across all your social media channels, revisit it regularly in your blog, have a clear about page and make it clear on your social media profiles.

When you remain consistent, focused, and have clear messaging, you'll stand out. It won't matter what the hottest social media platform of the day or if another blogger has higher numbers than you. Hot social media platforms come and go and you'll waste valuable energy trying to decide which one to focus on today.
Somebody will always be better than you at something, get more publicity than you at something, and have more fans and followers than you, but the one thing they can never take away is your strong personal brand.
A solid personal brand online and beyond will keep you around for years to come. It will take pressure off you as you focus on what's important and not just numbers and what everyone else is doing. March to the beat of your own drum, follow your passion and purpose and stay true to your brand, key messaging and mission statement and you will have a very long and fruitful career in online media.
SlideShare Presentation of Cheapflights Travel Massive
Building a Successful Online Brand for Bloggers from Dave & Deb The Planet D
For more information, check out our slideshare of our presentation in Sydney. We go further into promoting your brand online and discuss the art of self promotion.
If you are looking to build your brand from the ground up check out Nomadic Matt's Superstar Blogging course…
Big thanks to Cheapflights for bringing us to Sydney for this inspiring event. Check them out for hotels and flights to Australia and New Zealand, plus all around the world! 
Read the original post 4 Easy Tips to Building a Successful Brand Online on The Planet D: Adventure Travel Blog.