As someone who lives in downtown Toronto, I can tell you first hand that some of the preconceptions about the Big Smoke are spot on: it's smoggy, there's not a ton of green space so it's hard to get those essential nutrients and, sometimes, it can even be a bit suppressing when it comes to getting that fresh air we all so desperately need.
via GIPHY
With the recent influx of condos popping up in every previously unoccupied nook and cranny of the city, Torontonians are quickly losing much of our green space. Despite these eco obstacles, we can thank crafty humans, Pinterest and the Internet at large for helping to spread the green love. Urban gardeners and green thumbs from around the world have united on the Internet to deliver awesome options and ways for urbanites to start wonderful, space-saving urban gardens that provide us with essential nutrients and fit into tight living spaces. Without further ado, check out our list of nine ways to start an urban garden: 
Vertical iron rod garden 
Photo via www.insideout.com, photographer Sharon McGrath
This vertical iron rod garden is a great example of how to plant efficiently and also in style. By creating an iron rod framework, this urban garden ensures all-out stability as well as presentation using these cute terracotta pots. This grid comfortably fits 44 pots, which is definitely more herbs and veggies than most humans can handle.
Cactus paradise planter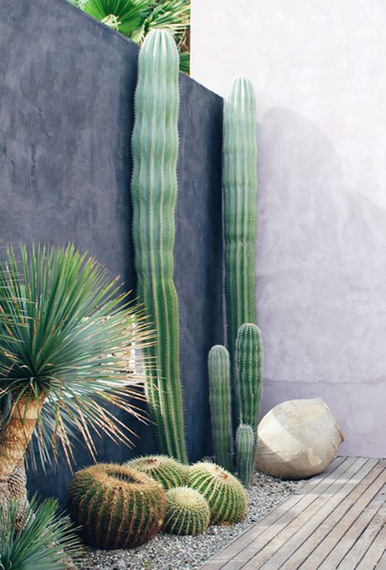 Photo via Marie Claire Maison
If you're one of those people who has trouble keeping a pet goldfish alive, this cactus paradise planter is going to be ideal for you. Whether they're potted or planted, featuring a variety of cacti in your urban garden is the definition of non-committal beauty. These cacti create a tropical, exotic look in your backyard and the best part is that if you forget to water them for a week, they'll be just fine!
Wall-mounted herb garden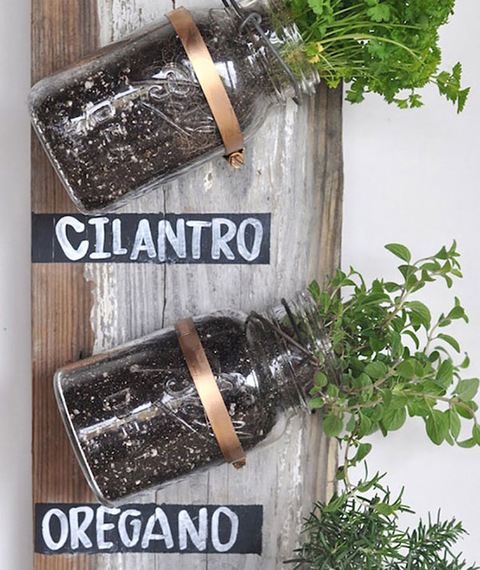 Photo via brit.co
No space? No problem! This wall-mounted herb garden is the perfect urban garden solution for anyone living in tight quarters. The other awesome thing that this mason jar garden offers is a very inexpensive solution to starting your own herb collection. With very little maintenance, set up or clean up needed for this petite urban garden, the wall-mounted herb garden is a sure-fire way to get your greens.
Staircase garden  

Photo via skinnymom.com
Small-space dwellers are familiar with having to come up with ingenious ways to save space and still get what they want. This staircase garden is a great example of taking that attitude to the next level as this clever planting system places this delicate greenery right under your very feet. Whether it's decorative or for consumption, being able to plant between the lines like this allow true urban green thumbs to make an awesome, eco-friendly urban pad.
Recycled hanging soda bottle planters 
Photo via gardeningclan.com
The great thing about this urban garden concept is that it addresses two key issues with one solution. By reusing inexpensive, two-litre soda bottles and hanging them on your railings, these hanging soda bottle planters allow urban planters to save money and space. You can even decorate the soda bottles to jazz them up a bit and make them fit in with your decor.
Balcony terrarium

Photo via myplantemonbonheur.com
Looking for a gardening solution that adds a little more pizzazz to the balcony? The balcony terrarium is a great solution for urban gardeners with an eye for design and an interest in growing exotic plants. The beauty of this design is that because the terrarium traps warm air inside, plants that would typically not be able to handle colder climates or adverse weather conditions are able to live longer. 
Earthy rooftop relaxation zone

Photo via 1001gardens.org
For those who are not interested in tending to fruits and vegetables, but instead just crave the beauty of the outdoors, a earthy rooftop relaxation zone like this may be just right for you. With the emphasis on creating a zen, laid back atmosphere, this urban garden uses a simple design and a lush wild garden to create the cottage effect. A great place to crack a beer and enjoy the sunset.
Rustic garden wall


Photo via 1001gardens.org
Simplistic in its design and easy on the eyes, this rustic garden wall makes a great addition to any urban space that features some beautiful exposed brick. The great thing about an urban garden like this is that it's relatively low maintenance and can be used to grow vegetables as well as delicate flowers that will accent your already rad looking hangout spot.
Read more here.
Follow HuffPost Canada Blogs on Facebook
MORE ON HUFFPOST:
– This feed and its contents are the property of The Huffington Post, and use is subject to our terms. It may be used for personal consumption, but may not be distributed on a website.