When traveling, it's the little things that count. You can always tell the difference between a real five star hotel and the ones that claim to be the five star, but really aren't. That difference is the little things that only frequent fliers would notice. When flying Air New Zealand to Australia, it was all the layers of little things that made our flight special. Dave and I fly a lot, we've already flown 50,000 miles this first quarter of 2016, so we know when an airline puts extra effort into making the customer comfortable.
The Little Things with Air New Zealand Flight to Australia
The Kiwis have a sense of humour and Air New Zealand lets that sense of humour shine. I hate watching the safety videos on most planes. I've flown enough. If someone doesn't know how to fasten a seat belt in the 21st century? "We've got a problem Houston." But Air New Zealand's safety videos always make it fun.
They're latest video features the top surfers in the world showing off Air New Zealand Destinations while showcasing their surf moves to the song Young Folks by Peter Bjorn & John. In the midst of all the fun, the safety procedures play out as beautiful people sit on the beach in bikinis and board shorts while fastening their seat belts in the sand, put on oxygen masks, or throwing buckets of water over a smoker's head. (Clearly that ripped surf dude doesn't smoke, but it got the point across) No smoking on the plane!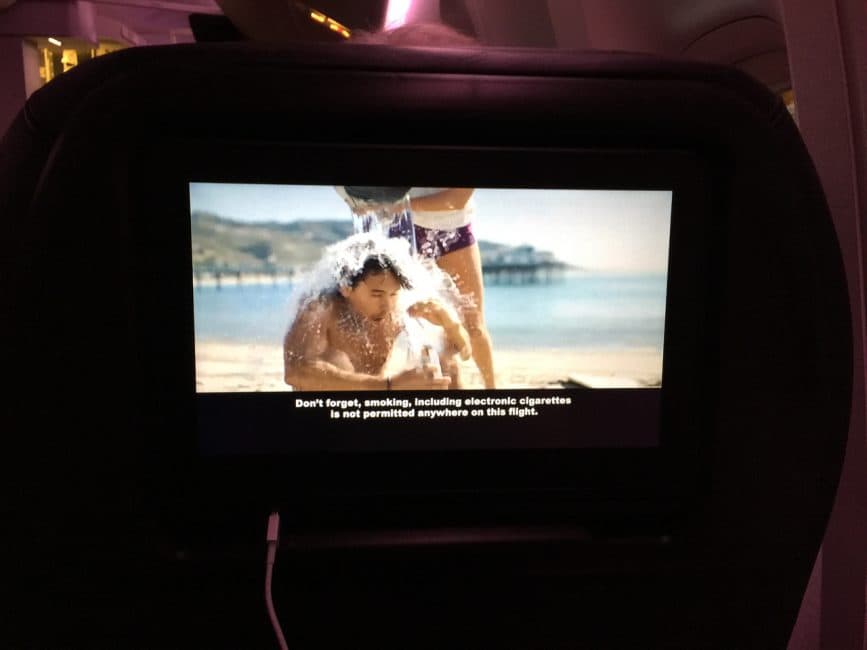 Check out Air New Zealand's Safety Video on YouTube
With the flight starting off right, we turned on our entertainment system and choose from hundreds of movies and TV shows. We normally bring our own entertainment since we've exhausted most of the entertainment on other airlines, but this 14 hour flight kept us both interested.
Did I mention it's the little things that count? When we went to the bathroom we were pleasantly surprised. Air New Zealand has gone the extra mile to make every little moment count. The bathroom is designed to feel like a library with muted tones and a painted bookshelf on the wall.
Your Australia Travel Guide
Four Different Classes of Service
When washing my hands, I loved the smell of the aromatherapy soap and lotion and left the loo feeling refreshed. How often does that happen?
We had the opportunity to fly in every class but Business Class during our round trip flight from Toronto and saw the different POVs from Economy, Skycouch, and the Premium Economy service.
Air New Zealand Skycouch
During our flight back from Australia, we choose to book the Air New Zealand Skycouch to see what that experience was like. Skycouch is an affordable alternative to a full upgrade. Instead, couples or families can book an entire row of (three) seats that snap together to create a comfortable space. There are leg rests that come up, so when set up, it feels almost like a bed.
Subscribe to our YouTube Channel for Travel Videos every Tuesday and Thursday
It's not exactly a bed and for the price you shouldn't expect it to be a full bed. However, it's a lot more room than the other alternative of sitting upright in a small seat. On Skycouch you get three seats to do as you please. Dave and I leaned and sprawled all over the place. We are always thrilled when we manage to get 3 seats together with only the two of us.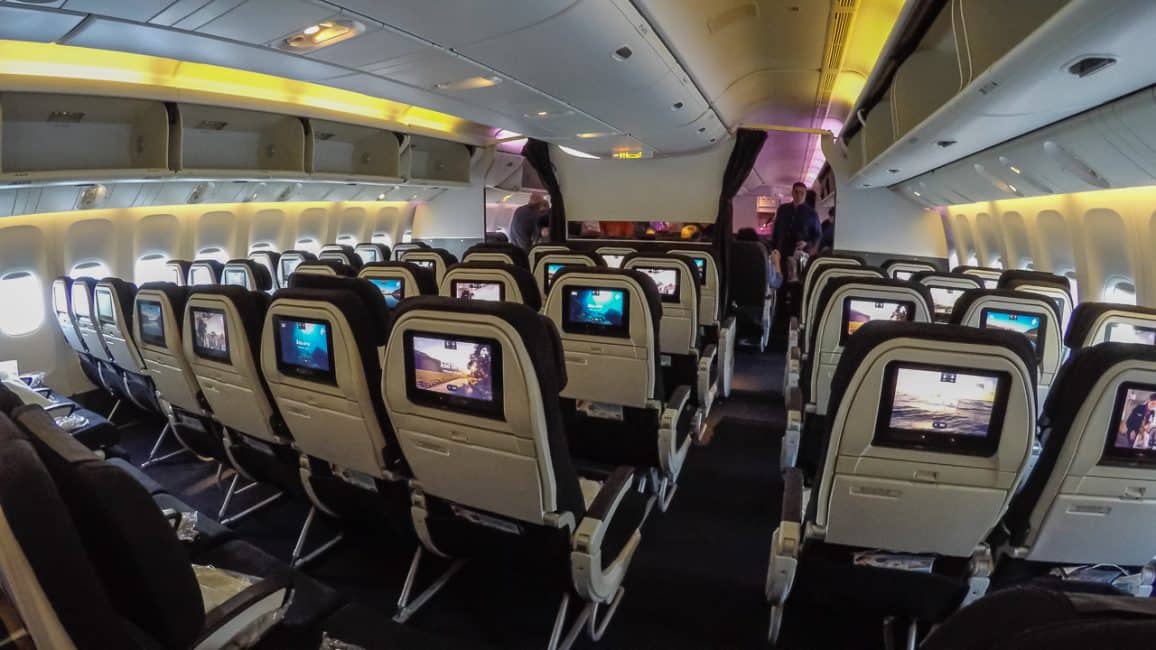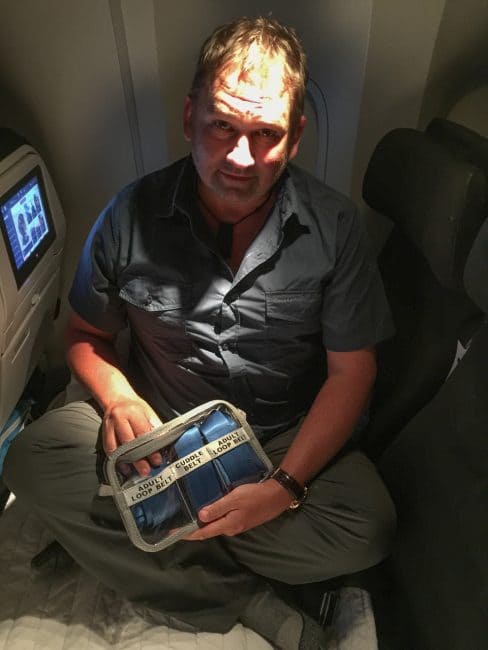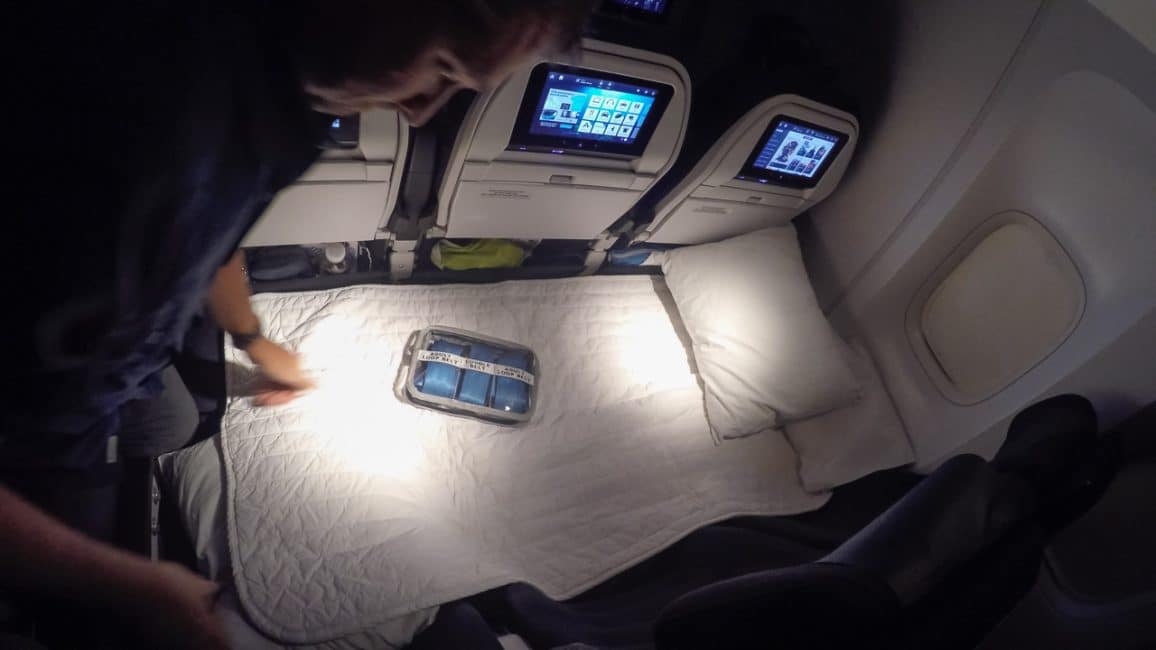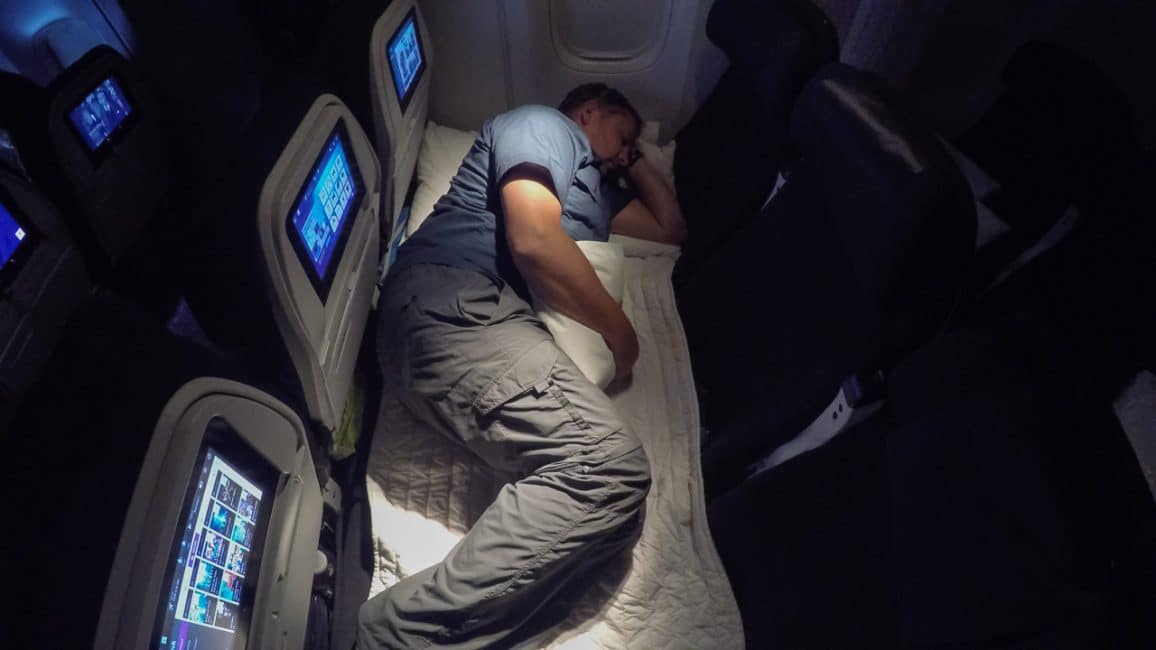 Enjoy: 6 Packing Tips for Travel to Make Your Trip a Breeze
The photos make it look like you can sleep easily in a spoon position with your partner, but we found that to be difficult. Plus, when the person in front of you puts their seat back, you lose a lot of room. Instead, we put up the footstool in the centre seat and let our legs flop on it as needed. When you take the Skycouch for what it is, it's amazing.
Check out our Australia Travel Guide for more things to do in the Land Down Under.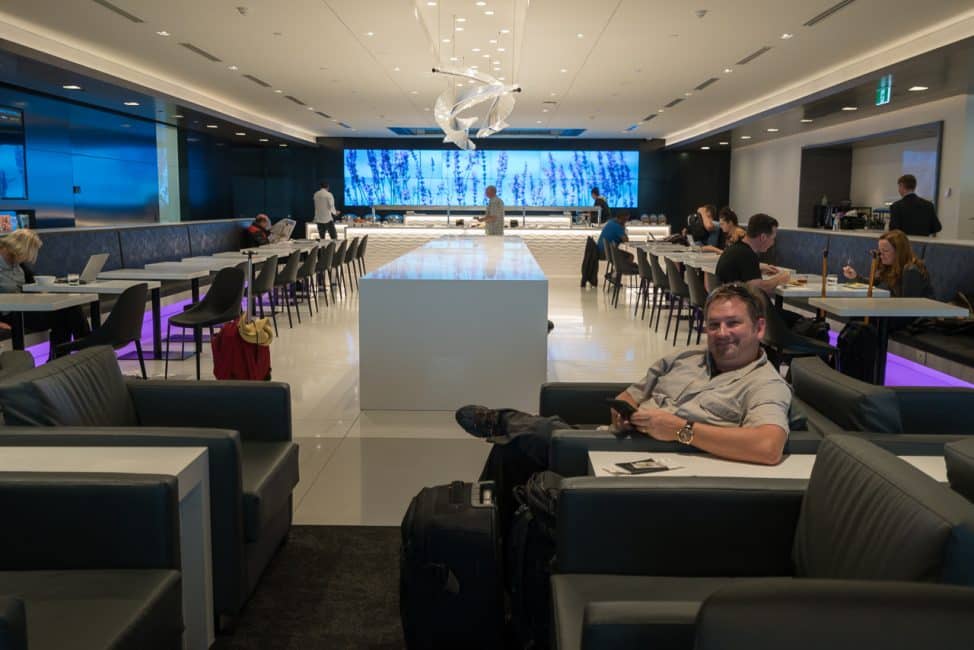 It's only about a $350 per person upgrade and it gives you three whole seats to stretch out over the long haul. The airline gives you large pillows and a seat cover which I used to prop myself up against the window and I slept like a baby. Dave slept on me, and we didn't wake up until breakfast was served.
Looking for some adventure travel on your Australia vacation? Try Diving with Great White Sharks or Snorkelling with Wild Dolphins. 
Premium Economy
Premium economy was fabulous. We had flown premium economy on an Air Canada flight recently to Dubai and thought that was great, but this was fantastic. First of all, there are less chairs in the Air New Zealand Premium Economy. The layout was 2-2-2 rather than Air Canada's 2-3-2. Giving extra space for stretching out. We slept like babies.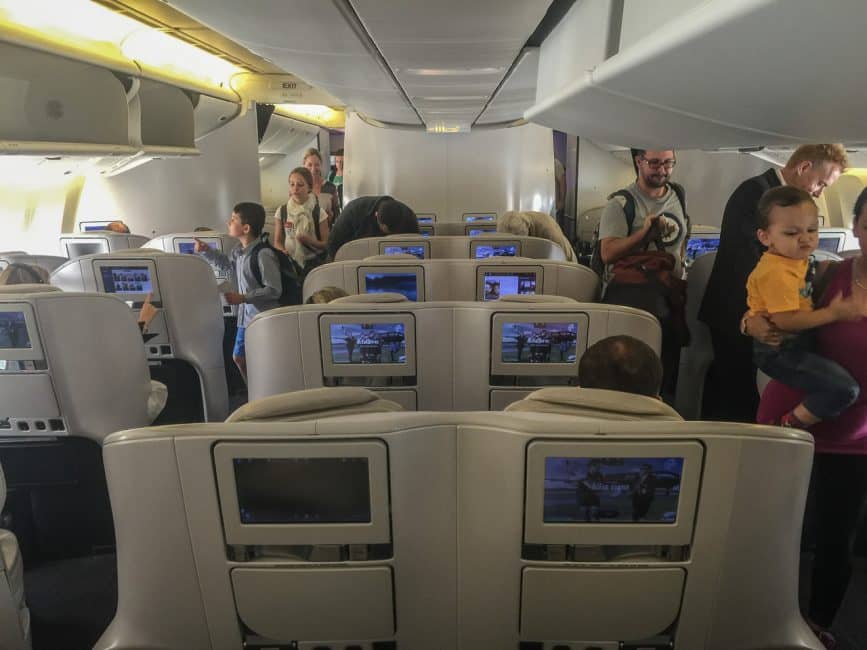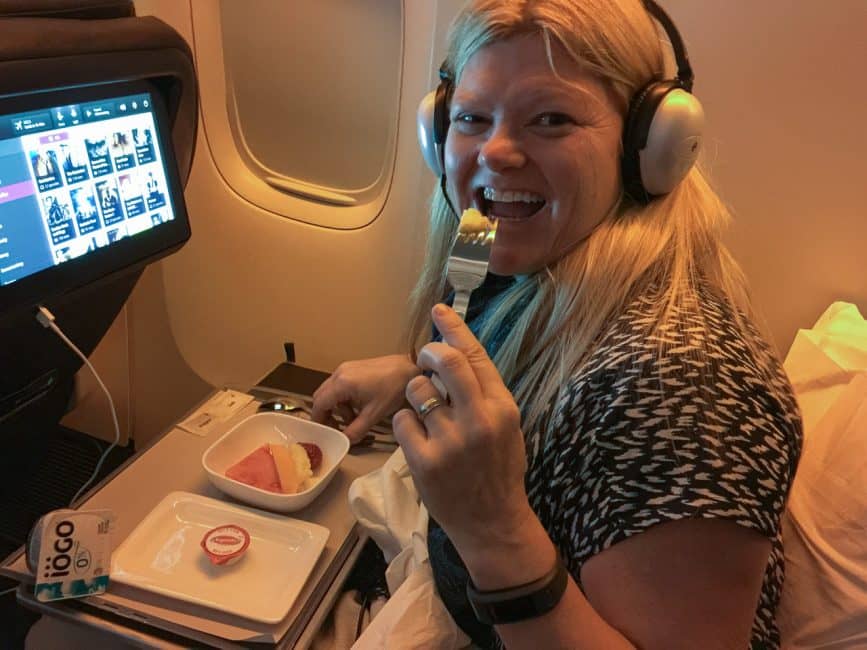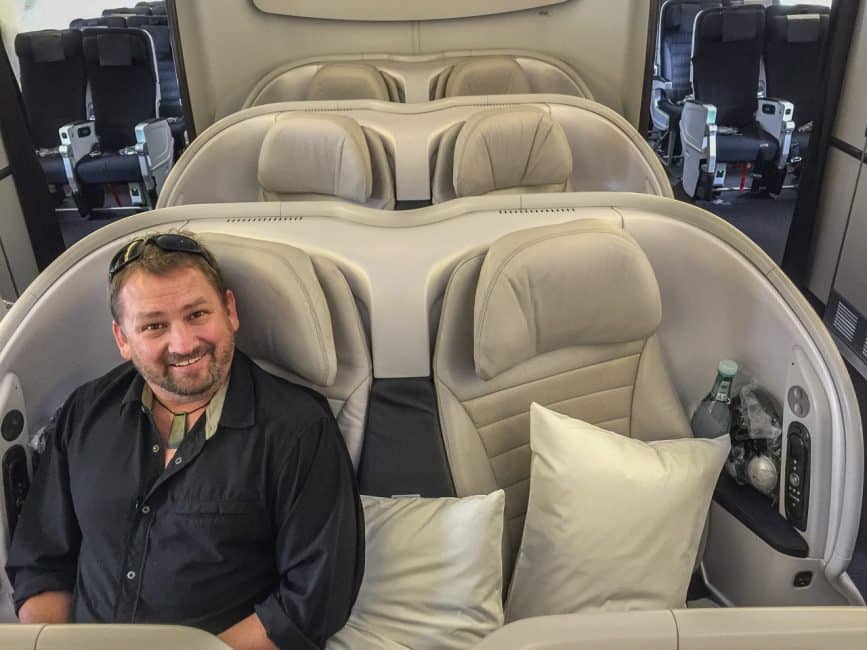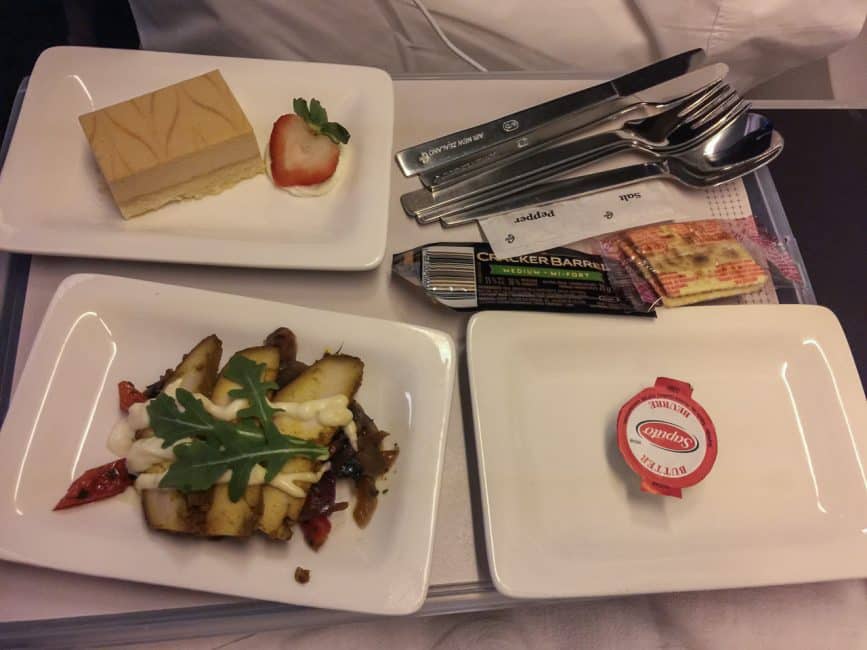 We have flown business on several occasions and other than the seats not laying out to full beds, we didn't notice a difference in service or experience. We were fed good meals on proper china plates with stainless steal cutlery. We had large TV screens and were given huge pillow and comfortable blankets to catch some Zzzs. It was an amazing way to cross the ocean on a long haul flight and I'd do it again. (As a matter a fact, we did it again two weeks later for a flight to Sydney!)
Flying to Australia? Enjoy These 11 Cool Things to do in Melbourne
Economy
During our leg back from Melbourne to Auckland, we weren't looking forward to economy after the pampering on premium, but were surprised to see the seats had more legroom than expected and we could count on the same great entertainment system.
We were offered wine with our meal and they actually gave us the whole can of coke! The whole can of coke people! Oh, and they had the same lovely aromatherapy soap with the muted tone bathroom in economy that they had in premium. Nice!
Our Ultimate List of Travel Gear to help you Pack Smart
Choose 1 of 7 destinations in Australia for one low price
Deals Round-trip from Vancouver
quote>Right now, Air New Zealand is making it easier to get to Australia. Choose 1 Australian destination from 7 cities for the same low price.
$1,375 per person (Sydney, Gold Coast, Melbourne, Cairns, Adelaide, Sunshine Coast & Brisbane)
$1,852 per person (Perth)
Sale ends: March 15, 2016 – Travel period: April 9 – June 5, 2016 & August 7 – September 19, 2016 – Visit the Website for more details.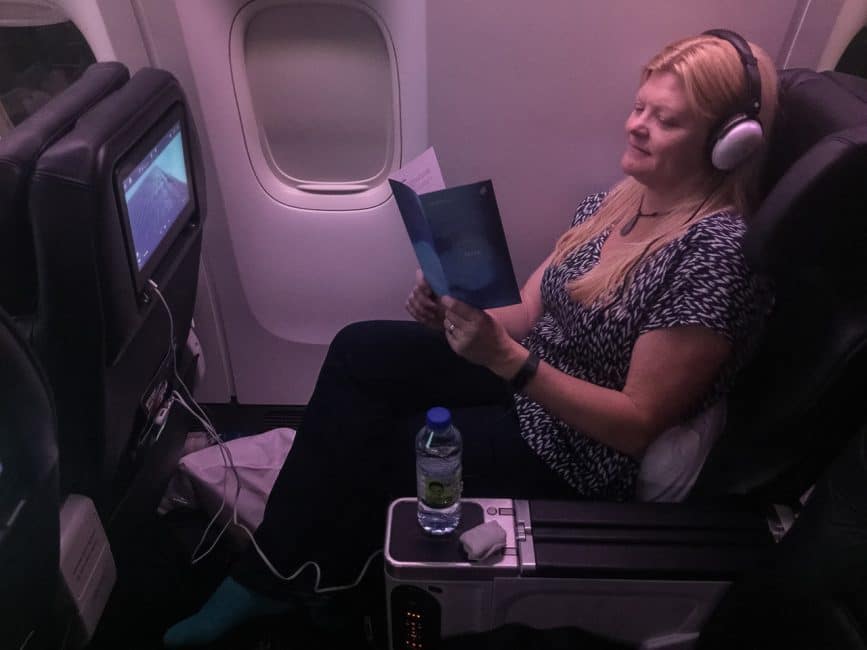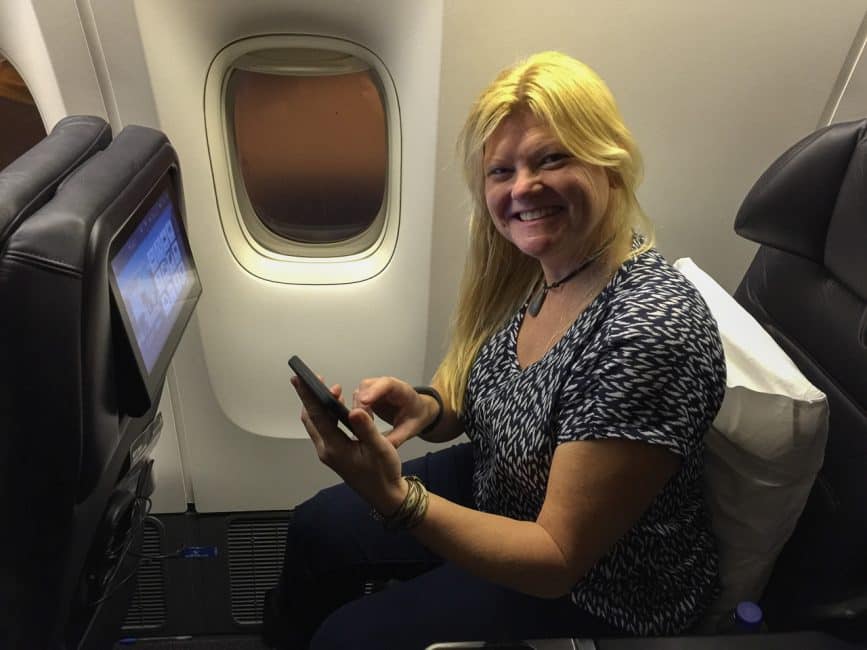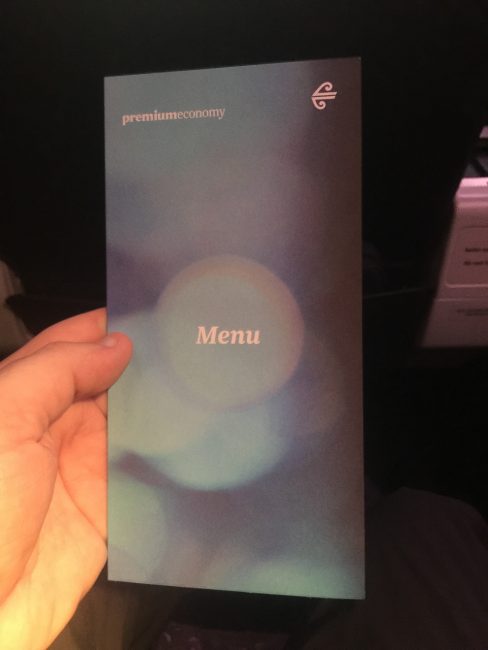 Flights go through New Zealand from Vancouver to your choice of 7 Australian cities. We thought it was going to be odd stopping in Aukland en-route to Australia, but it made for the perfect pit stop. The Air New Zealand lounge is wonderful and we both had a shower, stocked up on some healthy food and caught up on emails before our final three-hour leg to Brisbane. By the time we arrived, we were ready for our day. As a matter a fact, we had the least amount of jetlag during that trip than we've had in a long time. So what are you waiting for? Haven't you always wanted to go to the Land Down Under? And great news for Canadian's, the Australian dollar is on par with ours (it's even a bit lower) so there are great deals to be had all around!
For more information on travel to Australia, visit the Tourism Australia Website and Air New Zealand for flights to 7 Different hubs. 
Your New Zealand Travel Guide
Read Next: 8 Great Things to do in Queensland besides Surfing
Read the original post Affordable options with Air New Zealand to Australia on The Planet D: Adventure Travel Blog.