In The Reason You Walk I outlined the path of reconciliation my late father led our family on in the last year of his life. From the horrors of a Catholic residential school to the de facto segregation that existed in this country, he experienced some of the worst this country had to offer.
Yet in his last year he also showed us humanity's best. He adopted the Archbishop James Weisgerber as his brother in a powerful display of forgiveness. He worked to bring people from different backgrounds together until he left this world surrounded by family and friends.
Along the way, there was a quieter form of leadership on display as well — that of my mother. She was his adviser for much of his political career, helped both my dad and I find sobriety and in the end put her life on hold to care for my father as cancer slowly claimed him.
Through it all, this non-Native woman from Toronto exuded humility and took the challenges life threw at her without asking for pity.
It is through these examples that I understand leadership — that it is about service, about helping those in need and about doing the right thing, not for some reward, but simply because it is the right thing to do.
As I look around at my province I see other examples of leadership and service. I see it in seniors in Fort Rouge who tell me they use payday loans in order to survive on a fixed income. I see it in the young families in Osborne Village who need help with child care so they can earn a living. I see it in people of all walks of life standing against climate change.
I've seen Manitoba NDP governments help people like these. In the 1980s my mother-in-law was able to attend university because of an access program for people on social assistance that was created under then-Premier Howard Pawley.
She earned her BEd., then her MEd., and became a principal. She led her kids along the path of education as well and her daughter, my wife Lisa, became a medical doctor. Their family will never live in poverty again. They had the smarts and the work ethic. They just needed a little help. That help came from the NDP.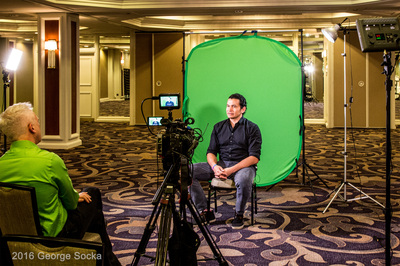 Wab Kinew is interviewed in Toronto for this RBC Taylor Prize video for Huffington Post – see that video HERE
Yet the progressive agenda in this province is unfinished. One of the great legacies of the Manitoba NDP is a cancer drug program which covers everyone in this province. Everyone except for First Nations people.
When my father battled cancer in 2012 he lived in Winnipeg, so he should have been eligible for the cancer program. Instead First Nations drug coverage rendered him ineligible for the provincial plan and did not cover his chemotherapy.
He had options, we could have paid for the drug. Instead he chose a shorter time on earth with a higher quality of life. Still, this is a clear example of systemic racism. It's not acceptable to me that jurisdictional squabbles make some people second-class citizens in this country.
So, I am putting my name forward in the hopes the people of Fort Rouge will choose me to represent them. I want to serve them and everyone in Manitoba.
As I reflect on the examples of leadership I've seen in my life, I think they might share one ethic in common: so long as you keep love in your heart and humble thoughts in your mind, if you can make a difference, then you should.
Follow HuffPost Canada Blogs on Facebook
MORE ON HUFFPOST:
– This feed and its contents are the property of The Huffington Post, and use is subject to our terms. It may be used for personal consumption, but may not be distributed on a website.