Thirteen years ago we met our friend Duncan on a slow boat to Thailand. He was a fun loving Aussie and we've been good pals ever since. We met up once before when we were touring the Gold Coast of Queensland, but this year, we finally got the chance to visit him in his hometown of Brisbane. We have always heard great things about Brisbane and after three trips to Australia, we were excited to get the chance explore the sunny city for a few days. It turns out, Brisbane is now one of our favourite cities in Australia. It snakes along the Brisbane River  Move over Sydney, you've been bumped from our list!
Check out our Australia travel guide for information on all your travels to Australia. 
Things to do in Brisbane
Get started by enjoying our video of our 10 Favourite Things to do in Brisbane
For new travel videos every Tuesday and Thursday subscribe to our YouTube Channel.
Brisbane's subtropical climate makes it a good place to visit any time of the year. It's a city where everyone spends their time outdoors looking fabulous and having fun. So we thought we'd round up all the fun things we did while exploring the capital city of Queensland.
Story Bridge Climb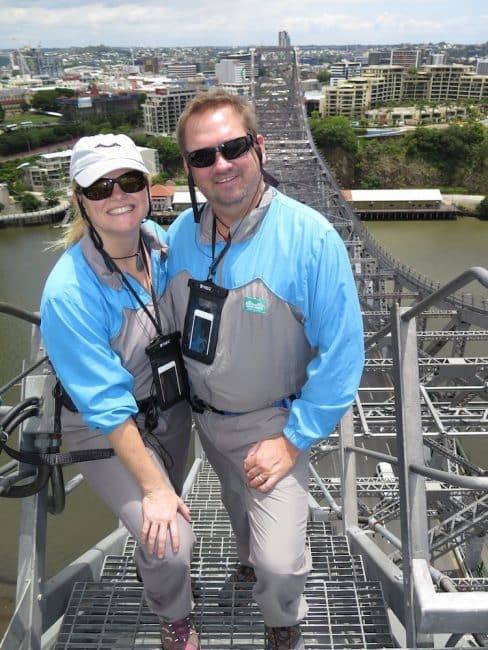 Sydney isn't the only city with a famous bridge. Brisbane's Story Bridge is as iconic to its skyline as the Harbour Bridge is to Sydney. It wouldn't be the same city without it. It's beautiful to watch the sunset over the the Story Bridge from Wilson's Lookout in  New Farm but it's even better to take a sunset climb up to the top. We climbed during the day and while it wasn't the thrill of the CN Tower EdgeWalk, it was a good adventure. Several people on our tour were nervous of the height but had a blast once they were up there. It's a super way to see the layout of the city and the winding river that runs through it.
For more information visit the Story Bridge Climb website. 
Outdoor Adventures with Riverlife

We went on a Segway tour of Kangaroo Point and it was a great way to see the city. But Riverlife offers many activities. There's abseiling and rock climbing off the Kangaroo Point Cliffs, cycling, Stand up Paddle Boarding (SUP) and kayaking. Life in Brisbane takes place on the river so join the locals and enjoy the outdoors on the water.
For all the adventures Riverlife offers in Brisbane, visit their website. 
Explore the South Bank

The South Bank is Brisbane's cultural centre. Here you'll find the Brisbane Convention Centre, Maritime Museum, Queensland Performing Arts Centre, Science Scentre and Art Galleries. It's worth spending a day or two exploring. Besides all the galleries and museums, it's also a great place for a stroll along the river to enjoy city views and some ice cream. There's even Wheel of Brisbane where you can hop on the Ferris Wheel for a birds eye view of the area.
Enjoy Australian Cities? See, 11 Things to do in Melbourne, Australia's Coolest City. 
Coot-tha Mountain Scenic View

Our friend Anthony of the TravelTart suggested we pop up to Coot-tha Mountain after we met for a beer at The Whickam (one of Brisbane's most historic bars)  and I'm glad he did! It offers fabulous panoramic views of the city and there's a café at the top where you can soak it all in.
On your way up or down, you can stop at the Botinacal Gardens, it's considered Queensland's premier subtropical gardens.
There's also a Koala sanctuary. Koalas can be difficult to find in the wild, but at the Lone Pine Koala sanctuary there are 130 koalas that can easily be spotted. You can even cuddle a koala.
Getting Around Brisbane

City Hopper: the City Hopper is a free ferry service operating between Sydney Street, New Farm, and North Quay.  Take a ride for a free scenic view.
The City Cat is an affordable river taxi that runs from one end of the city to the other. It's perfect for after hours. We took it home from the bar from pier to pier.
Car Rental: Brisbane is an easy walking city downtown, but we found that having a car made for an excellent way to see all the sites we wanted. Rent a car for a couple of days to get out to the beaches or to explore the surrounding area.
Free Brisbane Greeter Tour

A great way to orient yourself to a new city is to take a tour. What better way than to take a tour that is free! The Brisbane Greeter Tour is run by a group of volunteers who share their favourite stories and tips about the city of Brisbane. We had a great time learning little known facts about Brisbane's history with our greeter Rob Cocherane.
For more things to do in Brisbane, enjoy 48 Hours in Brisbane by Eat, Travel, Love
Brisbane Powerhouse

The Brisbane Powerhouse is an artists district where comedy shows, and live theatre indoors and outside take place. It's where the cool cats of the city hang out and the patio bar is the perfect spot to watch the sun go down with friends. It's a picturesque setting along the river with parkland and paths featuring clever signs of poetry and humour.
There are some great Instagrammers from Brisbane and The Gold Coast: Check out our top Australian Instagrammers to Follow. 
Queen Street Mall

For outdoor fun, the Queen Street Mall is a pedestrian street filled with shopping arcades and dining. An afternoon can be spent exploring the more than 700 retailers and the historic World Heritage listed arcades. It's hard to believe that in the 1990s people weren't allowed to eat outdoors in Brisbane, but today, there are plenty of outdoor patios and cafés making the perfect setting for people watching.
Where to Eat in Brisbane

We are a lucky couple who often have the chance to eat at the best spots in the city. Our waistlines prove it! The meals in Brisbane were divine and here are a couple of our favourite recommendations.
ARIA is the city's newest and hottest restaurant. Opened by celebrity chef Matt Moran, ARIA offers waterfront views and exceptional cuisine. We had the fours course degustation menu with wine pairings and it was perfect. They made an amazing vegetarian option which was to die for. We brought our friends Duncan and Martine for dinner here and they said it is considered the best restaurant in the city.
Balfour Kitchen is a modern Australian menu with a European flair. For breakfast and dinner we loved it. Fresh local ingredients make for delicious meals like our fresh scallops and roasted kingfish. Balfour Kitchen was voted best romance and first date spot in 2015. It was perfect for this travel couple hanging out in Brisbane for a few days.
Madame Wu is an exclusive, elegant and funky bar and dining room featuring Asian fusion cuisine. Their resident Sommelier and Mixologist have developed an amazing wine and signature cocktail list with the best local and international wines to complement everything that is Madame Wu.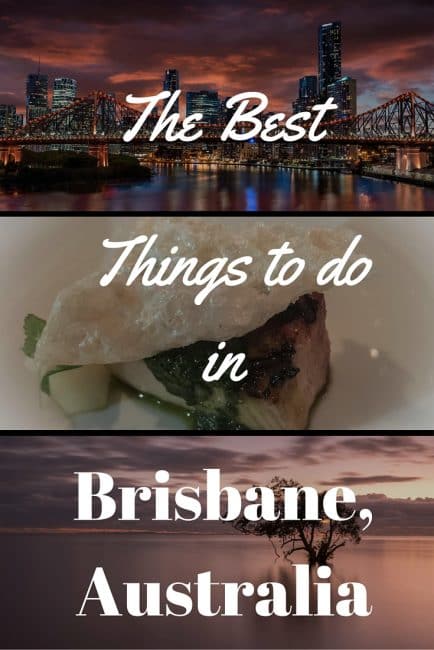 Eagle Street Pier
For nightlife and dining, there's no better spot than Eagle Street Pier. It's the spot to hang out at night with amazing views of the Story Bridge and river. With year round pleasant weather, this is the spot to dine outside, enjoy the views and have a few cocktails with friends. The City Cat pulls up right at the Eagle Street Pier, so no matter where you are staying in the city, it's a quick and easy boat ride home.
Brisbane is located in Queensland, if you are looking for things to do outside of Brisbane, check out our 8 Great Things to do in Queensland besides Surfing. 
Beaches

The Gold Coast is just an hour's drive from Brisbane, but if you want something closer, there are beaches that are worth visiting near Brisbane. A couple that we visited are…
Nudge Beach is the closest beach to Brisbane and it is located in an actual suburb of the city. Just 18km (11 miles) from the heart of downtown it's a beautiful spot for sunrise photography as you take pictures of the mangroves reflecting in the water.
Wellington Point is a great beach for sunbathing and swimming. At low tide, people can walk out along the sandbar to King Island. It's a perfect day trip for sand and sun as there are dining options and cafés to help you through the day.
Where to stay

We only stayed in one spot during our time in Brisbane, but our local friends told us it was a good one. And we agree! Spicers Balfour is located in the hot and up and coming neighbourhood of New Farm just across the Story Bridge. It is steps away from Wilson's Lookout and just a short walk to the Story Bridge and Brisbane Powerhouse. Plus the Sydney Ferry stop is a mere 15 minute walk. There are lots of restaurants and nightlife options in the area and if you like cars, this is where you can browse all the high end dealers like Lamborghini, Audi and Ferrari. Make sure you do the Brisbane Riverwalk that stretches from New Farm to the Howard St Wharves and on to the Brisbane CBD.
Flights and more Information on Brisbane, Australia
Currently Air New Zealand is offering great deals to 7 different hubs in Australia. Check out their website for more details. 
For more information on travel to Australia, visit the Tourism Australia Website. Our trip to Brisbane was sponsored by these two companies, but all content and opinions remain our own.
Brisbane is one of Australia's most liveable cities and we can see why. After spending a few days in this lovely town, we wanted to live there. It's laid back and relaxed, but there is enough culture, dining and nightlife to keep urbanites happy. There are plenty of things to do in Brisbane to appeal to all types of travelers.
Have you been? Do you have any more suggestions of other things to do in Brisbane that we may have missed? We'd love to hear in the comments below. 
Read next: 13 Mind-Blowing Photos that will Make you Fall in Love with Queensland
Read the original post Things to do in Brisbane – Everything You Need to Know on The Planet D: Adventure Travel Blog.