Gaining an hour of evening light: for us, it's a springtime blessing — one that almost balances the annoyance of losing an hour's sleep. But for students like Aminata Kamara, it would be hard to think of a greater gift.
"We live in a dark world," she says.
That dark world is also known as Sierra Leone. Freetown, Sierra Leone's capital, has electricity two days a week, on average. More rural areas, like where Aminata lives, often have no electricity at all.
In our constantly powered world, it's easy to forget what access to electricity means in terms of basic sustenance, safety and health. When the power is out, Sierra Leoneans in need of blood transfers in Sierra are usually transferred to other hospitals — and often die along the way. Many overdue pregnant women suffer the same fate. On a day without electricity, a family whose income comes from selling cold water and ice blocks may have to go without a meal. Food spoils in refrigerators. Using wood or other pollution-causing fuel sources rather than ovens leads to rampant respiratory ailments.
Isatu Mansary, another student, adds that, "Thieves regularly visit my community as darkness falls."
But beyond these issues, lack of power in Sierra Leone is impacting the future well-being of an entire generation.
"The time when I'm about to comprehend a particular topic and they turn off the light — it is the most painful thing in my life," says high school student Fatmata Idrissa.
Fatmata, Isatu and Aminata are sponsored by Beautiful World Canada, who operate under the principle that education is the best path out of entrenched poverty. Beautiful World also funds students in Uganda, Rwanda and South Africa.
"For an education to be the most valuable, students need to be active in their learning," says Krista O'Shaughnessy, Beautiful World's Communications Coordinator. "This includes studying, participating in class and even making friends during break time. The academic and social skills learned during school will be invaluable during every day life, from reading directions on medicine to finding a career."
Beautiful World also launched a Girls' Club for their Sierra Leone students, where girls can meet and interact, learn real-life skills, and find mentors to help guide them on their journey. The program also provides career guidance, artisanal training (particularly weaving,), sports (volleyball is a favourite,) and health sessions, where the girls learn about disease prevention, personal hygiene, sexual health and more. Girls' Club participants often come early and stay late, just to spend more time with each other. They find friendship, encouragement and support here, and report having more confidence, and being more likely to stand up for their beliefs.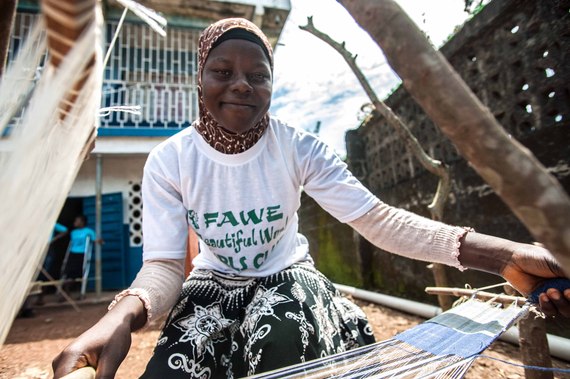 And that's without reliable access to basic health and safety, the Internet, and the hours to study and complete school assignments.
So this year, instead of our usual morning grumble, let's flick on a light switch and say a word of thanks. While we're at it, let's imagine the possibilities for these young women if and when they do have access to electricity. As another student says,
"It would be like having the world in my hands."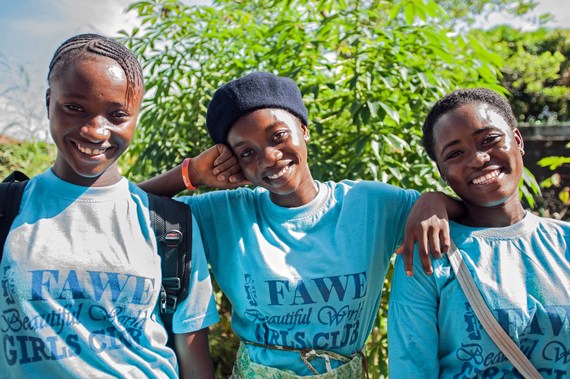 To find out more about Beautiful World and the work they do, and to learn about the impact of sponsoring a student in Uganda, Rwanda or Sierra Leone, please visit www.beautifulworldcanada.org.
Follow HuffPost Canada Blogs on Facebook
– This feed and its contents are the property of The Huffington Post, and use is subject to our terms. It may be used for personal consumption, but may not be distributed on a website.