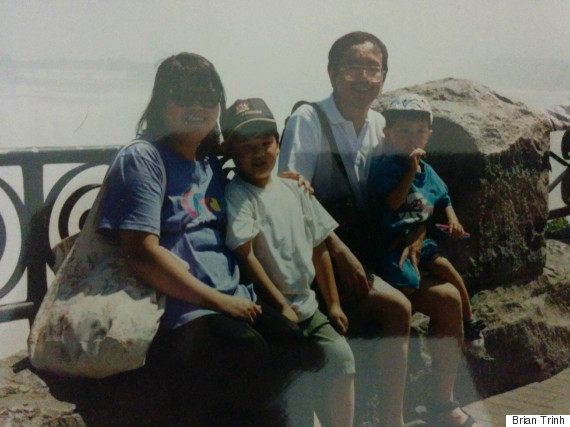 There are three things I regret to this day.
There's that time I neglected to thank my homeroom teacher during a valedictorian speech addressed to the entire school. I thanked just about every other teacher inside that gym but glossed over his name, despite all the encouragement and support he gave me to stand at that podium.
Then there's that time I was too afraid to ask my high-school crush out to prom.
And finally, I regret giving up on learning Vietnamese.
Why am I telling you this? Well, aside from trying to make peace with regret number one (Mr. Page, if you're reading this, I am so very sorry), I want Canadians, new and old, to remember they have a choice.
I made a choice to turn my back on part of my identity. In return, I got to fit in.
I made a choice to abandon learning Vietnamese as a kid. Part of it was me being lazy. I didn't want to spend Saturdays inside another school. Three hours learning about the Vietnamese alphabet can seem like prison when you're six or if you're 12.
But another part of it was me wanting to fit in. To stay at home. To watch weekend morning cartoons. To have stuff to talk about during recess come Monday.
I made a choice to turn my back on part of my identity. In return, I got to fit in within a multi-ethnic schoolyard in a suburban Ontario neighbourhood circa 1995.
Today, that decision would make a majority of Canadians pretty happy.
A joint poll between the Angus Reid Institute and CBC News found 68 per cent of Canadian respondents agreed minorities should do more to fit in with mainstream society instead of keeping their own customs and languages.
The study surveyed 3,904 Canadians online back in September with results having a 2.5 per cent margin of error 19 times out of 20.
But the margin of error isn't with the data; it's with the logic that in order to be Canadian, you have to choose one or the other so you can belong. My parents made choices that flew in the face of that notion of singularity.
They came to Canada as immigrants but made a life so they could give birth to me in a Canadian hospital. They learned English and they embraced the values of acceptance and tolerance, but at no point did they trade in 17 and 18 years of their lives in Vietnam as payment for their citizenship papers, their health cards or social insurance numbers.
I, on the other hand, made the wrong trade. I discarded what I thought was the burdensome "Vietnamese card" to feel comfortable in a messy and changing mainstream society. Short sighted, I know.
But if we're talking about being short sighted, then remember the last time Canadian institutions forced minorities to fit within mainstream society — they were called residential schools.
It's an ugly chapter in history Canada is trying to come to terms with. However, that's not who Canadians are now.
To be Canadian is to have choice. But it's also accepting the choices of others.
To be Canadian is to realize there is a very fragile, but mutual, understanding that despite religion or culture or language, we can find common ground.
To be Canadian is to recognize the potential to live a duality where you aren't one or the other, you can succeed as both.
Just ask my parents. They'll tell you about it in English or Vietnamese.
Born And Raised is an ongoing series by The Huffington Post Canada that shares the experiences of second-generation Canadians. Part reflection, part storytelling, this series on the children of immigrants explores what it means to be born and raised in Canada. We want to hear your stories — join the conversation on Twitter at #BornandRaised or send us an email at [email protected]
Follow HuffPost Canada Blogs on Facebook
Also on HuffPost:
– This feed and its contents are the property of The Huffington Post, and use is subject to our terms. It may be used for personal consumption, but may not be distributed on a website.