I try to practice being thankful year-round, but Thanksgiving holds an extra special place in my heart. When I first learned I have celiac disease, I was afraid that I would never enjoy this stuffing again – so that I can is one of many reasons I am thankful!
My Grandmama and Grandpapa lived in Chapeau, Quebec while I was growing up and I can so clearly remember my Grandmama making this stuffing. And did I ever look forward to it every year at Thanksgiving time!
They had a wood burning stove, and my grandmamma would explain to me how the onions, celery, and carrots in this recipe is the 'Holy Trinity' of any French Canadian recipe, and would bring out the sweetness. Sometimes she'd even let me help to make it!
The secret? Sauté low and slow to bring out the sweetness in the onions. Be patient – it's well worth the effort!
This easy stuffing combines traditional French Canadian flavours. Serve this holiday favourite as a side, or toss it into a casserole with other post-festivity leftovers. Mmmmm, leftovers.
Each bite receives a burst of cranberry and a pecan crunch! It's a flavour party in your mouth!
This stuffing always reminds me of those happy times around the Thanksgiving table with my family – warm inside but with crisp air outside, sharing a bountiful meal with loved ones. I hope that it can become a part of your family's celebration too.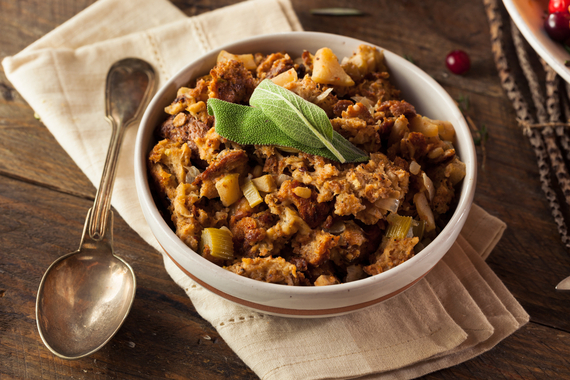 French Canadian Cranberry Pecan Gluten Free Stuffing
~ serves 6- 8
4-6 cups (1000 -1500 mL) of chopped into bite size pieces (I like using Udi's Millet and Chia bread if gluten-free I've tried many different kinds but have found it just works best, and is also widely available)
½ cup (125 mL) each of diced celery, onions and carrots
¼ cup of dried cranberries and pecan pieces
4 slices of gluten-free turkey bacon, chopped
1 cup (250 mL) of vegetable or chicken broth
2 tablespoons (30 mL) of olive oil
½ teaspoon (2.5 mL) each of dried sage and thyme
Sea salt and fresh black pepper to taste
Directions:
Add turkey bacon to a medium heated pan and cook until crispy. Set bacon aside and allow to cool. Chop bacon into small pieces when cooled.
Sauté the celery, onions and carrots in oil on medium to low heat until the vegetables soften.
Add the dried cranberries, chopped pecans, chopped bacon, bread, dried herbs, broth, salt and pepper and mix thoroughly for 1-2 minutes in the pan. Remove from heat.
Place all of the ingredients either in a greased casserole dish or stuff in turkey. If in a dish, bake covered with foil for 15 minutes at 425 degrees F and then remove foil and bake for an additional 10 minutes. If using to stuff your turkey, stuff inside empty turkey cavity for the duration remaining until the turkey is finished.
P.S If you are vegan or vegetarian you just omit the turkey bacon and double up your pecans and ensure you use vegetable broth! ta- da! #veganized
I wish you all the happiest of Thanksgivings; we all have so much for which we can be thankful.
Follow HuffPost Canada Blogs on Facebook
– This feed and its contents are the property of The Huffington Post, and use is subject to our terms. It may be used for personal consumption, but may not be distributed on a website.