Authored by the 'ALL RISE Say No to Cyber Abuse' Youth Team
We often refer to online bullying as just that; bullying. Some say name calling and teasing over the Internet doesn't qualify as 'that bad' because unlike face-to-face confrontation, you can shut your computer or turn off your phone. But is that really the case? Do we live in a society where we can cut off communication with other people just like that, or where we can close our laptop and trust that people won't continue to write things or circulate abuse about us?
Even blocking a user on social media is becoming a powerless act with the ease of creating another account using pseudonyms or 'anon', and even after we switch off our screens the damage is almost always already done. Cyber bullying is cyber abuse.
Technology plays a large part in the lives of everyone; it's where we communicate, learn, express ourselves and spend much of our leisure time, but what does it look like when the primary medium we use for these things becomes corrupted with hate and abuse?
Harassment, hate speech, revenge pornography, stalking and other forms of online abuse are on the rise, and e-safety or being safe from harm online is becoming more and more of a distant dream rather than possible reality. The ability to hide behind a screen and escape both seeing and experiencing the consequences of abusive actions means that the Internet is being exploited all the time as a way to execute malicious activity. With over 3 billion Internet users everyone has the potential to be a target of cyber abuse or witness it across our globally shared network.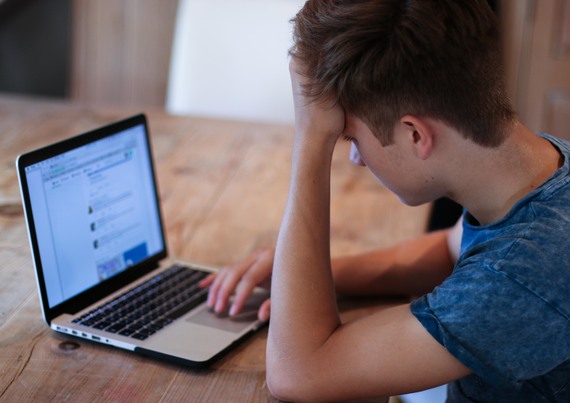 For young people, we can't recall a time when technology wasn't readily available to use and enjoy, and growing up in the 'digital age' exposes us to a great deal of information but also a great deal of abuse. A strikingly large proportion of content on the Internet is highly disrespectful, degrading and vile, in fact, the word 'respect' seems to have slipped from the dictionary.
Children as young as 6 or 7 with their iPads, smartphones, school computers and tablets can see everything we see, and can contribute to or be on the receiving end of horrendous abuse in an instant.
Growing up into a teenager and young adult has new challenges and risks attached; the exciting prospect of technology, joining social media and owning your own phone or computer comes with conditions they don't put in the small print of community guidelines or packaging. Cyber abuse can do a lot of damage to someone's life, and young people are experiencing these kinds of things all too often:
"I've been online abused in the past – it made me feel like an outcast and I was reluctant to come into school the next day. A few times I've been a bystander; I've seen especially people shaming celebrities and I can only guess that it affects them as much as the rest of us. In my opinion cyber bullying, although it causes no physical damage, is worse than other types of bullying. I think this because when someone is being cyberbullied there is no escape. Even after leaving school the victim can still receive abuse. Cyber bullying is a cowardly way of abusing someone to boost their own self-esteem, which is wrong and needs to be stopped." – Age 15, UK
"I was bullied by the boy who I met on the Internet. He was harassing me on Facebook every day. I was forced to tell about this, my parents. I've never felt so horrible and stupid. Since this time I do not make friends on the Internet. In my opinion, cyber abuse is equal with other types of bullying because it carries out evil on the large scale. We all know how many people are in contact with the Internet. Some of them can be very cruel because they feel completely safe from punishment and what's the most important they can be anonymous. They can hurt as much as the other types of bullying, without direct contact with person" – Age 17, Poland
"I've received death threats, been told to kill myself, and called tonnes of names. I wanted to die. I couldn't do anything because it was online and out of my reach. I didn't know what to do" – Age 14, UK
"My sister was abused online after expressing her mental health condition. She became fearful, anxious, isolated and concerned about every word she wrote. Online abuse is disgusting as it allows people to bully facelessly. It feels cowardly and pathetic but debilitating to the victim. I believe it's equal to physical bullying." – Age 15, UK
"I have had anonymous threats from people saying they were going to break into my house and rape me. I wanted to hide it from my parents; I was terrified. The police became involved but nothing was done about it, to this day it scares me that they are still out there." – Age 15, UK
Being abused online can lead to serious mental health conditions, damage to self-esteem and body image, feelings of isolation, attack and insecurity, yet we still call it cyber 'bullying' and treat it less severely than face-to-face abuse.
'ALL RISE Say No to Cyber Abuse' is an organization redefining cyber bullying as cyber abuse and who talk to hundreds of young people as well as all other age groups about their experiences and feelings on the matter. It's vital the voices of youth are heard, and that online abuse is addressed as the serious public health concern it really is.
Testimonials from ALL RISE International Survey 2015.
If you or someone you know is at risk please contact your nearest Crisis Centre or call Kids Help Phone at 1-800-668-6868 to speak to a counsellor.
Frame Of Mind is a new series inspired by The Maddie Project that focuses on teens and mental health. The series will aim to raise awareness and spark a conversation by speaking directly to teens who are going through a tough time, as well as their families, teachers and community leaders. We want to ensure that teens who are struggling with mental illness get the help, support and compassion they need. If you would like to contribute a blog to this series, please email [email protected]
ALSO ON HUFFPOST
More From Frame Of Mind:
Follow HuffPost Canada Blogs on Facebook
– This feed and its contents are the property of The Huffington Post, and use is subject to our terms. It may be used for personal consumption, but may not be distributed on a website.