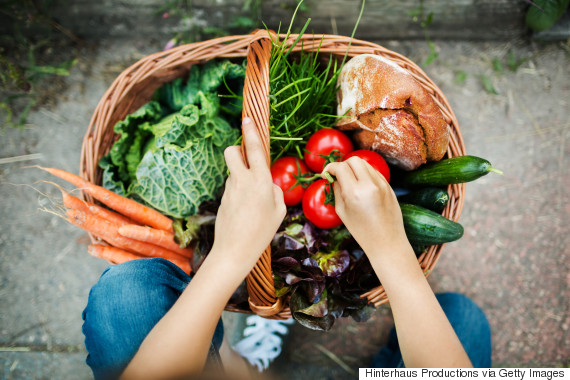 (Photo: HINTERHAUS PRODUCTIONS VIA GETTY IMAGES)
This week's article is a little different than usual, but I am really excited to be sharing my experience at last week's Food Trends and Tasting Panel at the EAT! Vancouver Festival.
As the name might suggest, the event was all about food trends. But it was a bit of a different take — not just what buzz words are going to make products sell this year, or what the next superfood may be. Although they did talk about what made for successful products and dishes last year, and what they're hoping to see coming up, there was a large focus on what makes and breaks trends and the impact (positive and negative) that they can have on our health.
There is one trend in particular that seems to have foodies everywhere drooling right now…
EATING LOCAL.
Now, I know that the word "trend" in itself tends to have a negative connotation. It is often associated with something that is fleeting, or maybe latched onto for the wrong reasons. So do we really want to see this as a trend? Sarah Stewart of Juniper Kitchen & Bar explains that trends are often a reaction to something that hasn't worked in the past…

Eating local can provide us with fresher, more nutrient-dense foods, which also means more flavour and better health!

We're all too familiar with the disaster that was the whole "fat free, low calorie" trend.
This led us to a fear of fats. Even when those fats were nourishing, delicious, what we now know to be health-promoting fats like avocados, olive oil, nuts and seeds. Our shelves started overflowing with endless options of overly processed, refined foods leading us further and further away from real food and our bodies even more confused and unhealthy than ever.
Sarah went on to explain that the current trend of eating whole, local and quality foods as a reaction to this disaster is one that she prefers to refer to as a movement rather than a trend. Hopefully this is the start of something really good.
So, is this "trend" of eating whole local foods one that will stick? The answer from panelists, producers and the audience alike, was a huge resounding, hopeful yes! Along with supporting our local economy and environment, eating local can provide us with fresher, more nutrient-dense foods, which also means more flavour and better health! Wins all around.
As far as other trends, Denise Breyley is hopeful that by continuing to work on labelling laws, transparency and education for consumers, we won't need to be so dependent on flashy health claims to tell us — or trick us — into what's healthy or not. With the combination of honest, transparent information available to us and more whole foods that don't even need a label in the first place, we would be able to make informed decisions about what we want to put into our bodies.
I have to say I am pretty jealous of Denise's job. She is the chief forager at Whole Foods Market. Not the rummage in the forest for mushrooms type of forager, although that would be pretty cool, too — she gets to seek out (and test the products of) people doing interesting things with food. Denise is dedicated to sharing the stories of where our food comes from, how it gets onto our plates, and supporting the local producers that put so much love, care and attention into sharing their amazing, quality goods.
I left the evening feeling inspired about where our food system is headed and with a few good reminders.
Eat consciously.
Really listen to your body and eat what it truly needs. Make the time to truly enjoy food. Craving a fresh flaky croissant? Sit down at the café and enjoy the experience rather than stuffing half a box down in your car on the way to work.
Eat in moderation.
Enjoy and appreciate good quality food rather than eating something half satisfactory in mass quantities. I guarantee a small piece of good quality brie cheese will take you a lot further than half a pack of processed plasticky cheese.
Eat food, not nutrients or health claims.
Evaluate a product in its entirety, not just by the flashy words being used to market it or one ingredient that "is guaranteed to help you lose weight."
This experience certainly made me slow down a bit and put more thought into where it is I'm getting my food, who I'm supporting and what I'm putting into my body. Another good lesson in mindful eating and such a good reminder that food is so much more than just fuel. It is a way to get involved in and share our culture and traditions, and enjoy the love and nourishment that good wholesome foods provide.
Download your FREE copy of my Top 10 Smoothie Book!
For more recipes and kitchen inspiration, check out www.lindsayjang.com or find Lindsay on Instagram here or Facebook.
Follow HuffPost Canada Blogs on Facebook
Also on HuffPost:
– This feed and its contents are the property of The Huffington Post, and use is subject to our terms. It may be used for personal consumption, but may not be distributed on a website.