In recognition of World Food Day on October 16, here's a look at how people interact with food around the world.

1. Zimbabwe
Schoolchildren at a primary school in Zimbabwe line up to receive food. Several families in the area are struggling and have resorted to one meal a day. According to the Zimbabwean government, more than four million Zimbabweans will need food aid assistance following the El Niño-induced drought that struck the Southern African nation.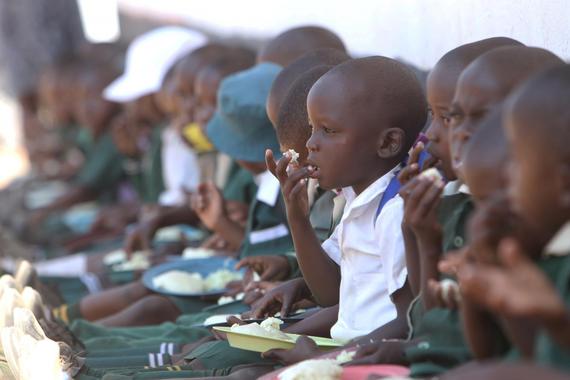 2. Ethiopia
In drought-affected Ethiopia, two-year-old Habib covers a bowl of porridge consisting of Corn Soya Blend and oil prepared by his mother. Habib was diagnosed with moderate acute malnutrition and was a recipient of the Targeted Supplementary Food program which provides supplementary food rations for moderately malnourished children to support their nutritional recovery.
A boy carried by a woman is among young children accompanying adults at the Baby Café in Pandas Village, Indonesia. Many parents and grandparents come to the café each morning, with children in tow, to buy 'bubor', a nutrient-rich porridge made with rice, chicken and vegetables. The porridge is prepared very early each morning by 'cadres' (volunteer community health workers), who saw a need and created their own solution to provide young children in their community with healthy and nutritious food to start their day. The cadres, who sometimes deliver the food to homes, were trained as part of the UNICEF-EU nutrition program.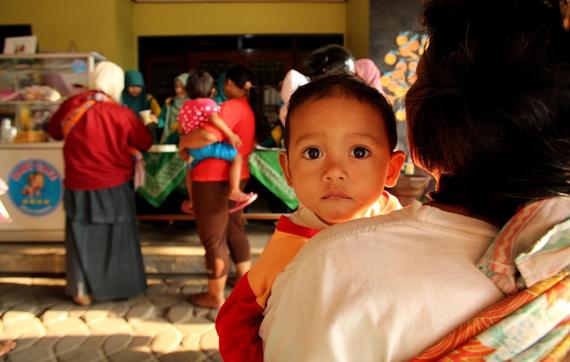 4. Korea
A family eat, a meal in the rubble of their destroyed home in Korea while talking to the UNICEF Deputy Representative.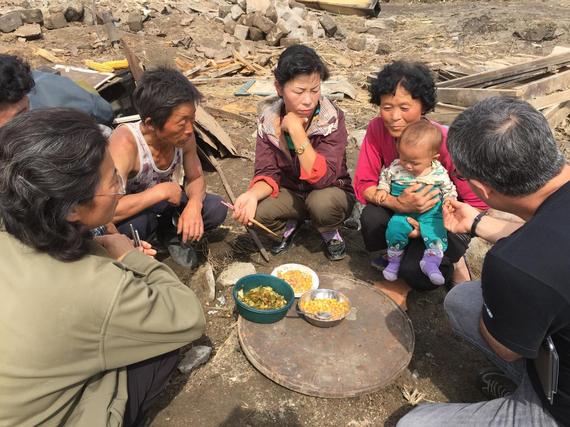 5. Iraq
The grandmother of one-month-old Abdallah, reaches for a bowl of food in a temporary shelter. The two arrived together in the middle of the night after fleeing violence near Mosul, Iraq.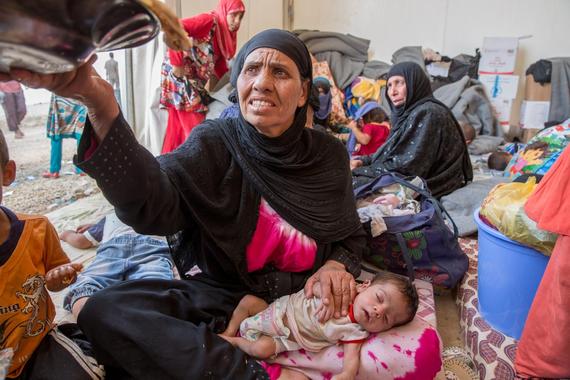 6. Bangladesh
Rexona Begum, 30, the mother of Sumiya Mollah, 5, and Moriom Mollah, 6, eat a meal of curry potatoes and rice in Bangladesh. Sumiya has been diagnosed with malnutrition. Rexona does her best to provide for her children, but many basic necessities are beyond her reach. Following the advice of the local clinic, she has started to incorporate more vegetables into her cooking, often collecting the type of leafy greens the neighbors find unappealing and discard.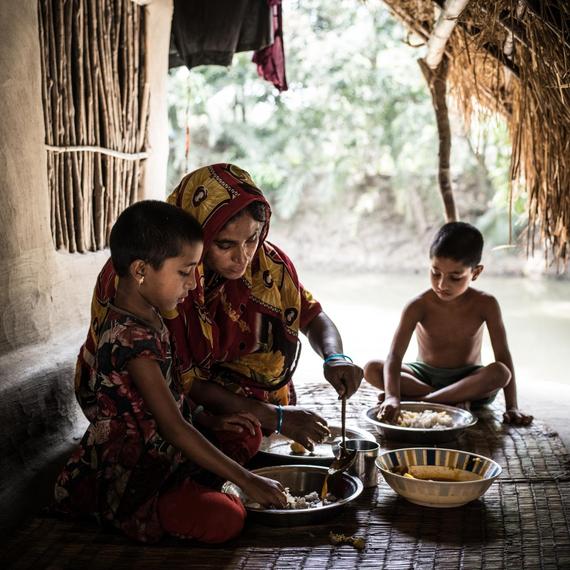 7. Haiti
Fourteen-year-old Pierre Tomas helps his mother cook a meal outside of their home in Haiti. Pierre left home to find a better life in the Dominican Republic, but ended up begging on the streets where he fell prey to violence at the hands of other children on the streets. After living in an orphanage for three months, he was reunited with his family in Haiti with the help of Heartland Alliance, a UNICEF partner that provides psychosocial counselling for trafficked children and children living or working on the streets.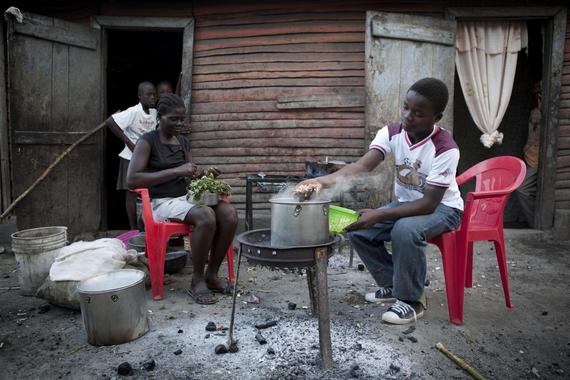 8. Ethiopia
A health specialist at UNICEF Ethiopia feeds Bertukan a nutritious porridge at the Kihen Health Post. The health post implements health, nutrition, hygiene and sanitation programs with UNICEF's support targeted at building the capacity of the health system.
Children at this AWC (ANGANWADI Centre) in a fluoride-affected district of India are provided daily eggs and milk as a special nutritional supplement to enhance their immunity against the onslaught of fluorosis. Fluorosis is a chronic condition caused by excessive intake of fluorine compounds, such as well water that has been contaminated by too much fluoride from the granite rocks.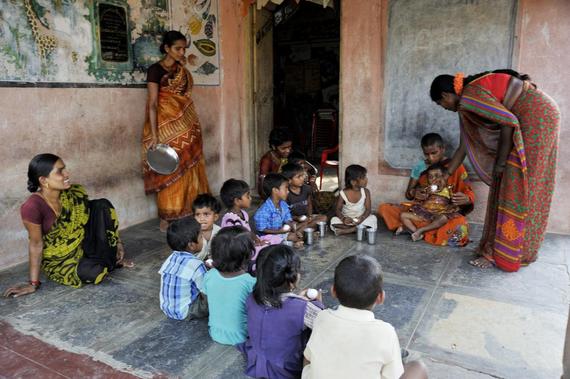 10. Bolivia
While other children form a line behind her, a girl from the Quechua indigenous group in Bolivia receives fortified milk brought, together with bread, by UNICEF. The villagers normally subsist on a diet of various kinds of potatoes and, occasionally, corn.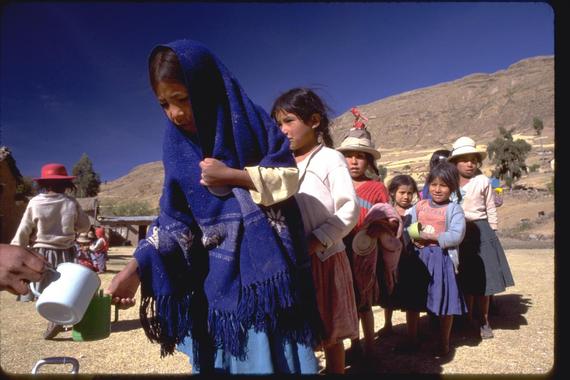 Follow HuffPost Canada Blogs on Facebook

Also on HuffPost:
– This feed and its contents are the property of The Huffington Post, and use is subject to our terms. It may be used for personal consumption, but may not be distributed on a website.