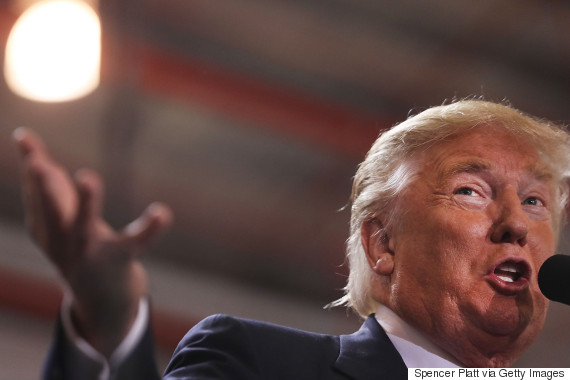 (Photo: Spencer Platt/Getty Images)
Hola, Toronto.
I am a Mexican woman and a chef who runs a Mexican restaurant and taqueria in downtown Toronto. Truthfully, it takes a lot for me to put myself out there. I'm normally rather shy and quiet. But ever since the Instagram debacle with La Carnita recently — in which the restaurant made light of Donald Trump's sexist remarks by posting a caption reading "What if Donald Trump said 'grab her by the taco'" — I have felt the urge to speak up.
Over the past week, women across North America felt the impact of Donald Trump's lewd, misogynistic remarks that endorsed sexual assault. Trump is doing a lot to discredit my race, and now it's come to my gender. Using humour to perpetuate Trump's demeaning and offensive rhetoric towards women, to sell a Mexican product, is disgusting.
This is a lot bigger than La Carnita, it's about recognizing that as a culture we cannot adopt this way thinking by making light of comments like this. Last night, you could almost hear women across the country exhale sharply, thinking, "REALLY?" How on earth does this happen — especially after the media firestorm that came down after Trump's comments last week?
Ughhh I was gonna just try and chill tonight but REALLY DUDES?? Wtf is WRONG WITH YOU? pic.twitter.com/XWJdhDVLr0

— Jen Agg (@TheBlackHoof) October 11, 2016
What will it take to make people realize that perpetuating this "locker-room banter" has serious consequences, and not just in the social media courts of public opinion, but to each and every woman — both personally and ideologically? For me, it's an unwelcome reminder of my perceived place in the pecking order, that some men in positions of power feel entitled to do what they will with women, who they deem less-than.
It is dangerous when someone like Trump becomes a joke in popular culture. It can become unclear when and where to draw the line, and in my opinion, his views do not deserve any added attention whatsoever.
La Carnita has apologized and I believe their apology to be sincere, but we cannot simply sweep this under the rug and pretend the attitude that lead to that post doesn't exist or is suddenly gone.
Part 3. and fully realize why it was inappropriate. We truly apologize. We can do better, and we will.

Love, la carnita.

— La Carnita Ltd. (@la_carnita) October 12, 2016
This isn't the first time we've seen "jokes" occur in the restaurant industry, which has long been called out as a sexist boys club. Seeing well-known restaurateur Jen Agg comment on Twitter that the industry has been mostly being silent through all of this is all too true. Why are we all so afraid to speak up, and call a spade a spade?
If we keep tolerating this behaviour, it will continue to exist. We need to use our voices to invoke change, to challenge people to think before they speak, and to really take a moment to think about how our everyday actions impact people.

We can't continue to support this line of thinking and continue with this mentality, because all it does is push women down.

As a woman in the restaurant industry I have been fortunate enough to be treated properly and respected — but I'm painfully aware this is not the case across the board. This is why I am speaking up.
Throughout my career I've always used my voice as a sense of empowerment to reaffirm my own position and establish a sense of authority inside my workplace. We can't continue to support this line of thinking and continue with this mentality, because all it does is push women down, when we have been fighting for equality throughout our entire lives.
Toronto, let's take a moment to collectively recognize and acknowledge the systemic problem that exists both in the restaurant industry and beyond, and to learn from it. I know we're better than this.
With Love,
Elia Herrera, Chef and Owner, Los Colibris, El Caballito
Follow HuffPost Canada Blogs on Facebook
Also on HuffPost:
– This feed and its contents are the property of The Huffington Post, and use is subject to our terms. It may be used for personal consumption, but may not be distributed on a website.