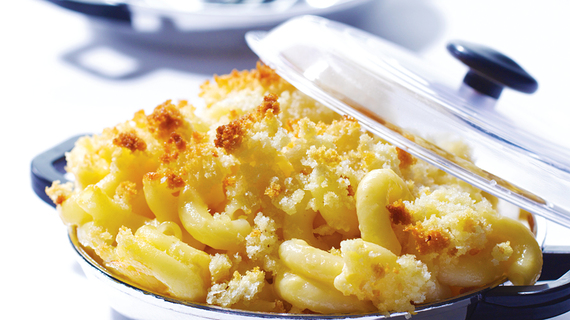 There are 2 things we absolutely love about fall… those warm drinks we wrap our hands around (hint, hint…our Pumpkin Spice Hot Chocolate), and that giddy feeling we get knowing the holidays are fast – approaching. With the change in weather, it's time to whip out a cozy scarf and extra layers of clothing to keep us all toasty. However, we've come up with more ways to keep warm this fall season with our 12 scrumptious Comfort Food Recipes!
There's nothing more comforting on a cool fall day than a warm and hearty bowl of Beef Chili. A mix of chili powder, red pepper flakes and cayenne mingle with intense cocoa powder, sweet tomatoes, fiber-rich beans and well-seasoned meat to offer so much yum! We guarantee this dish will warm you up in no time.
Another dish we love from "my head to-ma-toes," you can never go wrong with our delicious Tomato Soup with Parmesan Dumplings. Quick and easy to make in less than 30 minutes, this bowl of comfort is full of flavor and topped with cheesy parmesan dumpling goodness.
And if nothing says comfort to you like good old Mac' n' Cheese, you'll love this recipe that is full of cheesy goodness! Creamy noodles are loaded with gooey cheese and fresh breadcrumbs and baked until golden perfection.
We're bringing loads of comfort to the table so be sure to check out the rest of our fabulous comfort food recipes below.
Follow HuffPost Canada Blogs on Facebook
– This feed and its contents are the property of The Huffington Post, and use is subject to our terms. It may be used for personal consumption, but may not be distributed on a website.