News headlines about sexual assault are too common, but stories of survivors and their realities are not commonly spoken. As part of Social Justice Week at Ryerson University, sexual assault survivors have shared their emotions in Lost Words, art workshops led by Toronto illustrator Hana Shafi.
The artwork created in the workshps is exhibited in a new pop-up art gallery, Sexual Assault: The Roadshow. Held at Ryerson University, the community arts education project talks back to sexual violence. We spoke with Shafi about the workshops, her own self-care, and the challenges women face on campus.
Where did the idea for Lost Words come from, and what are you hoping to achieve from the exhibit?
I wanted to frame it as "lost words" because I think there's this feeling of lost opportunities, lost justice, lost reconciliation that really haunts a lot of survivors of sexual violence.
Lost Words is an opportunity to air those feelings out, to find those words again and then release them. I'm really hoping this initiative will help create awareness about how those who are impacted by sexual violence feel; we're so used to seeing cases about sexual violence in the news, but few people really understand the reality that many survivors go through.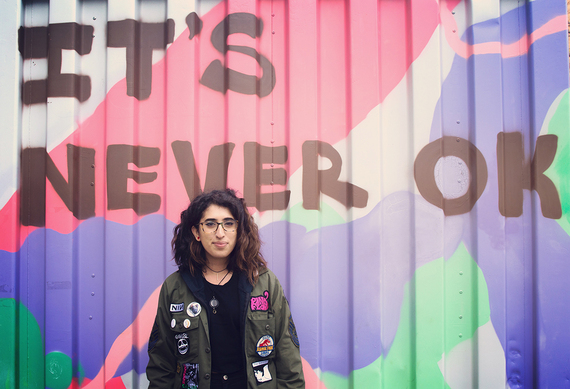 Hana Shafi at Sexual Assault: The Roadshow. Credit: Alexandra Gater
What was your personal motivation with encouraging women to share lost words of sexual assault?
Sexual violence on campus is a highly stigmatized topic. It's often in the news, but stories are plagued with irresponsible reporting that perpetuates a lot of rape myths and places the onus on survivors. It seems like all these people are talking about sexual violence, but the voices that need to be prioritized in this dialogue are the voices of survivors. That's what Lost Words is all about.
How does artwork encourage someone to share a story rather than spoken words?
The posters allow anonymity, and there's not even an expectation that you have to write something in it. Your lost words could be an image, could be scribbles, or could be a few random words rather an a cohesive sentence. It's whatever the person wants to put. I think it takes a lot of the pressure off, and the anonymous aspect of it helps keep survivors safe from the repercussions of going public.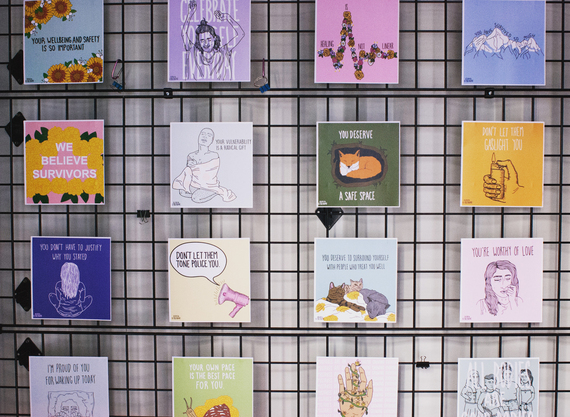 Hana Shafi's illustrations cover feminism, mental illness and healing from trauma. Credit: Alexandra Gater
What isn't working for women when it comes to sharing lost words in a campus environment?
To talk about sexual violence in the campus environment is incredibly risky. People are often stuck in a class with their rapist–it might be someone popular, someone with lots of friends, maybe even a professor. Sexual violence is about power, and often survivors feel powerless in that environment.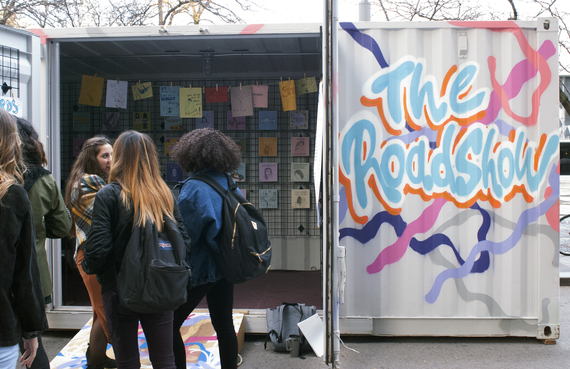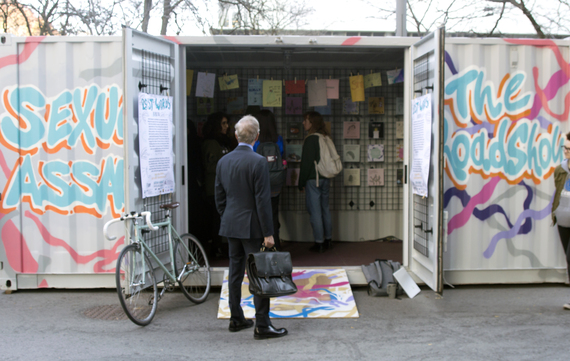 Visitors at the opening day of Sexual Assault: The Roadshow. Credit: Alexandra Gater
How do you work through your own emotions that come from workshops with women who are sharing moments of vulnerability, fear, and courage?
Obviously I really have to mentally prepare myself before workshops, and give myself time for self care after.
People are sharing very heavy things. Sometimes they are sharing their feelings of hope and resilience, but often they are sharing their rage, their trauma, and their frustration. It's a lot of emotion and I have to prepare myself to be really emotionally present so I can connect with everyone and make sure they feel valid and safe in their self expression.
What improvements can be made by schools like Ryerson?

Schools need to start improving their policies around sexual violence so that it puts power back in the hands of survivors, so they have more autonomy and guaranteed safety if they want to disclose what happened to the university. Right now, you run the risk of being silenced, humiliated, and invalidated.
Ryerson has taken a lot of great initiatives by opening the Office for Sexual Violence Support and Education. But implementing these changes takes time. Rape culture is still part of the campus environment and it's going to take a lot of work to dismantle that.
Sexual Assault: The Roadshow runs from November 1 to 4, 2016, from 11 a.m. to 3 p.m. on Victoria Street in Toronto.

I'm passionate about highlighting women in business and the emotional challenges of the work they do. If you know a woman to feature, tweet @kmarano.
Follow HuffPost Canada Blogs on Facebook
Also on HuffPost:
– This feed and its contents are the property of The Huffington Post, and use is subject to our terms. It may be used for personal consumption, but may not be distributed on a website.