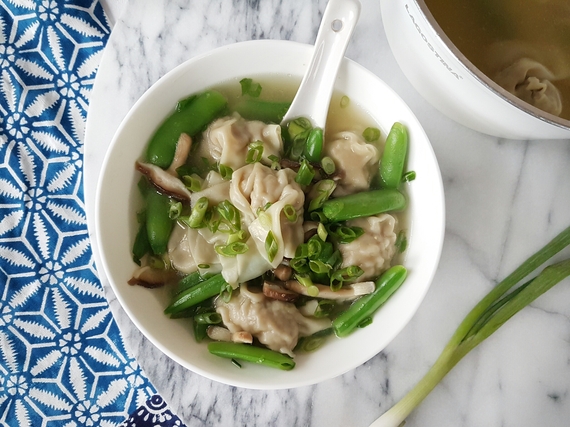 Wonton Soup is probably my ultimate comfort food. As far back as I can remember, my Ma-Ma (my Chinese Grandma) used to drive up to Kamloops to visit us every summer. I always looked forward to her annual ritual of folding fresh wontons to stock us up for the winter. I remember sitting at our kitchen table as she showed me her trick to make the folded edges of the dumplings stick.
I have so many memories in the kitchen with my grandma. She is an amazing cook, but I don't know if you're familiar with the book The Joy Luck Club? Real life with a Chinese Grandma is no different- there is never a dish that comes off the stove that isn't "too dry…" or "It's a bit salty isn't it?" or " I overcooked it…you probably make it better."
No matter how much we reassure her that it was the BEST Chow Mein we've ever tasted, or that the roast was cooked PERFECTLY she's always quick to reassure us that it could have been better… but I think she secretly knows that OF COURSE it's the best Chow Mein we've ever tasted
I am so grateful for the close relationship I have with my Ma-Ma. Cooking has always been her way of showing her love. No matter whether we've decided we're just going to have something easy, or that we'll pick something up on our way over so she doesn't have to cook, without fail, there is always a table full of our favorite dishes…and enough to feed about 10x the amount of people coming over for dinner.
When I think back on these memories over the years, I can see that it's more than likely that her passion in the kitchen has had a huge influence on me and my love for cooking for those around me. There is nothing more satisfying than sitting down to a meal that has been cooked with love or sharing a newly developed recipe with loved ones and seeing them enjoy every bite.
As you'll often hear me say, eating isn't just about fuel and nourishment. Sitting down for dinner with your family is a great way to spend quality time together and get to know a bit more about each other. It is also a way to pass on traditions, and keep our food interesting by fusing different combinations that we pull from each of our parents, grandparents and others who influence the final outcome of our cuisine.
I hope I can bring a little love into your kitchen with my version of this childhood fave.
This recipe has a much bigger yield than what I usually do for recipes. I went back and forth with how to do it but I decided to just do it as I do. I always make a big batch of these when I make them, for a few reasons. For one, if you cut it down you'll end up with leftover meat and water chestnuts, so this helps prevent waste. I also LOVE having these in my freezer for the perfect quick and easy meal on a busy, rainy, Vancouver night. Or any night for that matter. Lastly, as with any prep, once you have everything out and have your station set up with your wrapping papers and ingredients, it is a lot quicker to make the whole batch rather than restarting the whole process another time. Of course if you'd rather, you can cut the recipe in half or a third for a smaller or single meal batch
I hope you guys love these as much as I do and enjoy sharing these with your family and friends. If you make this recipe, I'd love to see how it turned out! Join me on Instagram and tag @lindsayjangrd with #inthekitchenwithLJ to show me your version!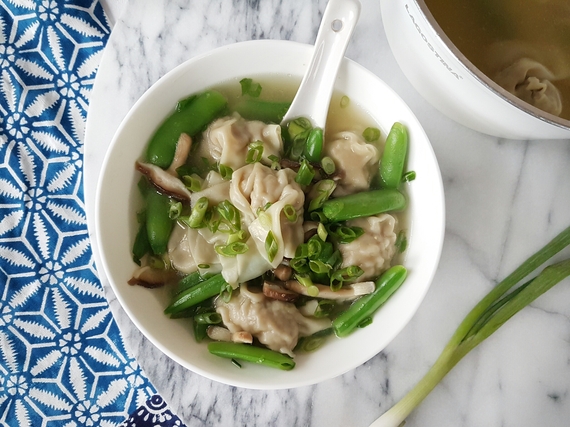 Download my FREE 5 Day Meal Plan to change your eating habits for good!
Famous Jang Wontons
Makes 100 wontons
Ingredients
- 100 Wonton Wrappers
- 2 egg
- 1 lb extra lean or lean ground pork
- 1 lb ground turkey
- 2 Tbsp soy sauce
- 2 tsp sesame oil
- 1 tsp crushed red chilis
- 1 x 227g can water chestnuts, diced
- 2 x thumb-sized piece of ginger (approx 2 Tbsp), minced
- 4 cloves of garlic, minced
- 4 green onions, thinly sliced (save 2 Tbsp of green onion to sprinkle over your soup for garnish)
- 1 tsp freshly-cracked black pepper
Soup **the recipe for the soup is to make enough soup for 4 servings as you will be freezing the rest of the wontons (I usually do anywhere from 6-10 wontons per person depending on how hungry you and your guests are!)
- 6 cups of homemade or store-bought chicken stock
- 2 cups snow peas
- 2 cups sliced mushrooms
- 1 tsp sesame oil
- Optional: 1 tsp of your favorite hot sauce, I like Sriracha
- 2 Tbsp of green onion, chopped during your initial prep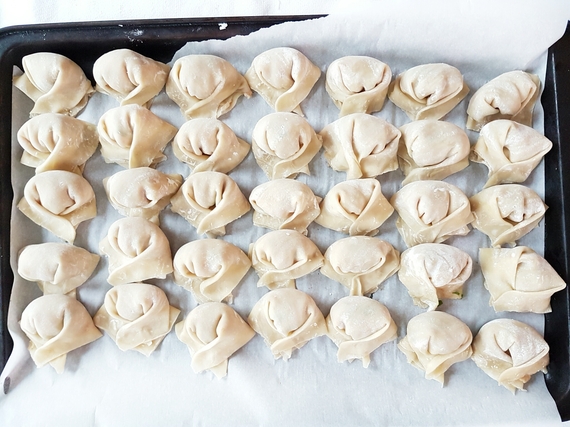 Directions
1. In a medium-sized mixing bowl, combine all ingredients except for the wonton wrappers. Use a fork to combine all ingredients well.
2. To set up your wonton making station, line a baking sheet with parchment paper, this is where you will place the folded wontons. Clean a large surface of counter space and lay out as many wrapper as will fit. Fill a small bowl with water, you will use this to moisten the edges of the wonton wrappers to help seal them.
3. Spoon a heaping teaspoon of the filling onto each wonton wrapper, dip your fingers or a pastry brush in water and moisten the edges of each wrapper, careful not to wet them too much.
4. Seal the wrappers by folding the top corner to meet the bottom, folding the wrapper over the filling to make a triangle. Press the edges firmly to make a seal. Next, bring the left and right corners together above the filling. Overlap the tips of these corners, moisten with water and press together. Add the finished wonton to the lined baking sheet
5. Repeat until all the filling has been used up.
6. Cook immediately or place in the freezer until firm if you plan to store for later, this will prevent them from all sticking together during storage. Once the wontons are firm, place them into a large ziplock back to be removed as needed!
7. When you are ready to eat them, bring your chicken stock and sesame oil to a boil in a large pot of water. Once boiling, add the wontons and mushrooms. After 5 minutes of cooking, add snow peas for final 1-2 minutes of cooking. Remove from heat once peas are cooked but still slightly crunchy and wontons have cooked through.
8. Dish up into bowls and sprinkle with green onion to garnish.
Enjoy!
For more recipes and kitchen inspiration, check out www.lindsayjang.com or find Lindsay on Instagram here or Facebook.
Follow HuffPost Canada Blogs on Facebook
– This feed and its contents are the property of The Huffington Post, and use is subject to our terms. It may be used for personal consumption, but may not be distributed on a website.