With the U.S. election less than a week away, the number of celebrities, public figures and everyday people threatening to migrate north should Donald Trump land in the White House are multiplying.
I guess we should feel flattered that our American neighbours consider us a suitable alternative. Like we're the best friend who takes you in after a terrible fight with your boyfriend. Yet, I can't help but feel like a jilted lover reduced to sloppy seconds. Or like first runner-up in a Miss USA pageant. Second choice doesn't really sit well.
Netflix chat show host Chelsea Handler rattled off a roster of celebrities on her show this week who intend to move to Canada should Trump prevail.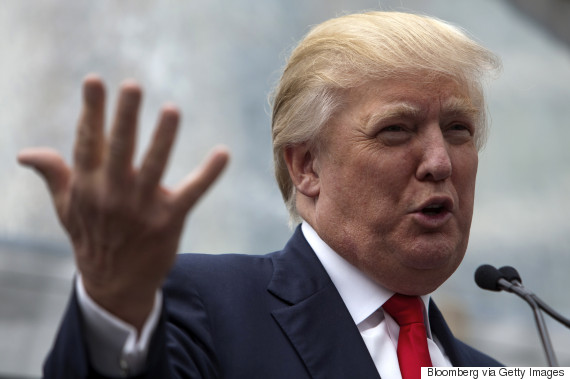 Donald Trump speaks during an event in Vancouver, British Columbia. (Photo: Ben Nelms/Bloomberg via Getty)
"I'm going to need to go to Canada if he [Trump] gets elected," she said. "I don't know what the rules are to move there but a lot of us are feeling that way. A lot of us are going to want to leave the country."
According to the Hollywood Reporter, Girls creator Lena Duhnam has set her sights on the West Coast. "I know a lovely place in Vancouver, and I can get my work done from there," she said.
Actor Bryan Cranston has also said he'll move to Canada if Trump is elected president. "Absolutely. I would definitely move. It's not real to me that that would happen. I hope to God it won't," Cranston told the Bestseller Experiment podcast when asked if he would take an extended holiday to Vancouver if Trump is elected.
"It wouldn't be a vacation. I'd be an expatriate," Cranston added.
Actress and fashion darling Chloë Sevigny says she's moving to Nova Scotia, which I'm sure confused a lot of people who perhaps were not aware that it's a Canadian province.
Even beloved American songtress Barbara Streisand told Australian journalist Michael Usher, "I'm either coming to your country, if you'll let me in, or Canada."
While the thought of Babs donning a toque and sharing a plate of poutine with husband James Brolin is completely and utterly appealing, I have bad news for our famous friends. Immigrating to Canada isn't that simple. In fact, unless you marry a Canadian citizen, it's damn near impossible.

We're busy opening our borders to refugees who really need it, not privileged people with a lousy Republican candidate.

Much like Canadians looking to immigrate south, there is no open door policy between our two nations. Swing by for up to six months on a visitor visa, sure. But during that time you are not permitted to work or have access to health care or any other social services. You're simply a tourist.
I'm wondering if Prime Minister Justin Trudeau should hold a press conference to reinforce our immigration policies to ensure there isn't any confusion come November 9. Perhaps another Vogue spread is in order to drive home the message?
More than anything, Americans need to know that living in Canada is not a consolation prize. Living in Canada is like hitting the cultural and geographical jackpot. A country rich in diversity, where natural resources abound and the scenery will take your breath away. A country whose musical contributions include Neil Young, Joni Mitchell and Drake. While we sympathize with our American friends, we're busy opening our borders to refugees who really need it, not privileged people with a lousy Republican candidate.
I have faith in my American friends. I have faith that they'll make the right decision on election day. And I'm all about telling America it's already great, because I live there and I see it for myself every day. But let's be clear — Canada isn't a second-rate alternative. Living in Canada is a privilege.
Follow HuffPost Canada Blogs on Facebook
Also on HuffPost:
– This feed and its contents are the property of The Huffington Post, and use is subject to our terms. It may be used for personal consumption, but may not be distributed on a website.