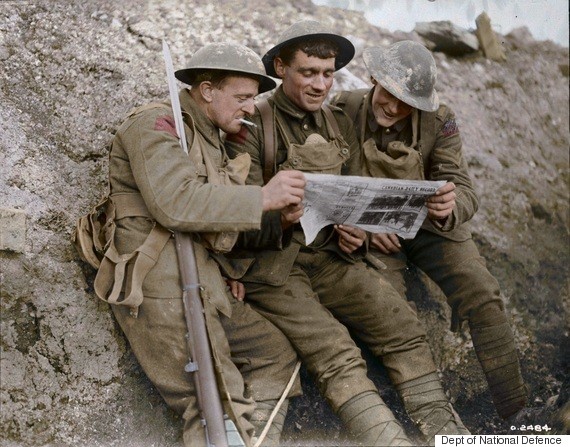 Canadians interested in Canadian Daily Record in trenches near Lens. February, 1918. (Photo: Canada. Dept. of National Defence/Library and Archives Canada PA-002403)
In talking about the First World War, the numbers can be overwhelming: 600,000 Canadians enlisted, from a population of only 8 million people. Around 60,000 were killed, one in every ten who served. 3,598 were killed at the Battle of Vimy Ridge alone. Carved into the white limestone of the Canadian National Vimy Memorial are the names of the 11,285 Canadians killed in France whose bodies were never even found. These statistics are staggering.
But as is often said, a photo can be worth a thousand words. The Vimy Foundation is working to help bring a human face to Canada's First World War history. In honour of Remembrance Week and with the help of funding from the Department of Canadian Heritage, the Vimy Foundation is launching a unique and innovative project to colourize rarely seen images of the First World War, a project aimed at reengaging young Canadians on defining moments in our history.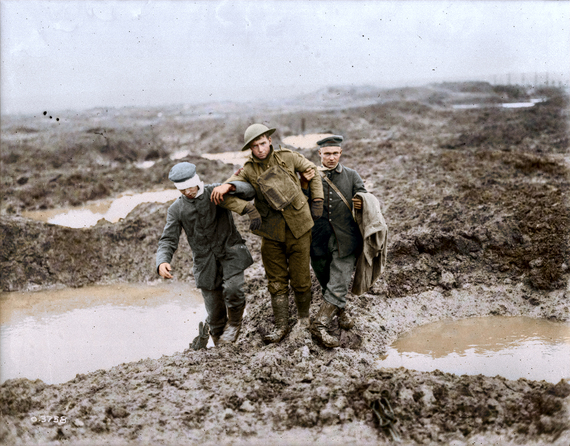 Canadian and German wounded help one another through the mud during the capture of Passchendaele. November, 1917. (Photo: Canada. Dept. of National Defence/Library and Archives Canada PA-003737)
Black and white photos can make the past feel very far away — even photos from only 100 years ago –and make it difficult to connect with the men and women in those photos. By colourizing these rarely seen photos from the First World War, the Vimy Foundation is helping Canadians to connect on a more personal level with the stories of all those who served. These colourized images will help bridge the gap between Canadians today and those that contributed to the war effort a century ago.
The First World War in Colour Education Program will consist of colourizing 150 images from Library and Archives Canada and other sources, and video archives from the National Film Board of Canada (NFB); youth workshops across Canada; a travelling photo gallery to be hosted by museums and galleries; and a new book (and e-book) published by Dundurn Press.
The images featured within this project will not only highlight the important battles in Canada's history and the horror and tragedy of conditions during the First World War, but will also feature images of life on the home front, wartime industries, the contributions of women and minority groups, and advances in medical and communications technologies. We may even include a photo of a wartime baseball game!
Heritage Minister Melanie Joly writes that 'thanks to this initiative, the youth of Canada will be able to better connect with the soldiers, nurses and citizens who sacrificed everything during the First World War.'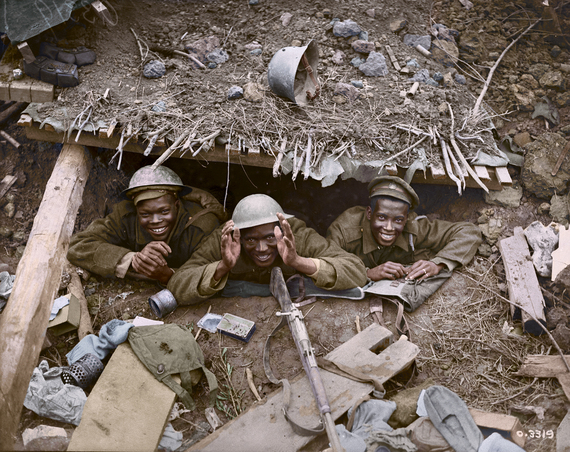 Three Canadian soldiers in a German dug-out captured during the Canadian advance east of Arras. (Photo: Canada Dept. of National Defence/Library and Archives Canada PA-003201)
An incredible amount of research goes into digital colourization of photos and videos. The shade of khaki of the uniforms, the correct colour for each divisional patch, and the ribbon colours of any medals must all be carefully investigated for each soldier in the photo, whether Canadian or otherwise. But the effort pays off. Mark Truelove of Canadian Colour, the digital colourist working on this project, notes that "today, most people are used to seeing photos in colour and black and white photos can seem distant and flat. Adding colour enables a whole new audience to become interested in these photos and the history behind them."
Make sure to visit the project website and check out recent colourized photos on our Instagram account.
This project is made possible thanks to support from the Government of Canada. The Vimy Foundation is receiving $404,000 over two years from the Celebration and Commemoration Program of the Department of Canadian Heritage for this project.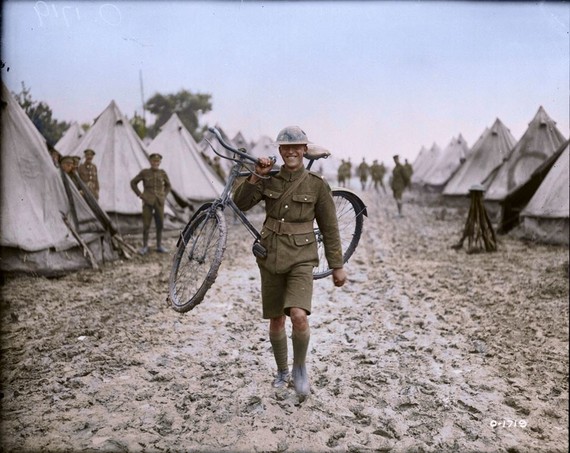 Unable to ride his cycle through the mud caused by the recent storm, a Canadian messenger carries his "horse". August, 1917. (Photo: Canada. Dept. of National Defence/Library and Archives Canada PA-001581)
Also on HuffPost:
Follow HuffPost Canada Blogs on Facebook
– This feed and its contents are the property of The Huffington Post, and use is subject to our terms. It may be used for personal consumption, but may not be distributed on a website.