Comfort food is coming…better bump up your fibre!
Fall is my favourite season as cooler, shorter days mean turning on the oven to roast and develop richer flavours in healthy vegetables. This cooking technique works by caramelizing food sugars in a dry heat which evaporates water to concentrate flavour.
We all know that root veggies do extremely well in the oven but it's important to note that they are packed with more carbohydrates, which you may want to avoid. You know by now that these carbohydrates are what cause the belt loosening bloat that comes with pasta casseroles, mashed potatoes and rich stews.
You can prevent that, er, blocked up feeling (and by that, I mean constipation) by choosing more low cal, high nutrient, high fibre vegetables to roast. Boosting fibre in your diet can contribute to more than just the obvious, it can also make you feel fuller longer, lower cholesterol and blood sugar levels, and manage the "bad bacteria" in your system.
Here are your top five roast-able fibre foods for fall:
1. Okra - You rarely see this veg other than in gumbo but it is a powerhouse of pectin. Pectin is that gummy substance that is actually soluble fibre which draws water to the bowel and makes you feel fuller longer. Simply rinse, trim the stem end, toss in a tiny bit of extra virgin olive oil and roast on a baking sheet for 10 minutes at 400 degrees. A sprinkle of sea salt and you can eat with your fingers as an app or snack instead of the potato chips you were considering.
2. Spaghetti squash – Of course you will know it isn't pasta but you won't care when you realize that the stringy flesh actually contains the kind of fibre that reduces your cholesterol and provides the youth-promoting skin nutrient Vitamin A. I keep it simple and bake whole: poke a few holes in the entire squash and lazily toss it in the oven on a baking sheet at 375 degrees until it is soft. This will depend upon the size of your squash but about an hour is a good guide. Place on a cutting board and cut it in half to reveal the seeds which can be scooped before the threads are scraped into a bowl with a fork. Some parmesan cheese, salt and pepper and you have a hearty lunch.
3. Squash seeds – Don't toss those seeds! Simply rinse in a colander and place back onto that cookie sheet, drizzle with 1 tsp of melted butter and roast for 15-30 minutes, stirring once or twice. They are loaded with protein and fibre.
4. Green beans – These babies are available year round in the fresh and frozen section of the grocery store. It couldn't be easier to make a special tasting/looking side dish with them. When I am super lazy, I simply open a bag of trimmed frozen green beans and dump them on a cookie sheet with a drizzle of olive oil and bake. Top with some dried figs that have been tossed in a teaspoon of curry powder and bake them too for the last two minutes.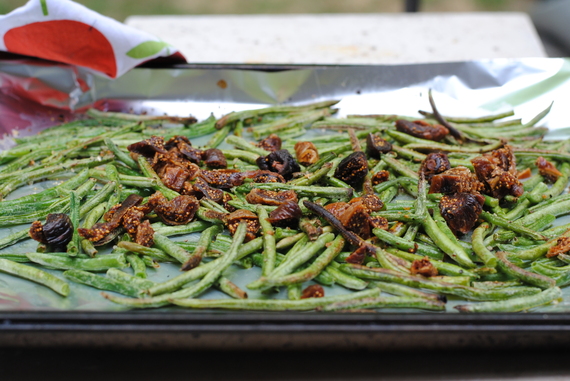 5. Cabbage – Coleslaw is great for summer but cabbage is cheap and nourishing all year. A warm slaw made with chopped Napa cabbage is an excellent solution and it stores in the fridge once baked to be served as a salad for a few days.
Sweet and Sour Baked Cabbage
Recipe by: Theresa Albert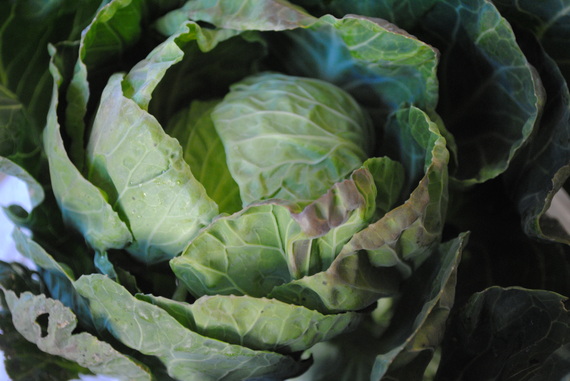 Serving Size: 4
Preparation Time: 10 minutes
Baking Time: 30 minutes
Ingredients:
• 1 head Napa cabbage, thinly sliced
• 2 coarsely chopped onions
• 1 tablespoon olive oil
• 1 large garlic clove, thinly sliced
• 3 tablespoons cider vinegar
• 1 tablespoon honey
• Salt and pepper
Combine cabbage, onions, garlic, olive oil, salt and pepper in a 13″ x 9″ baking dish; toss to coat. Cover and bake at 400 degrees for 30 minutes or until vegetables are tender, stirring after 20 minutes. Drizzle vinegar and honey over cabbage mixture; toss.
This dish can be stored in the fridge for up to three days.
Follow HuffPost Canada Blogs on Facebook
– This feed and its contents are the property of The Huffington Post, and use is subject to our terms. It may be used for personal consumption, but may not be distributed on a website.