Trump worked his way to the White House by waging a war on political correctness. In Canada, Jordan Peterson, the University of Toronto professor who has spoken against gender neutral pronouns and anti-racist training, seems eager to join Trump in the trenches. With Trump in power and his supporters roaming the streets, Peterson is also reaching new heights, as the university decided to meet his demands for holding a public debate, set for this Saturday.
The debate is yet another chance to plant fear of trans and racialized communities in the heart of the public by making it look as if they pose a threat to freedom of speech. The university is dangerously buying into Peterson's false narrative — that this is an issue concerning his freedom of speech and not the freedom of identity expression for others.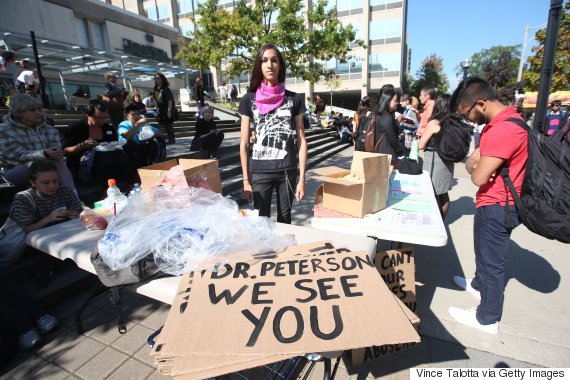 A U of T student union member poses in front of sign at the Jordan Peterson protest/rally, a University of Toronto professor and practicing psychologist, who has released the first of a planned three-part video series attacking "political correctness" in academia. (Photo: Vince Talotta/Toronto Star via Getty Images)
Trump's meteoric rise should serve as a warning sign about the danger of the maldistribution of freedom of expression. In other words, if we will go to bed with Peterson, we should not be surprised to wake up with Trump.
Peterson, like Trump, has unleashed an arsenal of hate from his supporters. Peterson's Trump-like supporters have bullied trans, gender non-conforming and racialized members of the university community, making severe threats to their safety. But this has not been enough.
Peterson and his supporters have demanded that the university stage a public debate, and despite opposition it seems to be on its way. Unlike the other experts invited to the debate, Peterson is not an expert on law or gender — so why is he going to debate about these issues? Because he keeps claiming that trans and racialized people are threatening his freedom of speech.

If we will go to bed with Peterson, we should not be surprised to wake up with Trump.

Peterson's arguments can incite the public against trans and racialized communities by painting their struggles for inclusion as undermining freedom of speech. This is a well-known tactic of creating an image of a "public threat" to justify the maldistribution of life chances.
The way First Nations communities are unfairly associated with alcoholism and criminalization is used to justify policies that still allow for their children to be taken away from families. In the same avail, contrasting gender expression to freedom of speech functions to question the trans right for inclusion. In fact, gender and racial diversity are forms of speech. Do not be fooled by these current phantoms of hate. If anything, it is trans and racialized communities' freedom of expression that is at stake, not Peterson's and his Trump-like supporters'.
Freedom of speech, like other freedoms, is a resource. While Peterson uses his almost unlimited tenured freedom to monger fear of trans and racialized people, he limits by default those peoples' freedom of expression. Peterson fails to contextualize freedom of speech within the realities of social disparities, making invisible the maldistribution of the right to express oneself.

It is trans and racialized communities' freedom of expression that is at stake, not Peterson's and his Trump-like supporters'.

The right for gender self-determination is already granted without question to non-trans people, such as Peterson, but it is continuously denied to those who do not fit within the norms — through refusing to respect the way they see themselves, through discrimination and through direct violence. Not surprisingly, there are very few racialized trans students and faculty at U of T.
Freedom of speech does not only protect one's right to be offensive, it also protects individual and communities' right to express their diversity. By staging the debate, focusing on anti-trans and anti-black freedom of speech, the university is inflaming the toxic environment its trans and racialized students are facing.
U of T is providing yet another stage for spreading uninformed fear and hate, instead of supporting their students' right for expression. At the dreadful dawn of Trump's America, abusing freedom of speech to further push marginalized communities toward social exclusion, cannot be up for debate.
Follow HuffPost Canada Blogs on Facebook
Also on HuffPost:
– This feed and its contents are the property of The Huffington Post, and use is subject to our terms. It may be used for personal consumption, but may not be distributed on a website.