It's an insidious, unseen, creeping ailment — one that can sabotage your health for the rest of your life.
Once you're middle-aged, there's a 50/50 chance it will trigger the onset of one or more deadly degenerative diseases.
"Metabolic dysfunction" is a seemingly innocuous term that may sound unfamiliar to most of us. But medical researchers now believe it's a root cause of the global epidemics of obesity and Type 2 diabetes — which are destined to kill more than half the world's population over the age of 50.
It is also to blame for a number of other debilitating, degenerative diseases. They include Non-Alcoholic SteatoHepatitis (NASH), which has yet to attract much attention in the media. Nonetheless, it, too, is a big killer.
Modern medicine, however, is rising to the challenge.
A team of leading US doctors and medical scientists in the fields of genetics and age-induced degenerative diseases has had a "Eureka" breakthrough. They're innovating new drug candidates that may one day be able to successfully treat a range of debilitating age-related metabolic disorders.
Having formed a biomedical start-up called CohBar Inc. (TSX.V: COB.U) (OTCQX: CWBR) in 2009, they're now working out of a laboratory in the San Francisco area.
Last month, the company announced it will focus first on advancing drug candidates for potential use in treating obesity and NASH.
If successful, CohBar's target markets promise to be worth billions of dollars.
What's Ultimately At Stake?
Obesity alone already accounts for at least US $150 billion worth of America's annual health care spending.
Yet these ever-escalating healthcare costs won't level off any time soon. About 42% of Americans (32 million more people than today) are expected to become obese by 2030.
It gets worse. Obese people often also develop NASH and/or diabetes. Tragically, most of them end up with fatal heart disease, too.
It's a slippery slope that is becoming all-too pervasive. Worldwide, in excess of two billion people are obese. And its incidence has tripled in men since 1975, while more than doubling for women, according to a 2014 study which used data from 186 countries.
The urgency to combat obesity has become a "timely and opportune" call to action for CohBar, according to the company's CEO Simon Allen. He explains that the global market for obesity drugs is still in its infancy and that nothing to date has proven particularly safe and effective.
Preclinical Evidence Boosts Hopes for Obesity Drug Candidate
CohBar is getting ready to tackle the next major hurdle towards the commercialization of its first two obesity and NASH drug candidates, which are dubbed CB4209 and CB4211
This involves conducting safety and toxicity studies in animals –now that the efficacy of CB4209 and CB4211 has already been demonstrated in laboratory experiments with mice. If these new studies go as planned, Phase I human clinical trials may commence as soon as early 2018.
In early-stage studies, the precursor to these drug candidates impressed CohBar's researchers with its fat-fighting abilities; it actually prevented mice from becoming obese, even when they were administered a high-fat diet.
Additionally, in a preclinical head-to-head comparison with a best-selling obesity/diabetes drug called Liraglutide, obese mice fared considerably better when treated with CB4209
"We've demonstrated a three-fold improvement in overall weight loss, compared to Liraglutide in preclinical studies," Allen says. "Treatment with CB4209 led to loss of up to 17% in body weight after only three weeks.
In addition to demonstrating significantly greater weight loss, our studies also showed more selective reduction of fat mass versus lean mass compared to Liraglutide."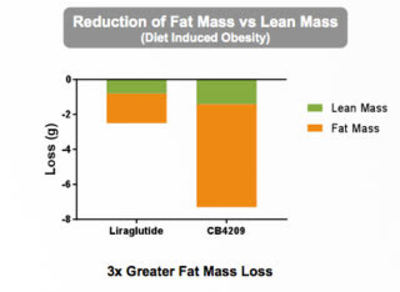 "Blockbuster" Drugs In-the-Making?
The burgeoning obesity drug market is obviously a multi-billion dollar market that still has considerable growth potential.
Yet it remains mostly-untapped because the few obesity drugs on the market have all been commercial disappointments, Allen explains.
Meanwhile, the more crowded Type 2 diabetes pharmaceutical market generated nearly US $30 billion in annual sales in 2014 — a figure that is probably higher now.
And the unmet worldwide market for NASH is valued at up to US $40 billion, Allen adds.
It's also very significant, Allen asserts, that the markets for Type 2 diabetes, obesity and NASH all overlap because they all stem from the onset of metabolic dysfunction.
CohBar has licensed exclusive rights to develop and commercialize some of its proprietary, metabolism-regulating biotechnology from the University of Los Angeles (UCLA).
However, CohBar's founders and researchers also spent many years at the Albert Einstein College of Medicine and the Mayo Clinic, as well as UCLA, where they originally began unlocking the secrets of tiny components within our cells called mitochondria. These are the powerhouses of our cells in that they turn nutrients into energy and also regulate our metabolisms.
Unfortunately for all of us, mitochondria start to lose their power to keep our metabolisms operating optimally as we approach middle age. This decline can trigger the onset of metabolic dysfunction.
Next comes weight gain, followed by one or more associated degenerative diseases, which usually include fatty liver, diabetes and heart disease.
It's CohBar's apparent ability to mitigate this decline in mitochondria's functionality that is considered ground-breaking. And this is why any number of big-league pharmaceutical companies may end up competing to finance the development of CB4209 and CB4211 through to commercialization.
In fact, most major pharmaceutical companies generate 75 percent of their product pipelines by cutting deals with small R&D innovators like CohBar.This often takes the form of licensing arrangements, along with milestone payments, and sometimes up-front cash infusions.
Offering some salvation to all the people who fall foul of metabolic dysfunction and its cascade of life-sapping health consequences is an epic challenge. However, any measure of success in this giant marketplace would make CohBar a rare stellar performer in the high-risk biotech investment sector.
Follow HuffPost Canada Blogs on Facebook
– This feed and its contents are the property of The Huffington Post, and use is subject to our terms. It may be used for personal consumption, but may not be distributed on a website.