Pomegranates are often overlooked because they can be intimidating, and a pain to eat.
For the uninitiated, there's questions about where to start, and how to get those darn things out of the fruit. Not to mention, some people aren't certain that you can even eat the seed! (Hint: You absolutely can, and should! That's the fiber!)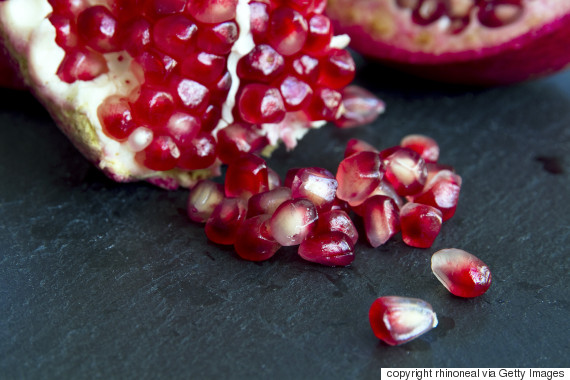 But despite all of the mystery and any reticence you may have, I want to encourage you to eat MORE of them. Especially now that they're in season!
Why?
At least one study indicates that pomegranates have THREE times more antioxidants than green tea or red wine. Pomegranate contains a powerful antioxidant called punicalagin, (the most abundant antioxidant in pomegranate), which is responsible for more than half of pomegranate's antioxidant activity.
Antioxidants help to decrease heart disease risk and reduce the signs of aging. Pomegranates also have antiviral AND antitumor properties.
A few other fun facts:
- Pomegranate has anti-inflammatory effects that may protect against cancer and other chronic diseases.
- Pomegranate is among the few foods that contain natural aromatase inhibitors, which inhibits the production of estrogen and reduces breast cancer risk.
- Two studies have shown that in prostate cancer patients, pomegranate juice or supplements slowed the increase in PSA.
- In a study, pomegranate supplements taken before and after surgery prevented the postoperative memory dysfunction associated with coronary artery bypass or heart valve surgery.
Basically, pomegranates are a nutrition powerhouse and they taste amazing! They truly are the jewel of the fall and winter!
A kitchen hack I use to easily clean pomegranates is as follows. Collect the following:
• A fresh pomegranate
• A large knife
• A large bowl
• Water
• A colander
How it works:
- First, fill a large bowl with water.
- Cut the pomegranate in half and then immerse UNDER the water. Pull off the skin and white skin and gently nudge those crimson jewels out.
- The bitter skin will float to the top and the pomegranate seeds will sink to the bottom.
- Done!
Pomegranates are typically found in the Northern Hemisphere from September to February, and in the Southern Hemisphere from March to May. They can be are used in baking, cooking, juice blends, meal garnishes, smoothies, and alcoholic beverages, such as cocktails and wine.
The number of seeds that are in pomegranate can range from 200 to 1,400. Each seed has a surrounding water-laden pulp — the edible sarcotesta that forms from the seed coat — which ranges in color from white to deep red or purple. The seeds (known as arils) are tangy, sweet, and slightly sour.
Pomegranates originated in the region that is now modern-day Iran, and has been cultivated since ancient times.
One of my favourite pomegranate recipes is below. It marries together perfectly the sweetness of pomegranate, the spice of curry and the earthiness of quinoa.
Pomegranate Quinoa Curry Salad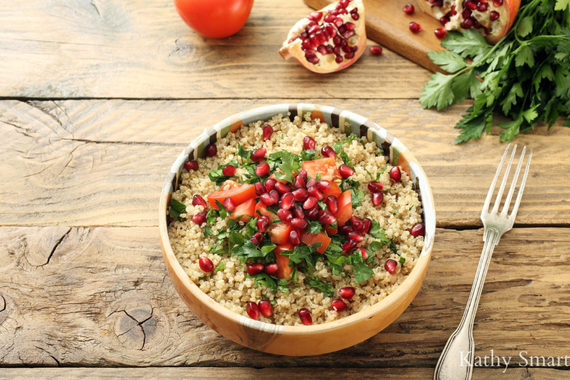 Serves 2
2 cups of cooked quinoa
1 cup of fresh, chopped parsley
1 cup of fresh pomegranate seeds
1 Tablespoon of olive oil and lime juice
1/4 teaspoon of curry powder, sea salt, and fresh black pepper.
Toss and serve.
Dairy Free, Vegan and Gluten Free
You can eat this salad knowing not only does it taste AMAZING but you are doing your body so much good.
Follow HuffPost Canada Blogs on Facebook
Also on HuffPost:
– This feed and its contents are the property of The Huffington Post, and use is subject to our terms. It may be used for personal consumption, but may not be distributed on a website.