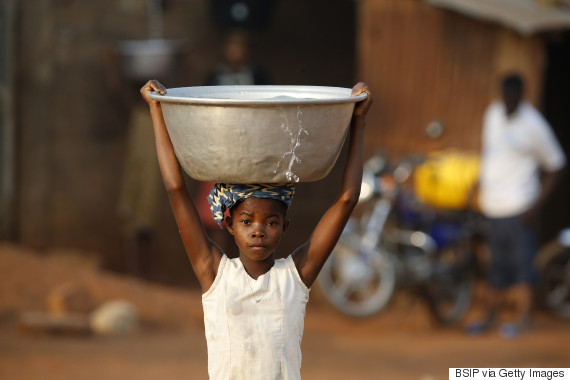 File photo. (Photo: BSIP via Getty Images)
By Nicole Hurtubise, CEO, WaterAid Canada
Last year I visited Belavabary, a small village in rural Madagascar, which is home to an 11-year-old girl named Noeline. Noeline is what we, at WaterAid, call a water expert. She earns this title through necessity rather than through choice.
Noeline knows where to find water; she knows the daily drudgery of having to fetch it for her family and she knows the pain of hauling 20 kilograms of water balanced on her head over a distance of more than six kilometres. Noeline knows that the water she depends on could contain parasites and cause diseases that could make her very sick. Above all, even at such a young age, she knows that access to safe water, toilets and hygiene could transform her life. Without them, she's unlikely to lift herself out of the cycle of extreme poverty.

I was escorted 500 metres down a steep path to a dirty hole, in the muddy ground, in the rice field.

During my time in Madagascar I also visited a small community health centre where women go to give birth. The centre has just two rudimentary rooms and no access to safe drinking water or decent toilets. When I asked where the midwives fetch their water, I was escorted 500 metres down a steep path to a dirty hole, in the muddy ground, in the rice field. This is the water that women use to wash after giving birth, the water they use to wash their beautiful newborn babies, and the only water they have to drink. Despite the surroundings, I was in awe of the midwives calm, dignified leadership and the extraordinary way their gentle confidence reassured the mothers they cared for.
I have lived and worked in Africa, Central Asia, Central America and Canada over the past several years. I am a mother and a CEO of WaterAid, an international development charity. I am a woman who is deeply passionate about gender equality and women's empowerment. Every mother wants the best possible start in life for their child — no matter where they give birth.
Clean water is such a basic human need that it breaks down the countries, cultures and kilometres between us. It's also a fundamental human right. We're all made of 60 per cent water. Just to survive our bodies need around 2.4 litres of water every day. Yet, while there is enough water in the world to meet everyone's basic needs, 663 million people across the world struggle to have enough clean water to drink.
In the developing world, women and girls like Noeline collectively spend as many as 200 million hours fetching water every single day. All of that wasted time denies girls the opportunity to go to school regularly. But it doesn't end there. Many schools do not have decent, private toilets. Without them, girls are often forced to drop out of school altogether when they start menstruating. In fact, over one third of women and girls worldwide suffer the daily indignity of relieving themselves in the open, vulnerable to prying eyes and subjected to harassment or even rape every single time they need to use the bathroom.

Access to water and toilets offers women and girls so many more opportunities to contribute their fullest to their communities.

For many of us, it is impossible to imagine what it is like to live like that. Being able to drink a glass of clean water or to run to the bathroom are every day conveniences — ones most of us take for granted. Yet having access to water and toilets is transformative. It opens doors to education, health, nutrition and to a better livelihood. Access to water and toilets offers women and girls so many more opportunities to contribute their fullest to their communities.
The good news is that for the first time in history, access to clean water for everyone everywhere is within our reach. Nine out of 10 people now have access to safe, clean water to drink, cook, and clean with and more than six in 10 of the world's population now have access to a decent toilet.
Every year, 78 million people turn on a tap or using a pump, and 69 million close the toilet door behind them for the very first time. In fact, I'm delighted to say that, last year, that included Noeline and her friends in Belavabary, who were thrilled to open the first of the new water points in their community.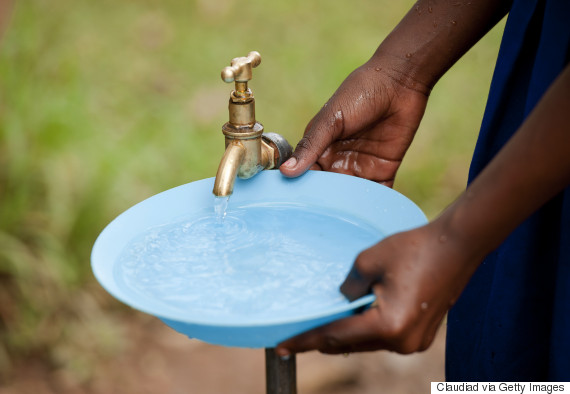 (Photo: Claudiad via Getty Images)
So much great progress has been made but there is still such a long way to go.
I have been fortunate to see for myself how investing in the basic infrastructure of taps and toilets raises the status and living conditions of women and girls and how this has a positive ripple effect on the whole community. Those who live with dignity and opportunities can focus on reaching their potential.
So as we begin 2017 let us remind ourselves that we can change history one gesture at a time, and our goal of reaching everyone everywhere with clean water and a safe decent toilet is well within reach. Let's stand up and show the world what we're made of by achieving gender equality for every woman and girl and the chance of a brighter future.
Follow HuffPost Canada Blogs on Facebook
Also on HuffPost:
– This feed and its contents are the property of The Huffington Post, and use is subject to our terms. It may be used for personal consumption, but may not be distributed on a website.