Alongside the unforgettable permanence of a melanoma diagnosis is the challenge of coping with day-to-day life. For a melanoma patient, the cancer journey is inevitably a roller coaster of uncertainty, fear, and physical draining. Despite surgeries and treatments, there are still daily chores, family duties, and perhaps even work responsibilities that need to be met.
The desire to meet these commitments may not match the strength of the patient while in their time of crisis, making the support of others invaluable.
I have an immense feeling of gratitude for the family, friends, and neighbours who were by my side through my melanoma battle. I could not have survived the ordeal without the love, patience, and heartfelt consideration I still feel from so many. That is one reason why I feel so strongly about supporting others in the melanoma community: to give back in a way that others may need, in case they are not blessed with loved ones, as I am.
The recent awareness campaign #MelanomaHeroes speaks to me on an even more personal level, as it afforded me the opportunity to publicly thank the two most important people in my life: my twin daughters. Claire and Cass, my right-and-left-hand women. My heroes, melanoma and otherwise.
Not only did they save my life, by encouraging me to show my terrible mole-gone-bad to our doctor, but they continue to rescue me in little ways every day.
The loving support they share is a beacon of light on an otherwise very dark journey. Should they only ever have but one success in life, they already achieved it: they held our family together when we needed it most.
I was invited by Roche to thank my girls in one small way, by surprising them with a letter, which I now want to share with the world…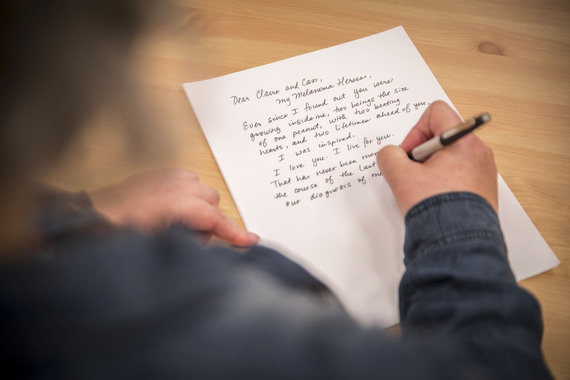 Dear Claire and Cass, my Melanoma Heroes,
Ever since I found out you were growing inside me, two beings the size of one peanut, with two beating hearts, and two lifetimes ahead of you, I was inspired. I love you. I live for you. That has never been more true than over the course of the past two years, since our diagnosis of melanoma.
I say "our" diagnosis because I am aware that we all have been going through it. I was given the task of fighting the disease and its effects on my body and my future, but you were also given that task.
Without deserving it – or without even understanding the magnitude of it – you have had the painful task of standing by while our lives were set on a cancer roller coaster.
You remain by my side in your different ways, weathering the onslaught of doctor visits, phone calls, CT scans, blood tests, confusion and trauma, regret and fear.
You have also stayed by my side to celebrate our triumphs and our perseverance. You are there in everything that you do and say, and you keep me going in ways you don't even know. Your love and support make me smile on even the darkest days, and your steady presence keeps me grounded.
You are experts at the little things… some people think the little things don't matter, but not you. You know that the little things count, and they add up to the big stuff that keeps a relationship healthy.
I hope that you know how much I appreciate all of the little things you do; I hope that even on our bad days you ended up being tucked in at bedtime knowing that I love you, and I appreciate every little thing you did that day. I don't doubt that you have wondered sometimes if I noticed… but I have:
- The special language we have developed where you understand my strange muttering and hand motions when I can't seem to find the words I'm looking for – "I said!! Please put the laundry in the refrigerator!!!"… I feel so lame when I do that and you always make me feel better about it. Our laughs make me feel alive.
- When you come with me for long boring days of hospital visits and encourage me to choke down the terrible CT juice I have to drink. And on top of that you work extra hard in school to make up for any time you lose, in order to maintain your A's
- When you encourage me to attend my least favourite appointments that I'd like to subtly DITCH …and you do it so gently it makes me wonder in that moment who is the parent and who is the child.
- When you are in the kitchen with Grandma singing Christmas carols at the top of your lungs while I listen from my bedrest downstairs, smiling the whole time.
- When you pick up the slack around the house and pitch in to help when I need it most.
I love you Cass. I love you Claire.
Your need for me equals my need for you, I cannot begin to describe how colossally exorbitantly much you mean to me.
Thank you. Thank you for everything. Thank you for being you.
Thank you for being MY melanoma heroes.
Click here to watch Natalie surprise her daughters and read the letter.
Follow HuffPost Canada Blogs on Facebook
– This feed and its contents are the property of The Huffington Post, and use is subject to our terms. It may be used for personal consumption, but may not be distributed on a website.