By Alexandra Crofton and Tite Nyabenda
This March we saw women come together in celebration of International Women's Day and demand more action to end inequality.
In the conversation of improving women's rights and gender equality, one area often left unmentioned is the tremendous gains women can make simply through the ability to save their money and access credit.
Clothilde is 24-years-old and the mother of a 4-year-old son. She lives in Ngozi province, Burundi, and is a member of the Ijukiribikorwa savings group. Her story shows the success women can achieve when they have the opportunity to enter and engage in the local economy.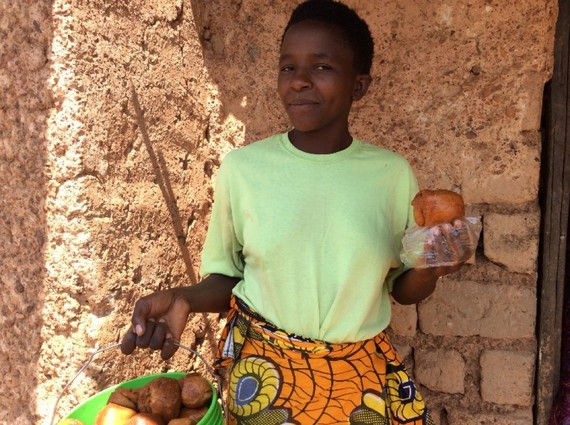 In sixth grade, I started having problems with my mother. She did not want me to continue my studies, because she wanted me to stay home and take care of the housework. I refused to leave school, so I was made to work in the fields, and only permitted to study after I had completed this work.
Because she is a woman, the social and cultural gender norms that shape Clothilde's world relegated her to unpaid housework, and forced her to abandon the opportunities an education could have given her.
Adolescent girls in Burundi, like Clothilde, face the double vulnerability of being young and being female. They face high rates of sexual exploitation, asset seizure and mistreatment by brothers and males in their communities. They often do not have control over their own time and rely on parental encouragement and permission to participate in activities that take time away from their household responsibilities.
Ultimately, girls are operating within a society that limits their access to purchasing assets, such as business equipment, land and livestock; mobility, and independent decision-making.
My father, who lived in another community, sent me uniforms and books to start secondary school. But my mother continued to try to keep me away from school. When I became pregnant, things became worse for me at home, and I finally left my family's home to seek refuge at the neighbour's house.
Men have a key role in challenging negative gender norms and can, and often do, champion the equal place of women outside the home.
Encouraging men to take active roles in unpaid care and domestic work and adjusting their perceptions around women's productive and reproductive roles goes a long way in enhancing women's economic empowerment.
When I heard that CARE had created a project specifically to work with girls in our village, I was overcome with joy. I was so interested in the project, I helped recruit girls to join. I was chosen by all the members of the savings groups in our village to become a supervising agent for the project. In our group, we started saving 100 Burundian francs (CAD 7 cents) a week, but after the first year, we increased the stake to 250 BFI.
I was eager to take my first loan of 10,000 BIF (CAD $7.71) to start my beignet business [a type of pastry]. The business was successful, so I took another loan, this time of 50,000 BIF (CAD $38.59) to increase production. With the profit I earned, I opened a small shop, and am now training a boy who will take care of the shop while I make the beignets. I have also now purchased a mobile phone to help with my business, and invested in farming and pig raising.
Removing gendered barriers is essential to ensure that women have equal access to productive resources and economic opportunities.
Through the social and financial support of her village savings and loan association (VSLA), Clothilde was able to have access to finance, purchase a shop, and develop her business skills – opportunities women are all too often denied.
I am now able to support myself and my son without relying on my parents, so I have now taken in an orphan girl. In the two years since I joined the VSLA, I have saved almost 1,000,000 BIF (CAD $771.85) – I will be a millionaire! Many boys approach me proposing marriage, but for me, business comes first, because it is never too late to get married.
Now, Clothilde is an active and productive participant in the economy — and a proud, empowered woman.
When more women work, economies grow. This makes women's economic empowerment an issue of social justice and gender equality, as well as an important tool to help women, their families, and their communities escape poverty and build prosperity.
Written by Alexandra Crofton, CARE Canada, and Tite Nyabenda, CARE Burundi
The views expressed are those of the authors and do not necessarily reflect the views of CCIC or its members.
Follow HuffPost Canada Blogs on Facebook
– This feed and its contents are the property of The Huffington Post, and use is subject to our terms. It may be used for personal consumption, but may not be distributed on a website.