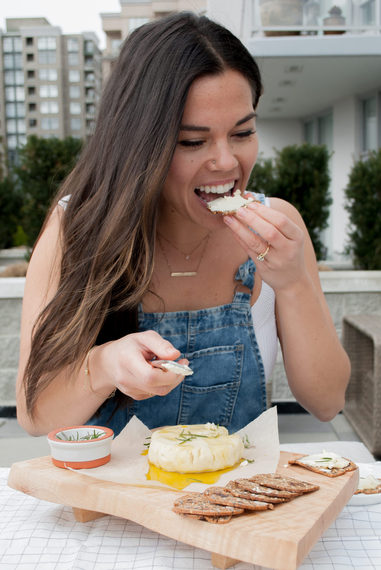 I came across this recipe on Spud's Instagram story and just had to try it out. I've been intrigued by nut cheese for awhile now and really wanting to try it out but to be honest, the process seemed a bit daunting.
This recipe seemed super simple but still packed with flavor, which I know you guys love just as much as I do So… I was sold.
Why vegan cheese? As I've mentioned before, I am not vegan but I do eat a lot of plant-based foods and meals as part of the balance in my diet. Plant foods are just such a great way to increase the nutrient density of your diet.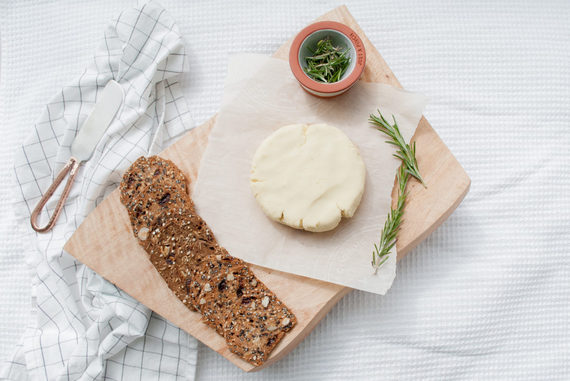 And of course, it's always nice to have options! I truly believe that variety is the spice of life, and this is no different when it comes to food! There is no need to be eating the same bland and boring, repetitive foods just to try to be "healthy". Steamed broccoli, brown rice and boiled chicken breasts, day in and day out, no thanks!
While I do enjoy each of those foods, there is SO much more out there that can nourish our bodies and make us feel amazing. It's not about cutting out the saturated fat or cutting back on carbs but if we can reframe it to look at what we're adding, what more can we get from the amazing variety of foods that we are so lucky to have at our disposal- it makes for a whole lot more satisfying, fulfilling and interesting life.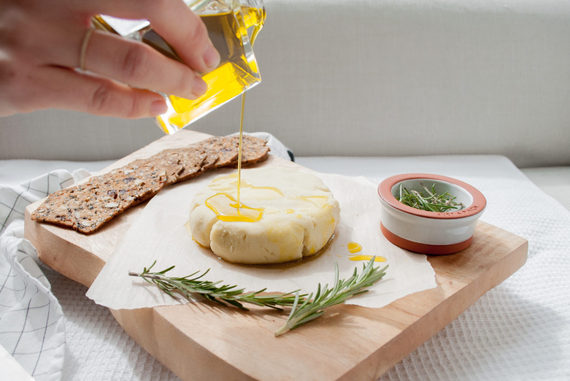 So…back to the cheese. Plant foods are a great way to add fiber, phytonutrients (fancy word for health promoting and protective anti-oxidants), vitamins, minerals – all of those little extras that help ensure our body is running as smoothly as possible and that we are feeling as great as we possibly can!
Packed with powerful plant foods, this Vegan Almond Cheese is just another option for more variety in your diet (because let's be honest- I'm not kicking the brie out anytime soon!).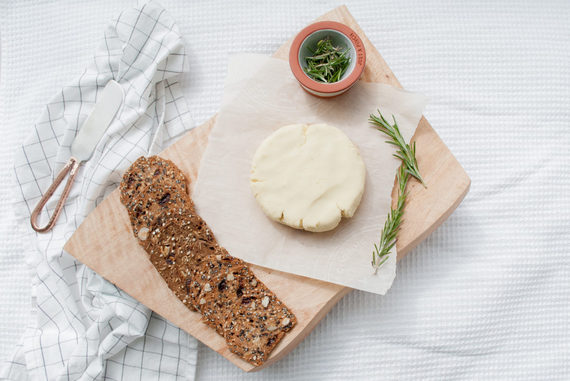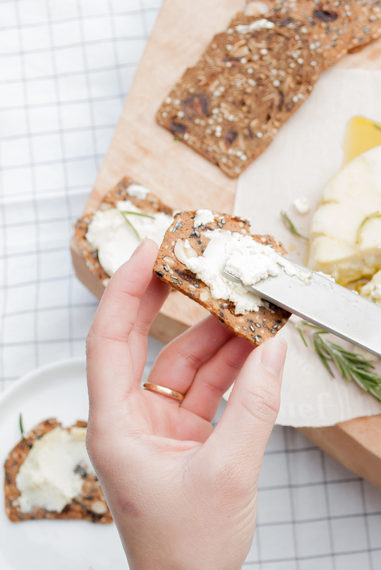 Vegan Almond Feta Cheese
Recipe from Spud.ca
Ingredients
- 1 cup whole blanched almonds
- ¼ cup lemon juice
- 3 Tbs. plus ¼ cup olive oil, divided
- 1 clove garlic, peeled
- 1 ¼ tsp. salt
- 1 Tbs. fresh thyme leaves
- 1 tsp. fresh rosemary leaves
Directions
1. In a medium bowl, place almonds and cover with 3 inches of cold water. Let almonds soak in water for 24 hours, then drain and rinse under cold water.
2. In a food processor, purée almonds with lemon juice, 3 Tbs. olive oil, garlic, salt, and ½ cup cold water. Process for 3-6 minutes, or until smooth and creamy.
3. Line a strainer with three layers of cheesecloth, and place the strainer over top a bowl. Spoon the almond mixture in the cheesecloth, then use the cheesecloth to squeeze out excess moisture into the bowl below. Use your hands to form the almond mixture into a ball, then use an elastic band or twine to secure the cheesecloth around the cheese and hold it in form. Chill for 12 hours or overnight.
4. Line a baking sheet with parchment paper, and preheat oven to 200°F. Unwrap cheese, and transfer it to baking sheet. Flatten it slightly to form a 6-inch round (should be about 3/4 -inch thick. Bake for 40 minutes, or until top is firm to the touch. Cool, then chill and keep refrigerated.
5. To make herb oil: combine remaining ¼ cup oil, thyme, and rosemary in a small saucepan. Keep heat at medium-low for 2 minutes, making it hot but not to the point of simmering. Reduce heat, and cool to room temperature. Drizzle oil over cheese just before serving.
Notes:
- I ended up needing to fold my cheesecloth to be layered 5 times. I didn't have much moisture come out while I was squeezing it so the cheese was still quite wet when I wrapped it to put in the fridge. Quite a bit more moisture came out while it was in there for the 12 hours and once baked, the rest of the moisture drew out!
- As a shortcut I just drizzled olive oil and sprinkled the herbs on top and it still turned out delicious!
PS- Are you in the Community yet!? Join my Eat Well Live Well Facebook Community for daily tips, recipes, and motivation. Comment on one of the posts inside to let me know what you want to learn about and I'll be sure to create some awesome content just for you! All you have to do is click on this link and hit the "Join" button. See you inside!
Follow HuffPost Canada Blogs on Facebook
– This feed and its contents are the property of The Huffington Post, and use is subject to our terms. It may be used for personal consumption, but may not be distributed on a website.