Winter is finally behind us and we're excited to finally say goodbye to hearty comfort foods and lighten up our menus with some fresh Spring Salads. So we're thrilled that National Salad Month takes place in May. Let's give our ovens a rest and celebrate with these sensational recipes.
The health benefits associated with eating fresh vegetables are numerous and well documented. From lowering the risk of cancer thanks to high levels of antioxidants, to being a great source of fiber and a natural inflammatory, eating your veggies on a regular basis will help you build stronger bones, protect your heart, and improve skin tone!
But health benefits aside, salads are also delicious and very flavourful. You can customize them to your liking by adding fresh or dried fruits, nuts, seeds, legumes, meat, fish; anything is possible, which makes it one of the most versatile dishes and a nutritional powerhouse to boot.
So whether you are a leafy green enthusiast or a grain connoisseur, we have the perfect salad for you. Take a look at our Top 10 Salad Recipes and "lettuce" know which one is your favourite!
1.FENNEL, ORANGE AND AVOCADO SALAD RECIPE
Looking for the tastiest, freshest and best springtime salad? You've found it with this Fennel, Orange & Avocado Salad, a combination of peppery arugula, sweet oranges, crunchy fennel and creamy avocado, all topped with roasted pumpkin seeds and drizzled with a zesty honey lime dressing.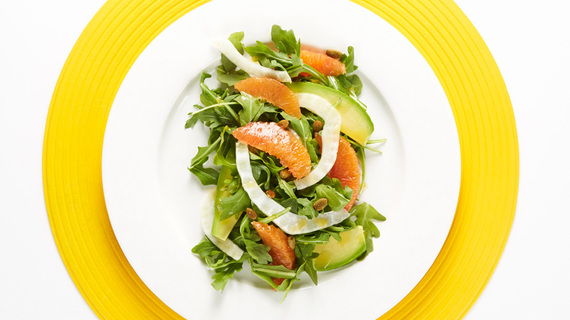 2.GRILLED PEACH PANZANELLA SALAD RECIPE
Want to be a real peach? Serve up this fresh and fantastic Grilled Peach Panzanella Salad, a tasty combination of peppery arugula, juicy tomatoes, aromatic basil and crusty bread cubes all tossed in a zesty mustard vinaigrette.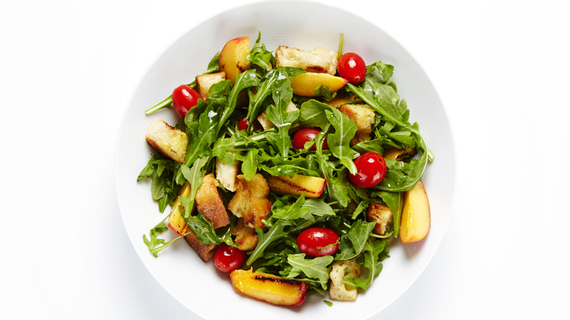 3.WHEAT BERRY SALAD WITH FETA, MINT AND MAPLE WALNUTS
This Wheat Berry Salad serves up the perfect balance of refreshing, healthy and hearty protein, herbs and veggies. A perfect blend of sweet (maple-roasted walnuts, dried cranberries) and tart (feta cheese), protein-packed wheat berries are tossed in a tangy vinaigrette with fresh mint and parsley. Now that's a super salad!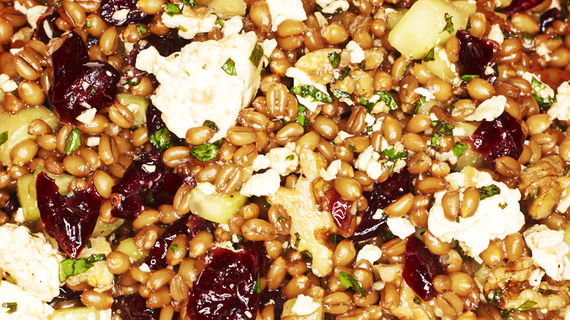 4.STRAWBERRY SALAD WITH SUGARED ALMONDS
Some people believe strawberries are an aphrodisiac, others, that almonds bring good fortune. So get lucky with our "perfect bite" – a fork crammed with crisp lettuce, scarlet strawberries and sugared almonds, all coated in a sweet-and-sour poppy seed dressing.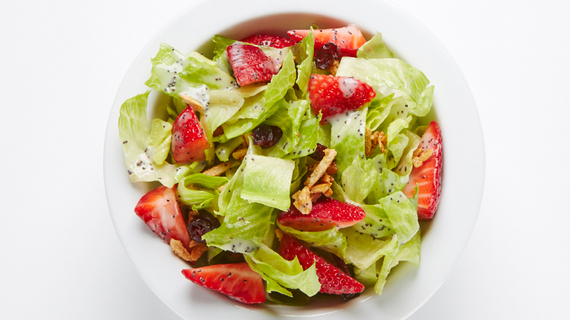 5. APPLE, MANGO AND CRANBERRY COLESLAW
Want to bring summer to the table? Whip up this easy, colourful and tasty coleslaw, a crunchy combo of apples, mango, cranberries and spiced pecans. Tossed up in a tangy vinaigrette, this sweet and tart salad is guaranteed to make the sun shine with every bite.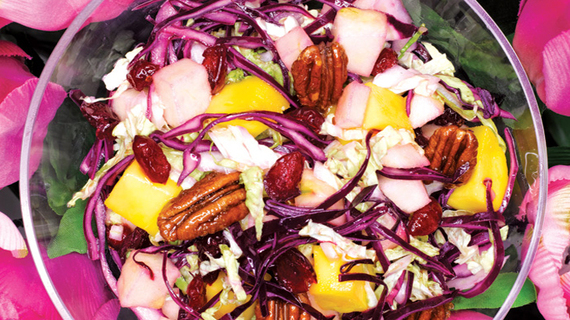 6. BROCCOLI, GRAPE AND CRANBERRY SALAD RECIPE
When we say "raw broccoli salad," we're often met with looks of skepticism. But, one bite of this juicy grape, tart cranberry and fresh broccoli salad – creamy, crispy, sweet, sour and salty – is all it takes to make believers even out of the biggest salad cynic!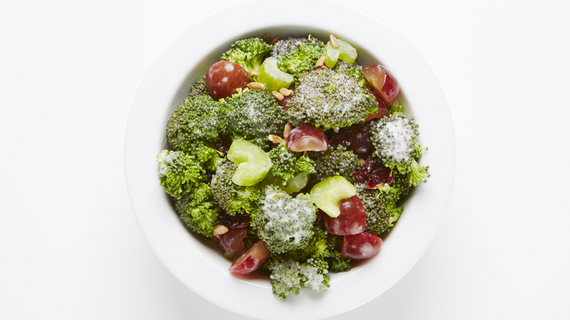 7. NUTTY ASIAN CHICKEN SALAD
This Nutty Asian Chicken Salad is the whole package, and by whole package, we mean a scrumptious meal-in-a-bowl, chock full of perfect bites. After being grilled to juicy goodness, honey lime chicken is added to a bowl full of healthy veggies (napa cabbage, carrots, cucumber, peppers) and protein (edamame) and then tossed with a lip-smackingly creamy peanut butter dressing. As if that's not enough, this nuts 'n honey salad is topped with crunchy wonton strips and roasted peanuts. Now that's a bowl!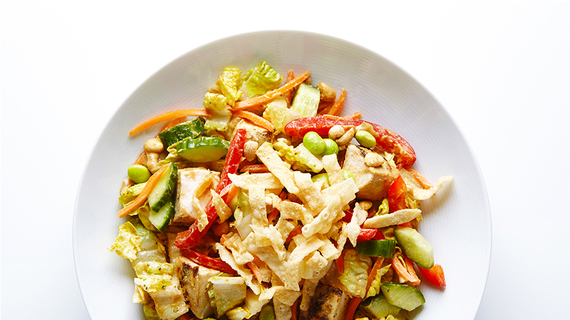 8. MAPLE BALSAMIC SALAD WITH BACON ROASTED PECANS
Really, the title of the lip-smacking recipe should read: Incredible Salad of Crisp Romaine, Tart Pom Seeds, Crunchy Apples and Sweet Pears, all tossed in a Maple Balsamic Dressing and topped with Homemade Bacon Roasted Pecans. A mouthful, but a delicious one at that.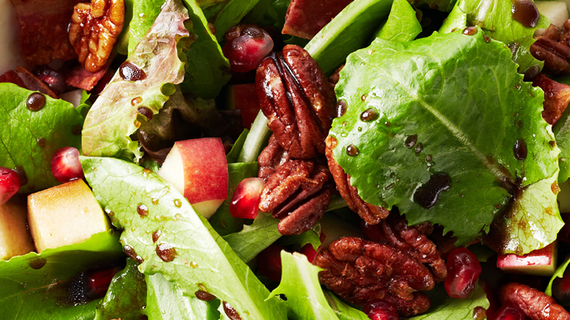 9. TABBOULEH SALAD WITH PISTACHIOS AND CHICKPEAS RECIPE
Healthy and refreshing, this Tabbouleh Salad with Pistachios & Chickpeas makes for the perfect lunch or side dish. Chock full of fresh herbs, dried fruit, juicy cucumber and protein-rich chickpeas, this bulgur salad is tossed in a lemon shallot vinaigrette and is topped with crunchy roasted pistachios.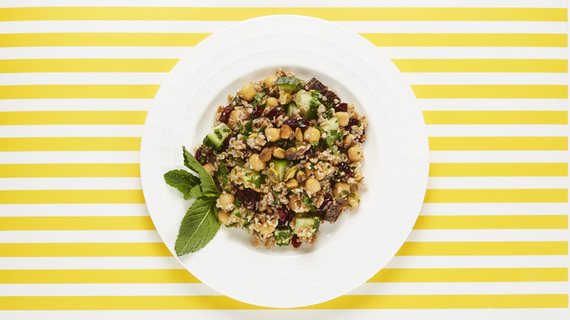 10. WATERMELON AND ARUGULA SALAD RECIPE
Did you know that watermelon isn't just for dessert? The sweet and juicy fruit is also perfect in salads, especially in this fresh and fantastic Watermelon and Arugula Salad, a tasty combination of watermelon chunks, creamy goat cheese, peppery arugula and honey-roasted walnuts, all tossed in a zingy citrus dressing.
Follow HuffPost Canada Blogs on Facebook
– This feed and its contents are the property of The Huffington Post, and use is subject to our terms. It may be used for personal consumption, but may not be distributed on a website.