Kermit was right. It's not easy being green. And it's definitely not always easy trying to get kids and carnivores to eat their veggies. "Eat your vegetables" is one of many phrases we vowed we'd never say as moms. But we were wrong.
So when I caught myself repeating it on a loop, I turned to my dear sister Lisa for help. She gave them a masterful makeover, elevating them from dull to drool-worthy.
From Crunchy Baked Zucchini Fries to Parmesan-Crusted Asparagus these vitamin-packed and fibre-filled recipes will kick-start a vegetable craze among kids and adults alike. So get ready to see the bottom of their plates and dig into these scrumptious veggie recipes.
1. GOLDEN BAKED PANKO BROCCOLI RECIPE
I can't understand anyone who doesn't eat broccoli by the bushel. The wee green tree is a "miracle food," extolled for its anti-cancer, anti-inflammatory, antioxidant virtues. So, how do we best treat this crowned king-of-all-vegetables? Majestically. First, it takes a lovely plunge in a pot of boiling water. Next, it gets outfitted with a zesty Parmesan, panko and thyme coating. After a short stint in a sweltering oven, the crisp, tempura-style florets are dunked in a creamy lemon dip for a splendid finish. Now, if only this noble cruciferous vegetable could do something about my crow's feet, I'd be set.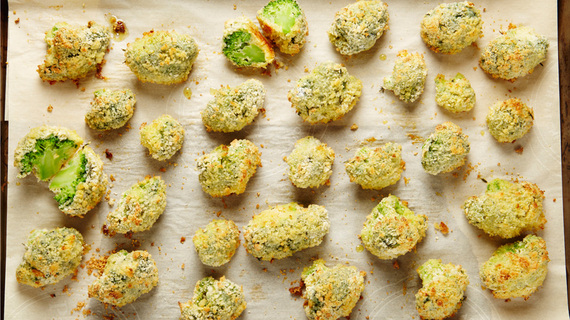 2. APPLE, CRANBERRY AND WALNUT SALAD RECIPE
Want some serious salad success? Combine crunchy, tart and sweet elements in this Apple, Cranberry & Walnut Salad. Bite after bite of sugared cranberries, crunchy apples, toasted walnuts, tangy Feta and mixed greens, all tossed in a zesty lemon dressing, make this scrumptious salad a winner!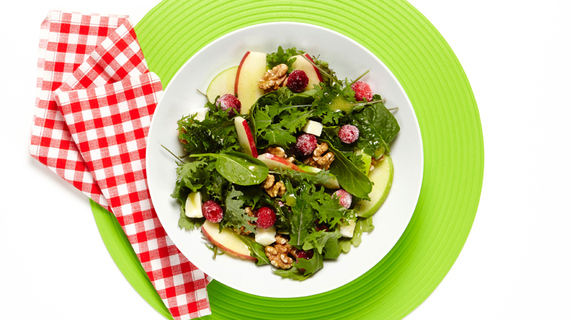 3. QUICK AND EASY MISO EGGPLANT RECIPE
I love it when I can describe a vegetable as tasting like crème brûlée. This dish, also known as nasu dengaku in Japanese restaurants, is eggplant transformed into a melty, creamy, sweet and salty treat. Long, narrow and glossy deep purple Japanese eggplants, with their delicate flavor and thin skin, lend themselves perfectly to being baked. Once tender, the flesh is topped with a nutty-tasting miso mixture and broiled until caramelized and bubbly. Whether using chopsticks or a dessert spoon to scoop it out, you're going to love this melt-in-your-mouth velvety vegetable.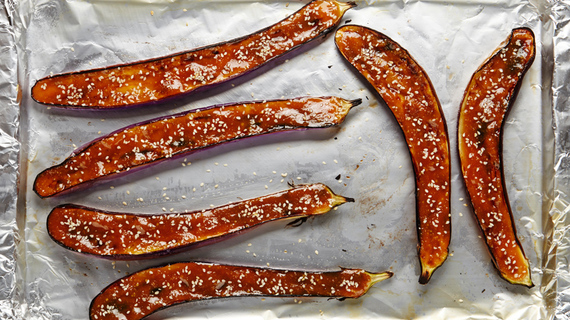 4. CRUNCHY BAKED ZUCCHINI FRIES WITH CARAMELIZED ONION DIP
Without fail, before we can get these Crunchy Baked Zucchini Fries with Caramelized Onion Dip to the platter, they're half gone. Baked until golden and crisp, these "fries," dunked in a richly flavorful caramelized onion dip, are addictive!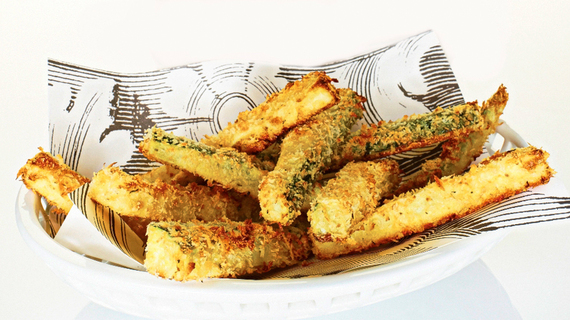 5. VEGETABLE SALAD ROLL RECIPE
Though these look intimidating, making your own salad rolls couldn't be easier. Grab this Vegetable Salad Roll recipe and get rolling because they make for a perfect healthy appetizer. Simply wet the rice paper in water, fill them with a combination of vegetables (or shrimp or chicken, if you prefer) and dip them in your homemade Thai Dipping Sauce.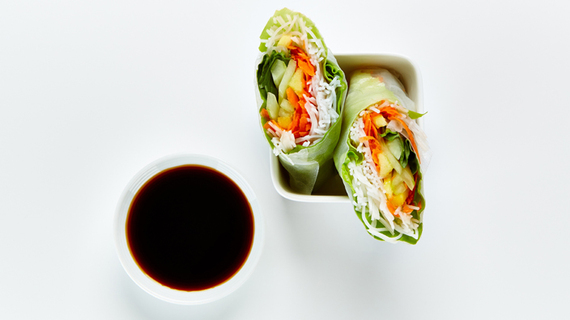 6. SEVEN BEAN SALAD RECIPE
While a three bean salads are fine and five bean salads are swell, there's nothing as spectacularly simple and delicious as this (Lucky) Seven Bean Salad. This quick, easy and healthy salad, a combination of tasty beans tossed in a tangy Lemon Dijon dressing, is guaranteed to become a staple at your table.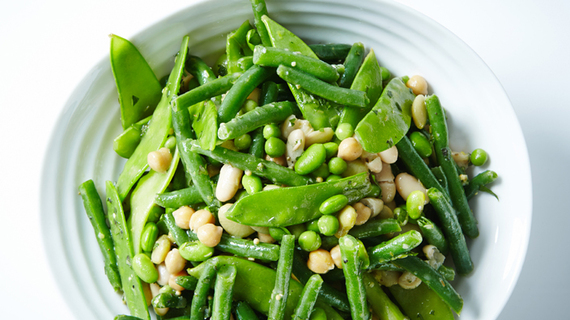 7. KALE AND ROASTED RED PEPPER PIZZA
We've never met a pizza we didn't like (New York or Chicago or Sicilian style!) but we rarely find one we love as much as this homemade Kale and Roasted Red Pepper Pizza. Simple to make (really, don't be intimidated), a crispy thin crust is topped with gooey mozzarella, tangy feta, sautéed kale and roasted red peppers. Make this and you'll never eat pizza from a box again!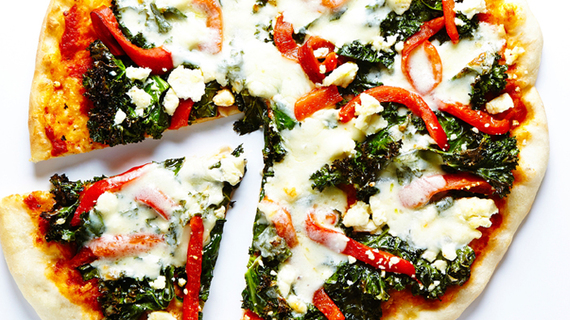 8. COUSCOUS & FRESH HERB STUFFED PEPPERS RECIPE
Get ready to stuff your face with these healthy, delicious and vegetarian Couscous & Herb Stuffed Peppers. Filled to the top with tender couscous, tangy Feta cheese, savory sun-dried tomatoes and fresh herbs, this meal-in-a-pepper is a perfect midweek meal!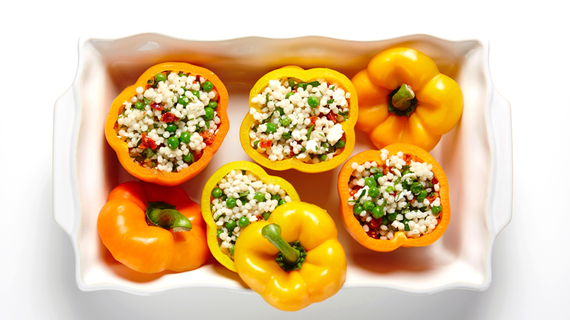 9. PARMESAN-CRUSTED ASPARAGUS RECIPE
How do you make your family beg for veggies? Simply bake up these Parmesan-Crusted Asparagus, green stalks coated in a cheesy breadcrumb mixture and baked to a golden crisp. These addictive spears aren't only a family favorite, they're also the perfect company-is-coming side dish that can be assembled in advance and popped in the oven 15 minutes before dinnertime.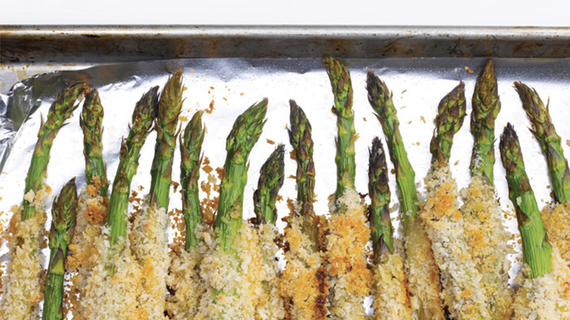 10. BROCCOLI, GRAPE AND CRANBERRY SALAD RECIPE
When we say "raw broccoli salad," we're often met with looks of skepticism. But, one bite of this juicy grape, tart cranberry and fresh broccoli salad — creamy, crispy, sweet, sour and salty — is all it takes to make believers even out of the biggest salad cynic!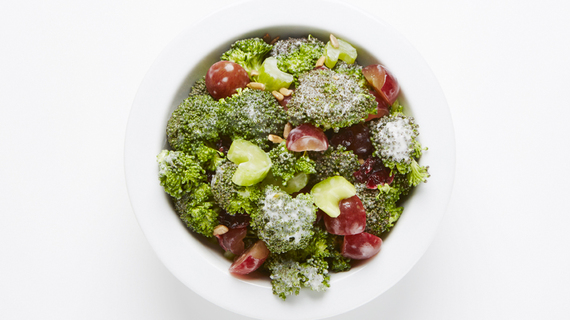 11. BALSAMIC GRILLED VEGETABLES RECIPE
Stuck for the perfect side dish? Can't get your family to eat their vegetables? We've got a healthy and simple solution: fire up the barbecue. These balsamic and olive oil-marinated peppers, zucchini and portobello mushrooms are grilled to perfection and then stacked and served with a fresh rosemary sprig.
– This feed and its contents are the property of The Huffington Post, and use is subject to our terms. It may be used for personal consumption, but may not be distributed on a website.